[Wellington, FL] Vinceremos Therapeutic Riding Center (VTRC) located in Loxahatchee, FL, celebrated 30 years at its 25th annual Benefit Auction and Dinner on February 11, 2012 at the International Polo Club in Wellington, FL. VTRC, an organization that witnesses countless miracles on a daily basis and truly lives up to its meaning, "to overcome," uses this annual benefit as a way to raise money for the organization to continue to help further its riders abilities to accomplish just that. The reaction for the Buck Off has been nothing but positive, creator of the event, Bobbi Rottman with Equine Solutions expressed. "The Buck Off has really morphed off into its own event," expressed Ruth Menor, executive director of VTRC. "This whole event has just been a wonderful way to get a younger generation involved with Vinceremos and have a fun time doing it." The Buck Off consisted of three preliminary rounds, where teams of four compete to stay on the raging mechanical bull, Old School.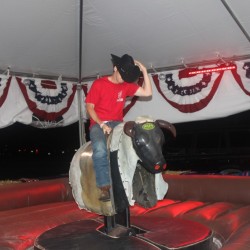 Read more at the source: Vinceramos Buck Off Final a Rousing Successs
Article excerpt posted on Sidelinesnews.com from What's Happenin'.
Double D Trailers Info