By Britney Grover
John Roper absolutely loves watching high-end equitation. "To watch well-trained Junior riders on good horses negotiating difficult courses without a bobble is beautiful. It's like magic," he said. That enjoyment hasn't gotten old even after 40 years as a hunter judge.
Growing up in Nashville, Tennessee, John and his family had no involvement with horses whatsoever. Then when he was 16, John began trail riding with friends on the weekend, all day long—by the time he graduated from high school, he was absolutely sure he wanted to be a horse trainer. He worked privately for a family for nine years, during which time he showed at his first recognized show in his early 20s, and then opened his own business in 1970.
When he wasn't teaching his clients, John found himself at the warmup ring watching other trainers to learn. He loved watching horses jump around the ring, and so pursued getting his judge's card, not knowing if he'd be any good at it. After closing his business in the early '90s, he had much more time to judge. Now, John has enjoyed judging from California to Devon, Kentucky and the World Equestrian Center.
 John lives in Franklin, Tennessee, with his wife of 35 years, Ann, whose daughter, Nicole Tillman, and granddaughter are also enjoying lives with horses. He still loves teaching and training, and does occasional clinics, though most of his horse time is spent judging equitation.
What's your best early memory of riding?
Most exciting memory was winning my first blue ribbon—even though it was in a pair class based more on matching horses!
What's your favorite thing about being part of the horse world?
I think the horse world is basically very tight and close. Your fiercest competitors will be there to help you for the sake of your horses.
In your career, is there a rider whose talent stands out in your mind as being one of the best riders that you have been associated with?
Yes, a young lady that rode with me in the early '80s that showed that natural talent was a girl named Haley Richards. At 11 years of age, she could climb off a medium pony after having a perfect trip, climb on her brother's 4' horse and lay down a trip in the regular working hunters. Her ability to understand stride length and her natural eye was uncanny. She was a very, very gifted rider.
What advice do you have for those considering getting their judging cards?
Make sure you know you can sit there for 8 to 12 hours a day watching horses go around one after another, then be enthusiastic about placing them in a certain order.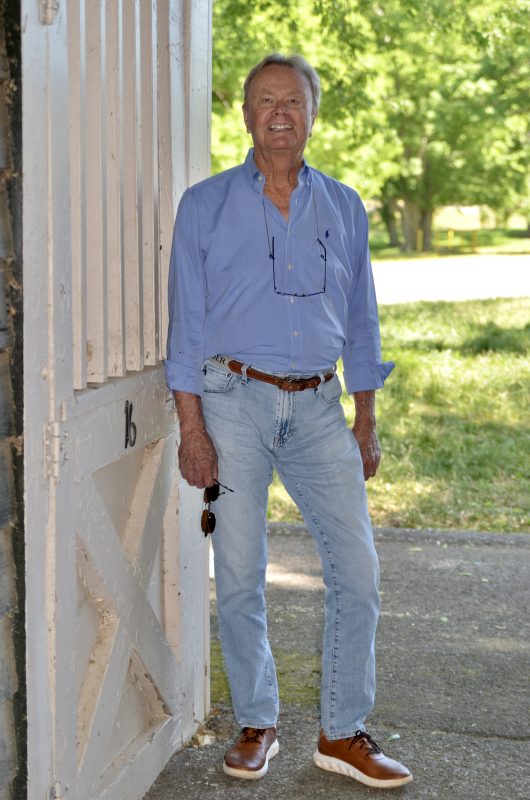 John Roper
Photo by Brenda Black
If you had a week off, what would you do?
Just relax, hang out, go out to eat with my wife, wax my car, maybe snoop around an old antique mall.
If you weren't involved with the horse world, what career do you think you would have picked?
Archaeologist, or something to do with music. I love old rock 'n' roll.
Where would you like to go but haven't?
I'd like to go to the Super Bowl with my wife—if the Titans are playing, that is!
Have you had a funny horse moment that still makes you laugh?
I raised a horse from a weanling and at 6 years old I sold the horse to a professional in New York. I saw the horse two or three years later in Wellington in a big schooling area, and called to him. He turned his head in my direction and whinnied.
Who inspires you?
Early in my career, Walter "Jimmy" Lee inspired me. He taught me about quality horses. He was a great teacher and trainer. I learned a lot from him. I'm still inspired by Kelly Mullen. She's the hardest worker I have ever seen. She never gives up on any project. And last but not least, a person that just lately started inspiring me is a young man named Troy Medina, whom I had the pleasure of teaching in Florida this last winter. His love of horses is immeasurable, whether or not it is riding, grooming, mucking or whatever. But mainly he is like a sponge, soaking up information on learning, and while at it he was so completely thankful for my help. Thank you, Troy!
What talents do you feel you have?
I guess you might say I have a talent for putting together albums for people, which include their lives with their horses. I really enjoy past history of our sport, and memories of old past horses.
What three things can always be found in your refrigerator?
Water, wine and peppermint ice cream
Something people don't know about you?
I am more spiritual than anyone knows.
What's something everyone should try at least once?
Falling in love
Double D Trailers Info