By Britney Grover
Portraits by Isabel J. Kurek
At first glance, Adrienne Marciano appears to have simply fallen into entrepreneurial success. While competing in the High Amateur jumpers, Adrienne asked her aunt to sew her some elastic belts—everyone from friends to strangers asked about them, and Ruespari was born.
From humble beginnings selling homemade belts out of a bag at horse shows, Ruespari has grown into a thriving and ever-expanding line of cruelty-free accessories manufactured in the USA. Last year, the largest luxury department store, Nordstrom, began offering Ruespari belts, with tremendous success. But it's taken much more than a good idea to make a great company. It's taken education, experience, failures, vision, persistence, strength and creativity.
In short, it's taken Adrienne.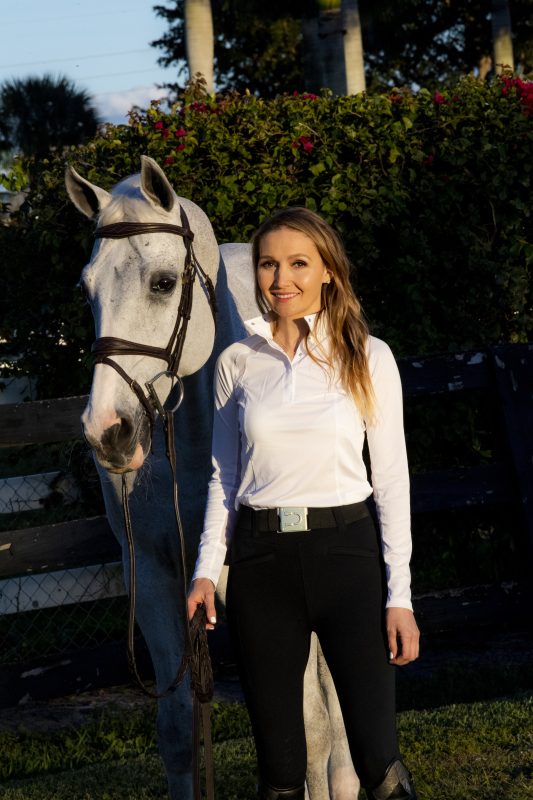 Ruespari has expanded to vegan leather hip clutches, polarized sunglasses and riding leggings.
Set Up for Success
Adrienne grew up in Blue Bell, Pennsylvania, riding competitively, and horses have always been at the focal point of her life. "I love all animals, of course, but anything involving horses always interested me the most," she said. "There was a short time I wanted to do horses professionally because I love riding so much. I was fortunate enough that eventually, my life took an interesting path that led to combining my two passions."
Along with her love of horses and animals, Adrienne has always been fascinated by design. When she originally began looking into colleges, she wanted to study design—but something told her to study business, since it was much broader. After college, she worked in New York City for a lead architect behind the famed High Line.
"I love visiting Manhattan, but it was hard living there because it was difficult leaving the city to go and ride my horses," Adrienne said. Even while she was living and working in New York, she found herself spending more and more time away—with her horses. She left New York and returned to Pennsylvania, taking a job with the fashion store Tory Burch in her home town. "I learned so much through that experience, and it was one I wouldn't trade," Adrienne said. "The customer experience is an integral part of any business or brand."
As Adrienne's life began again to focus more on the horses, one entered her life that not only changed it forever, but played an integral part in her career path. "Laspari is my beautiful 16.2-hand dapple-grey-turned-fleabitten gelding," Adrienne gushed. "He has the biggest heart and the minute he walked into my life, I knew he was special. He has accomplished more for me than any other horse I've ever had. He is sensitive, extremely sweet, and the bond we share is something I can't even explain."
Together, Adrienne and Laspari rose to become High Amateur-Owner Jumper Champion at Devon in 2014, and Adrienne was named Leading Amateur-Owner Jumper Rider. Three years later, Laspari again led Adrienne to victory with the same honors. "If it wasn't for him," Adrienne said, "I may never have received the press that would ultimately initiate the success of Ruespari very early on."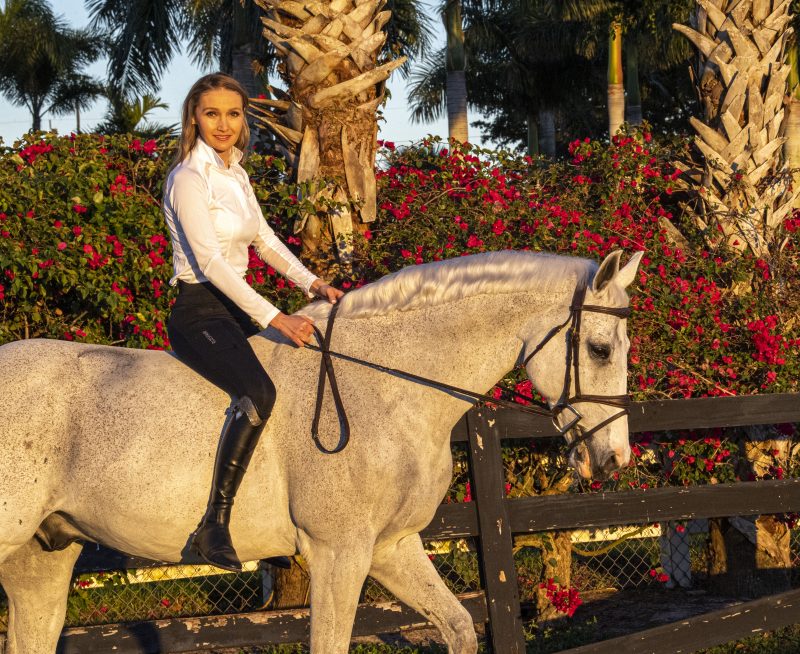 Adrienne, wearing the Ruespari Equestrian Legging and custom vegan leather Fabbri boots, said Laspari always will be her horse of a lifetime.
Birth of a Brand
Animals have always been very dear to Adrienne. In addition to her horses, including Laspari, she shares her life with Pearl Rue, her cream-colored French Bulldog. She goes by many names: Chicken Nugget, Nug, Pearly. That being said, she doesn't respond very well to any. "It must be the bulldog in her!" Adrienne laughed. "She is the most loving and cuddly dog, but also the laziest! She loves nothing more than sitting on your lap or curling up in her bed. I love all animals, but I especially share a really deep bond with all of mine."
Adrienne's love of animals always drew her to products not made from them—unlike all the typical leather riding belts of the time. Between that and how "clunky" those belts were, Adrienne knew she wanted something different: a flexible elastic belt with a flat clasp. At first, it was just for herself. "I was going to Devon and asked my aunt to sew me some elastic belts," she said. "I remember walking around with the belts that she made for me: one in orange, one in turquoise and one in black. Everyone from riders waiting to show to people standing in the tea sandwich line were asking where I got my belt. I knew at that point the belts I had made for myself were a highly marketable product."
In her marketing classes in college, Adrienne had learned to convey a message about the product through the brand name. "I had gone through many names, but it seemed the most logical to me to combine my two favorite animals: Pearl Rue and Laspari. It had a nice ring to it!"
Adrienne had as many belts made as she could, and began by selling them out of a bag at the show. But she knew it had the potential to go farther—much farther. She created an Instagram account and began gathering an audience. "I just decided to start posting some of my daily life, which included riding, of course, and I mixed content with inspiration of fashion, animals and anything that I felt our audience would like to see," Adrienne said. "We grew organically and the account created a following of equestrians that love the same things I do. Our followers and I share the same interests—that's why I think we are so well connected."
Despite never having done any web building before, Adrienne applied herself and built her own first website, as well as figuring out step by step how to grow her company—with a determination and a dream that she wouldn't let anyone crush.
"As cliché as it may sound, I am a strong believer in manifesting your dreams. I remember a clear conversation I had with someone shortly after starting the brand. He sat directly across from me and told me, 'After this fad with your one belt goes out of style, you will be able to get a good marketing job,'" Adrienne shared. "I explained that I had a much greater purpose for the brand, and just because I started with one product doesn't mean I won't continue creating ideas. Ralph Lauren started with selling ties at polo matches, and Tory Burch started with her Reva ballet flat. I always saw the bigger picture, and I kept focusing on the vision I had to build the brand."
Growing and Giving Back
Adrienne's commitment to her dream has seen it become a reality. Every Ruespari product is hand crafted in Philadelphia, near where it all began: the Devon Horse Show. From the original belts, Ruespari has expanded to cruelty-free hip clutches, sunglasses and leggings—all with the same commitment to excellence and perfect blend of both equestrian utility and fashion.
"I have a creative mindset; I am always trying to think of new designs that don't exist. I have a great team that helps me bring the ideas I have to life!" Adrienne said. "It's really a long process to design products; some products take much longer than others. I'm a perfectionist and I would never go to market with a product that I wouldn't wear myself or that I thought was sub-par. For instance, our equestrian legging had so many revisions until I was satisfied with the final product. It was a two-year process, but when we launched the product and sold out of every size in a few days, it was worth the wait!"
Not only has the equestrian community jumped on every new Ruespari product, but Ruespari belts continue to thrive—and to reach beyond the equestrian world. After two years of contact with the accessories buyer at Nordstrom, Adrienne's favorite luxury department store, her persistence paid off: She got an email that Ruespari belts would be made available on Nordstrom's website.
"I dropped my phone and the happy tears just started pouring in," Adrienne said. "Even after that email, I was elated, but I also was realistic. It was important that we got in, but I wanted their customer to love the product enough to purchase it. It has been one year now and recently I had a conversation with the buyer. She said, 'Our customers love your belts! You were right! We can't believe how many we've been selling!' That was a moment that I really took a minute to let it sink in and felt accomplished."
For Adrienne, part of success means being able to give back to others. Since its founding, Ruespari has created several charitable belts that donate money to both animal and human charities. The first belt benefited Susan G. Komen, inspired by Adrienne's grandmother who defied the odds and survived breast cancer in her 30s. They later collaborated with actress Kaley Cuoco to design a belt benefitting dogs in need through Paw Works, and another belt for Danny & Ron's Rescue.
But the belt closest to Adrienne's heart has been the Kevin Babington Autograph belt. "I had the privilege of training under Kevin for many years. Kevin is a special kind of person. Maybe the equestrian world knows this now, but he has always been the type of person that helps other people," she said. "I never imagined I would be making a charitable belt dedicated to him after his life-changing fall at the Hampton Classic."
Just days before the accident that left Kevin paralyzed, Adrienne had texted him and asked for a copy of his signature for a European friend's visa application. "That was my last text to Kevin before his accident," she said. "When everyone was coming together to help Kevin, I wanted to make something special for him. We sold so many, and we donated all of the proceeds to The Kevin Babington Foundation."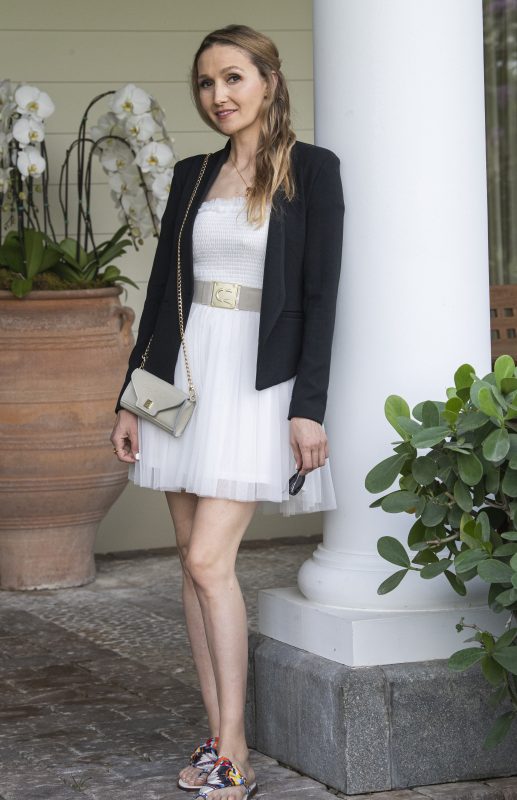 Adrienne started Ruespari by selling the belts out of a bag at shows.
Inspiring Others
While Adrienne's goal for Ruespari remains to keep creating cruelty-free products that people love, the business has reached a point where Adrienne is also able to pursue goals for herself in the saddle. She lives in Wellington full time, where she owns several horses, including Cooper, an 8-year-old 3'6" Amateur Owner Hunter that she's been developing since he was 5; and Corlandess, a 6-year-old jumper Adrienne recently imported and is very excited about.
"Laspari is 17 now and he is happy, sound and full of life," Adrienne added. "I ride him every day and I even jump him around for fun sometimes, but he won't compete again. He will always remain the most special horse I will ever have—he is and always will be my horse of a lifetime."
While Laspari lent his name and inspiration to Ruespari, Adrienne has given herself—resulting in a strong, unique and thriving brand, overcoming all the difficulties of being a woman entrepreneur. "There are times I am not taken seriously. I have a clear vision of what I want, and I'm pretty stubborn," she said. "I never give up and I am very persistent. There have been situations where I have been laughed at and I've been told I can't or shouldn't do something, but those scenarios just make me more determined. I think the world needs strong, independent women that build each other up, and I'm fortunate to have a team of women that do just that."
Adrienne also hopes to inspire others, especially women considering entrepreneurship. "Don't concentrate on what it would be like to fail. Concentrate on what will happen if you succeed," Adrienne advised. "I've always had an entrepreneurial spirit. Prior to starting Ruespari, I had attempted but failed at a few ideas. The truth is, you need to take risks and put yourself in a vulnerable position in order to benefit from any reward—but you want to be smart with your investment and time."
Likewise, Adrienne thinks it's important to keep a close inner circle of positive individuals in one's life—and wants her story and Ruespari to be that positivity and inspiration for others. "Tory Burch always says, 'Negativity is noise,'" Adrienne shared. "If one person reads this and has the courage to pursue an idea and execute it, I would feel accomplished."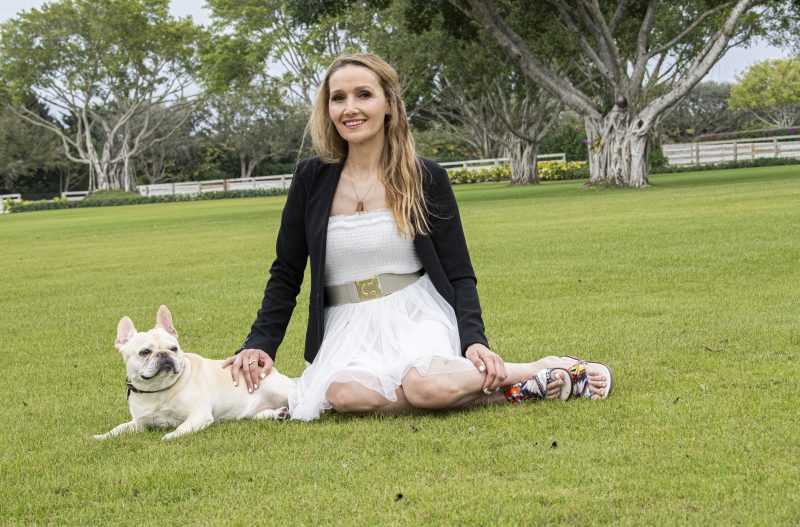 Adrienne was thrilled when last year, the largest luxury department store, Nordstrom, began offering Ruespari belts.
For more information, visit www.ruespari.com
Photos by Isabel J. Kurek, www.isabeljkurekphotography.com
Double D Trailers Info