By Britney Grover
Portraits by Kristin Lee
Ashlee Bond is no stranger to success in the saddle. She started competing when she was 6 years old, had five national pony championships by 11 and was winning Grand Prix with national recognition at 16. As a professional, Ashlee has reached the top of the sport including winning major international Grand Prix and being ranked top 40 in the world. Now 35, she looks back on her junior and professional successes as though they were two separate lives: At 19, she burnt out on horses and left riding behind.
But as T.S. Eliot wrote, "The end of all our exploring will be to arrive where we started and know the place for the first time." What Ashlee thought would be forever turned out to be just a few years before she rediscovered her passion for horses, became a professional with a newfound appreciation for the sport and began reaching even greater success.
In 2016, Ashlee's perspective evolved again with another life-changing hiatus from riding: This time, the break came when she found out she was expecting her daughter, Scottie. Her family perspective has brought new meaning to competing and helped her hone her training and drive — as has her faith. After 10 years of competing for the U.S., Ashlee followed her heart and her heritage to ride for Israel.
"After I had Scottie, I just decided I was going to do it," she said of the switch. That was moments after a persistent 4-year-old Scottie had been shouting "Daddy!" and Ashlee, in her calm, down-to-earth way, paused to tell her daughter, "Scottie, please don't yell; go get Daddy." It was late afternoon, and Ashlee had just returned from hiking the trails so easily accessible from her home in Hidden Hills, California.
"I said, 'I'm going to do it. I feel in my bones that I need to be representing Israel — it's part of who I am,'" she continued. "I've always felt very close to that side of myself. I am religious — I'm not Jewish, I'm Christian; but that's where Jesus was born, was raised, died and rose from the dead. So Israel is so close to my heart, not only because my father was born there but because that's who I am in my faith. It was just right. It was the right time and the right choice." 
All in the Family
As it turns out, it isn't just Ashlee's heritage and faith that has roots in Israel: her love of horses does, too. She inherited it from her father, Steve Bond, who first discovered the equestrian passion by stealing donkeys from the Arabs in his native Israel and riding them into the mountains to release them in the caves. After immigrating to the United States at 12, Steve pursued a career in acting: He became widely known for his role on the soap opera General Hospital, and his success enabled him to get more serious about horses, particularly Western and cutting, and later polo.
Consequently, Ashlee's parents had her learning to ride by the time she was 3 years old. Just before her 4th birthday, they moved to a property on Little Valley Road in Hidden Hills, California. Ashlee was competing on the A circuit by the time she was 7, which is when and why Steve, at 40, started show jumping. Their property became Little Valley Farms, and Steve has been behind Ashlee's equestrian career ever since — including riding and training horses.
But the dynamic father-daughter duo nearly didn't make it to the professional ranks: After a successful junior career, Ashlee had completely lost herself in competition and needed a break. She spent two years searching for her calling in other fields: particularly, moviemaking. Her mother, Cindy, is a successful producer including of Christian films like "I Can Only Imagine" and "Redeeming Love." It was one bored and fateful day in New Zealand while accompanying her mother's production company that Ashlee decided to go for a trail ride. Galloping around the countryside with a native guide, she found her calling once more.
Ashlee began her "second life" riding at 22 with renewed passion and a new appreciation for what it would take to get to the top. Within two years, she was noticed by George Morris and recruited to jump for Team USA at Spruce Meadows. A year later, she was ranked among the world's top 40 show jumpers. Winning the Warsteiner Prize at CHIO Aachen in 2009 ranks among Ashlee's most memorable accomplishments, as does the 2014 AIG $1 Million Grand Prix at the HITS Desert Circuit aboard Chela LS. Another memorable victory was the Grand Prix of Liège, in Belgium — which is also where she met her husband.
Marriage and Motherhood
According to Ashlee, Roy Meeus was made for her. They met through a friend at a small café in Roy's native Belgium, where he was a professional soccer player. "It just took off from there," Ashlee said. "It was very unexpected — it wasn't planned."
Like her return to riding, however, some of the best things in Ashlee's life seem to have been unplanned. Roy hadn't had any contact with horses whatsoever before they met; luckily for Ashlee, he took right to them. "He loves the horses," Ashlee said. "Anytime I'm jumping, he's out there helping set jumps, set the courses, videoing — he's super involved, and I love that. It's very special."
Since he had traveled as a professional soccer player before retiring in 2017, Roy was already used to the competition lifestyle. And having different primary interests works well for Ashlee and Roy, who were married in 2015. "We have a really great partnership," Ashlee said, unable to keep herself from trailing into how awestruck she is at her own relationship status. "It's like he was literally made for me, it's super easy and it works really well for us — it feels a little too good to be true, to be honest! But I'm very, very lucky."
Becoming a wife and mother has changed Ashlee's outlook on life. "Riding was my whole world before Roy and Scottie, and when I met Roy my career was still super important to me but I started feeling like there was something more important than just being on a horse and riding," Ashlee shared. Throughout her life, she'd had moments of wanting to be a mother and other times when she didn't. "And then when I met Roy, I really wanted that life."
So when her top horse, Chela, was sidelined with a critical injury, the timing was perfect. Scottie was born in October 2016; two weeks later, Ashlee was back in the saddle. "When we had Scottie, it put things in perspective even more that this isn't just for me anymore: I want to go out there and do well for my family, and my family comes first."
The following February, when Scottie was just four months old, Ashlee and Chela made their first big comeback win in the $100,000 Longines FEI World Cup™ Jumping Thermal. Though Ashlee recognizes how much she owes to her team for her swift return to the top of the sport, motherhood, she says, made her a better, smarter competitor, from how she planned her shows to what exercises she did and how she approached a course.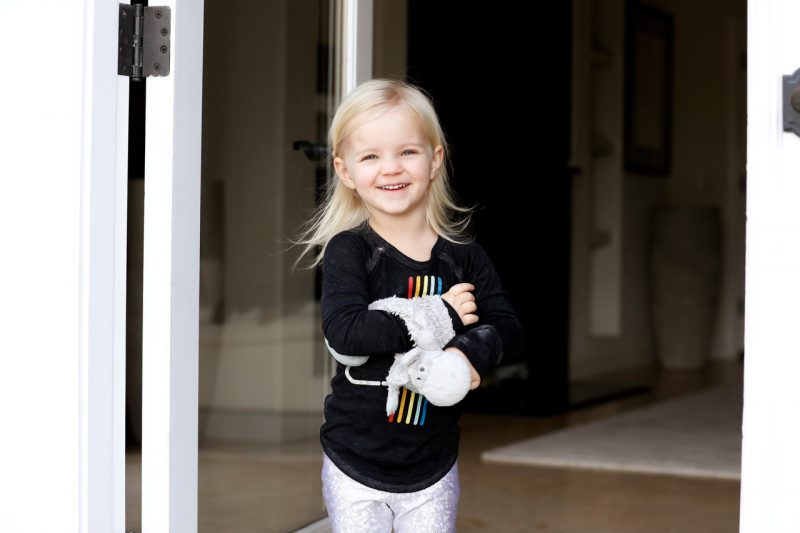 "I wasn't just flying by the seat of my pants; I was more methodical with everything," she said. "It's really benefitted my riding and my drive to win and be successful — and, of course, wanting to prove to my daughter that she can do anything she sets her mind to and still be able to have a family."
Riding for Israel
When it comes to balancing family and big career dreams, Ashlee is setting an amazing example for Scottie. One day, Ashlee and Donatello 141 are winning 5* Grand Prix under the lights at the Winter Equestrian Festival, with Scottie and Roy cheering them on. Another, Ashlee is leading Donny around with Scottie on his back, pausing to give Scottie time to cuddle his neck.
Behind it all is the Little Valley Farms team, including Cindy, barn manager Hugo, and Steve who plays an instrumental role in bringing along the young horses and training those that are new to the program. There are usually eight horses in the barn, and they've got quite a few homebred babies coming up either at their farm in California or in Europe, which Ashlee hopes to see become superstars — including one of Chela's, who retired last year. Though the cultural climate he grew up in may have made him reticent to see his daughter ride for his home country, Steve is proud that Ashlee is now riding for Israel.
She had contemplated switching nationalities for some time, including conversations with Israeli teammate Daniel Bluman, who switched to riding for Israel in 2016. In 2018, on her 33rd birthday, Ashlee gained her Israeli citizenship. "I'm still an American, I'm an Israeli American — but I want to bring Israel the recognition," she said.
She's off to a fantastic start. For the first time in history, Team Israel qualified for a spot at the Olympic Games. Though she understands why many might be disappointed at having the Games postponed until 2021, Ashlee is grateful for the extra year to prepare her young horses and to get to know her new team.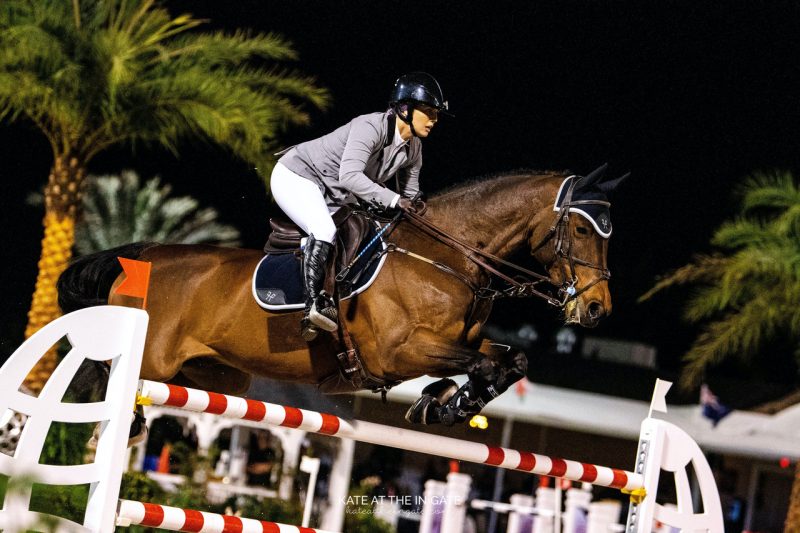 Ashlee has been traveling to Israel since she was 16, and wants to make it even more frequent — and it's something she'll certainly share with her daughter, because it's a part of who they are. "I really love it over there: I love the food, I love the culture," Ashlee said. "I get this peace that comes over me; I feel so connected to God and my faith. It feels like another home for me. I just love it so much."
For more information, visit ashleebond.com
Photos by Kristin Lee Photography, www.kristinleephotography.com, unless noted otherwise
Double D Trailers Info