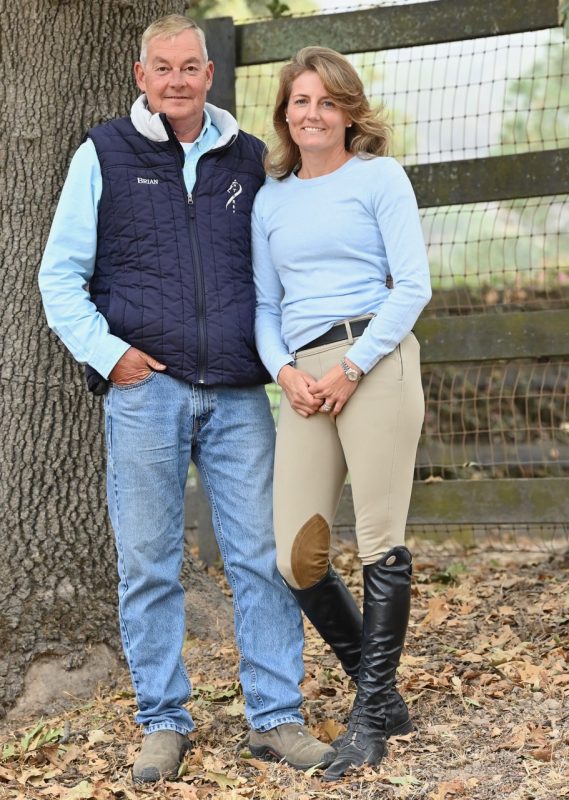 By Esther Hahn
Portraits by Alden Corrigan
Moving across the country to start over is either a dream or a nightmare. For the husband-and-wife trainer duo Brian and Missy Gruber, it was a little of both.
The idea of the opportunity first arose at Thanksgiving dinner in 2015. During a visit to Brian and Missy's farm in Maryland, Missy's parents offered the couple the chance to take over the family's 22-acre horse farm, nestled in Napa Valley, California's famed wine country.
Missy's aunt was retiring from managing Tulucay Farms, which Missy's grandparents had built. Missy's family thought it would be the ideal timing for Brian and Missy to utilize the facilities, which included an indoor and an outdoor arena, barns and grass paddocks that provided for both a full-service show stable and an equine rehabilitation and retirement operation.
For Missy, the move would be a homecoming of sorts. She had spent much of her childhood at Tulucay, even taking her first rides there. But for Brian, it would mean saying goodbye to a farm and a business that he built up over the course of 30-plus years.
As the saying goes, "happy wife, happy life," which Brian embraced as the pair uprooted their lives and settled in at their new location in September 2017. A month later, one of the worst wildfires in California's history hit Napa.
"It was literally trial by fire," Brian remembered. "I never imagined just how horrible wildfires are. On the East Coast, we've done tornados, minor hurricanes, blizzards — but it turns out, fires take the cake."
"Fire emergencies are difficult to navigate," Missy added. "We were able to get 36 horses out in 4 hours. It was a learning day."
New Territory
It was quite the welcome for the new residents. Once they survived the harrowing experience, they were ready to take on whatever else the West Coast could throw at them. Next on the agenda: building an inclusive community of riders and horse owners interested in expanding their skill sets and horsemanship knowledge.
"It's my belief that you can't walk in the ring without a bond with your horse," Brian said. "Your horse will give you that extra effort if you know everything about that horse. That's ultimately what we're trying to accomplish here at Tulucay."
"It's rare to find trainers who are equally good at understanding horses and people — and who can share their knowledge in a way that's accessible and immediately applicable," said client Kelly McGiness. "Brian prides himself on being 'old school.' I wouldn't know old-fashioned from newfangled. But I do know that his knowledge of classical riding combined with his understanding of horse behavior provides the right environment to learn what it takes to be true horsemen."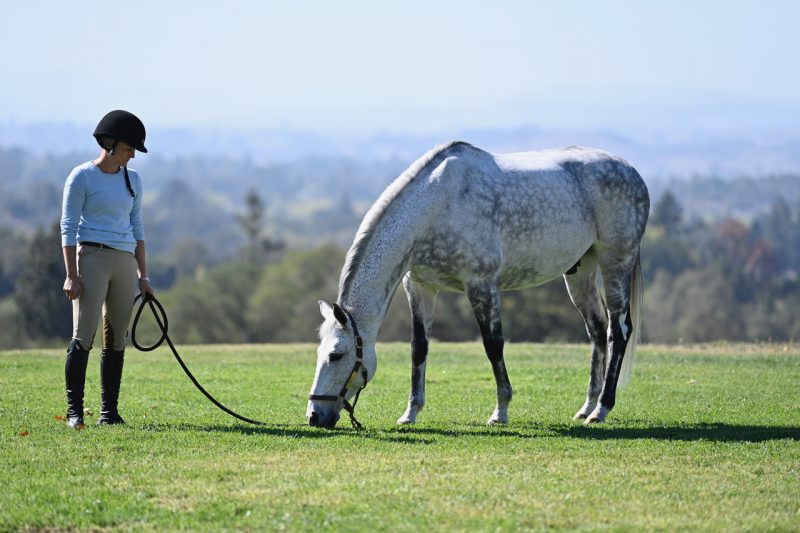 With Brian as the trainer and ground person and Missy as the primary rider, the husband-wife team approach each horse and rider that come into their program as a clean slate.
"Nothing will have a 100% success rate when it comes to horses," Missy explained. "But we like to start over with the basics. If we get in a horse that stops, we start over from the beginning and find the point where it's a little uncomfortable. From there, we add work bit by bit until the confidence returns.
"As the rider, it's my job to make a horse confident. That may mean an owner will just watch for a few rides. But once a horse is confident, then the owner or rider can get on, and they can build that trust together. It's like couples therapy."
Immersive Learning
Between Brian and Missy, the years of experience are vast and varied. Brian's first riding lesson was at the age of 11, on a pony named Sugar Plum. The lesson came in a roundabout way: Brian's father was an accountant and his lawyer's wife, Beverly Huber, offered to teach Brian at the Hubers' farm in New Hope, Pennsylvania.
It took five lessons for him to learn how to post — about the same amount of time to realize that he would never be without horses. And as he advanced in experience, he began grooming for Beverly when she showed her horse Take The Field at iconic venues like Devon and Harrisburg.
"Beverly trained with Harry Duce," Brian remembered. "And when I was ready to move on from Beverly's, I went to Harry's Blue Jacket Farm. There were 18 stalls that I would muck, in rain, sleet, snow, to pay for my lessons."
Brian balanced his horse responsibilities alongside school, but during his second year of college, he received an opportunity to work for Stephanie Campus in New Jersey. Faced with the decision to pick between his academic studies and a career in horses, Brian chose the latter.
Consequently, he's had the opportunity to work with and learn from many of the industry's great names, including the highly regarded farrier Joe Alfano. "Brian Gruber is what I consider an old-school horseman," Joe said. "He's made his way up through the ranks by working hard and paying attention to what he's observed. He's a can-do trainer, from tacking on a shoe to bathing a horse, and he excels at putting horse-and-rider combinations together."
"Horses and riding were everything for me," Brian said, "and they still are. I picked the horses when given the choice, and faced with the same decision today, I would do the same. Horses are a lifestyle."
Finding Her Stride
Missy's start with horses began at the age of 2 at Tulucay. Although her mother wasn't thrilled with her toddler daughter riding, Missy sat atop one of her aunt's horses and felt a freedom of movement that her own legs had yet to deliver.
"My aunt sat me in front of her in the saddle, and we started cantering," said Missy. "That was my first memory. I remember that feeling and I remember laughing. That was it. There was no turning back."
When Missy's father's work transferred the family to the East Coast, Missy started rising through the ranks in the jumper division. She met Brian then, in the late '90s, when she began training with him at Ridgefield Farm in Maryland.
"I rode whatever I could get on," Missy said. "Brian always framed it as, 'This is this person's horse and this is how you'll ride it to make it better.' That was always my mentality: How to think of the horse and the rider as a team."
After a successful Junior career, Missy had the opportunity to go to Europe and ride for Performance Sporthorse International.
"I had never been exposed to dressage before my time in Europe," Missy explained. "But I continue to incorporate those elements into my flatwork to this day. It's honestly made it easier for me to understand the horses we import from Europe, because I know what the horses are looking for when being ridden."
A Combined Approach
Brian and Missy reconnected when Missy returned home and joined Ridgefield as a rider and a trainer. Together, they guided their riders from their first up-down lessons to medal finals and year-end awards.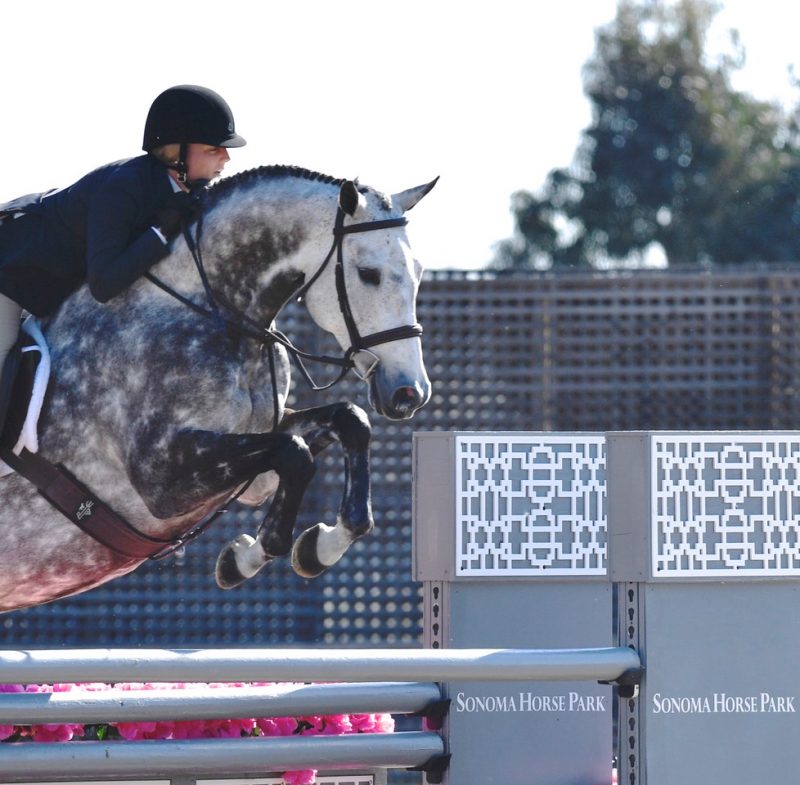 "Working together as husband and wife has its challenges," Missy said. "It's difficult to separate work life and personal life when you're both horse trainers. Work is all-encompassing and you have no choice but to bring work home, especially when home is where we work.
"But we work well together," she added. "We know that our differences make us a stronger team together. I'm detail-oriented and Brian is a high achiever. We communicate well with each other and with our clients, and that ultimately makes the business and marriage successful." 
Today, Tulucay offers an a la carte service program that allows the client to select the number of lessons and training rides per week. Brian and Missy also offer the options of shipping in for training or meeting at shows.
As they had once done so successfully on the East Coast, Brian and Missy have been able to recreate the same family-oriented, education-forward programs at Tulucay. The main difference now is that riding horses is accompanied by world-class wine tasting.
"It was a leap of faith when we decided to move," Brian said. "We're here to stay."
For more information, visit tulucayfarms.com
Photos by Alden Corrigan Media
Double D Trailers Info