By Laura Scaletti
Portraits by Kristie Nichols
Deirdre Sabo has known she was going to be a professional dressage rider since she was in kindergarten. While her classmates had plans of becoming astronauts, teachers and policemen, Deirdre knew her path in life would be astride a horse performing half passes and piaffes.
"When other kids asked me what I wanted to be when I grew up, I always said, 'An Olympic dressage rider!' I still remember the perplexed looks on their faces," Deirdre said. 
Deirdre had not only chosen her career path early on, she picked out her freestyle music in first grade — which she actually ended up using in a 2020 championship win on her horse Furst Dance.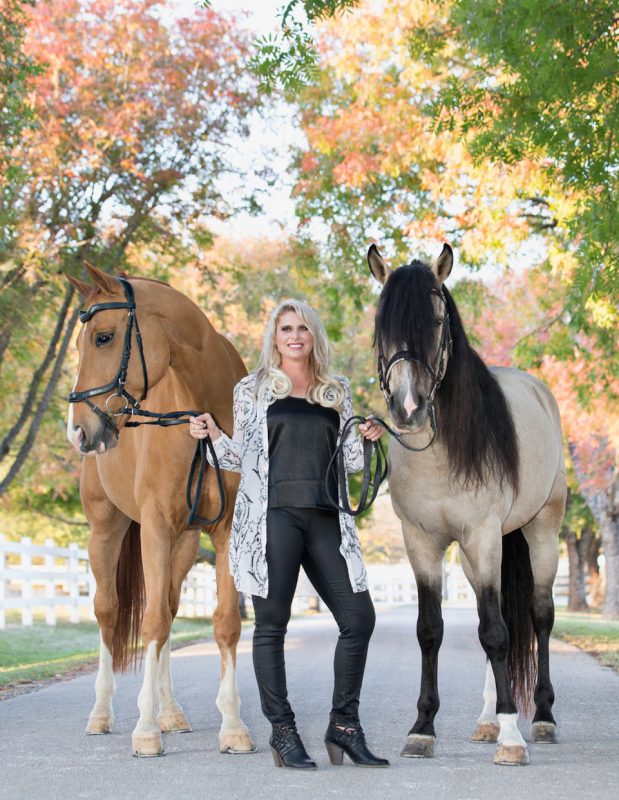 Today, Deirdre is still pursuing her childhood dreams while managing a portfolio of equestrian business ventures — DDressage, Salado Creek Riding Club, Equestrian Athletes Magazine and Equine Strides. Although she's living the dream today, it hasn't been without heartache, genetic luck and persistence along the way.
Family History
Deirdre was lucky to be born into an equestrian family. In fact, it was horses that brought her parents together. 
"In high school, my mom, Sandra, was a horse-crazy teenager who belonged to the Bit and Spur Club. My dad, Wayne, who loved animals but didn't have much interest in horses, joined the club so that he could be noticed by my mom," Deirdre said. "Obviously, it worked out for him."
After getting married, Wayne found out the U.S. Army was stationing him in Germany. It was there that Sandra first fell in love with the sport that would later captivate Deirdre. "My dad spoke German and my mom didn't, so he was her translator during lessons. This sparked their passion for the sport of dressage," Deirdre said.
Once Deirdre came along, Wayne and Sandra happily introduced her to the animals and sport they both loved. However, when Deirdre was 4 years old, all things horse related came to a halt.
"My mom had been competing her horse, Jester's Court, up to the FEI Prix St. Georges level until she started to feel her balance was a bit off. She continued to ride, but her skills seemed to be diminishing," Deirdre said. "They discovered that she had inherited Huntington's disease from her mother. Because genetic testing didn't exist then, she had to find out the hard way that she was in fact sick with a disease that has, to this day, no cure."
After being exposed to horses at an early age, Deirdre desperately missed them after her mom's diagnosis. "I used to beg my parents to ride. I remember feeling an actual ache in my legs from the desire to be on a horse's back. I even went as far as to put my mom's saddle on a suitcase to sit in while watching TV," Deirdre said. 
Eventually, Deirdre's persistence paid off and she was back in the saddle on a real horse. Sandra found a place for Deirdre to take lessons and Deirdre never looked back.
It was a truly selfless act to give her daughter the opportunity to ride when she was unable to, and Deirdre is thankful Sandra helped support her passion. "I have a feeling that it frustrated her that she could no longer get out there and do it," Deirdre said. "I didn't understand this at the time; it pains me to think about it now and realize how hard it must have been for her." 
Dressage Debut
Although Deirdre knew she was destined for dressage, it wasn't until she was 11 years old that she had her first dressage lesson. As fate would have it, not only did her dad find her a great lesson barn, he also found her a lifelong mentor and confidant. 
"I was so lucky my dad happened to find me an amazing instructor, Rebekah Westazke. She put the foundations on my riding down and is still always there helping me and cheering me on," Deirdre said. "She led by example, showing me that calm perseverance gets you there without the need for short cuts or gimmicks."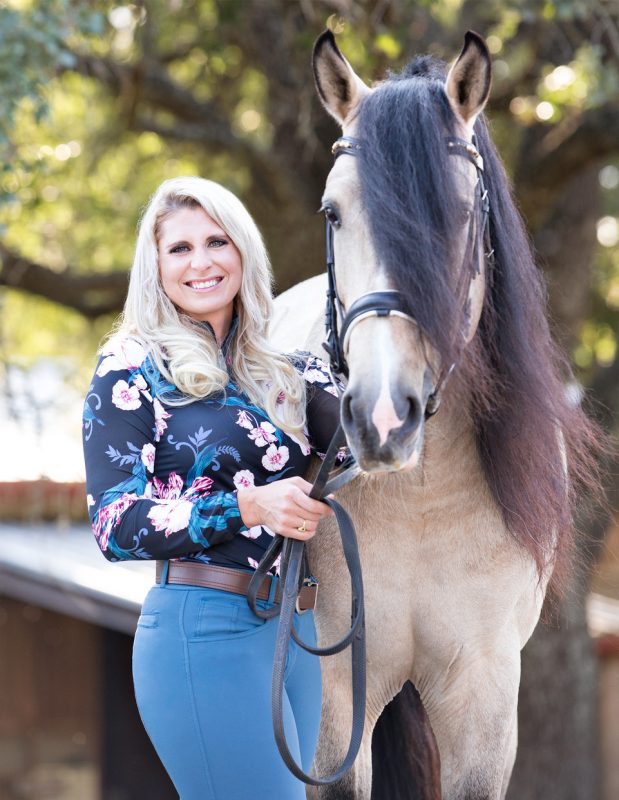 Through Rebekah, Deirdre found her first dressage horse, Regular Starr +. A 4-year-old when Deirdre started taking lessons, he would eventually take Deirdre up the ranks through FEI Intermediate I. 
"Rebekah let my dad buy him for me and he was my best friend all the way through college," Deirdre said. "To this day I call him my 'soul horse.' He had the biggest heart of any horse I have ever met, and showed me that heart was the most important aspect of a sport horse."
At 16, Deirdre was fortunate to have dressage powerhouse Hans Biss join her dressage journey. "Working with Hans really propelled me up the levels of confidence in myself. He pushed me to do things that scared me, that I didn't understand at the time and he asked me to rise to the occasion," she said.
This partnership eventually led Hans to invite Deirdre to work for him in Germany in 2003. It was an eye-opening experience that would prepare her to one day become a professional and to open DDressage.
Gene or Dreams
Before Deirdre could follow her chosen career path, she needed to finish her education and get some answers about her own health. 
Like most parents, Wayne was supportive of Deirdre's passion; however, he wanted to make sure she had a fall-back plan if her professional riding career didn't pan out. 
Growing up in a military and equestrian household, Deirdre cultivated a desire for structure and development. So it came as little surprise to her loved ones that she joined the ROTC in high school. "I wanted to be a Marine Corps officer. I went through the strenuous process of applying for a Marine Corps full paid scholarship and to my surprise, received it," she said.
However, before Deirdre could commit to Uncle Sam, she needed to know if she too carried the gene for Huntington's Disease. Unfortunately, the hospital wouldn't let Deirdre get the genetic testing until she was 18.
"I was living in fear that I had Huntington's disease, in which case I would have extraordinarily little time to accomplish what I wanted to accomplish with horses. If I was sick, my plan was to just ride. What was the point of a backup plan if I was going to be in a nursing home in a few years?" Deirdre said.
That fear caused her to turn down the Marine Corps scholarship. As soon as she turned 18, she demanded the genetic testing and came up negative for the disease. A sigh of relief was breathed by Deirdre and her family. 
"My 18-year-old brain didn't know what to do at that point. I had always been artistic, and interior design seemed to be something I could bear doing if I couldn't ride. After visiting several campuses, I picked Baylor University and started my studies," Deirdre said.
While at Baylor, Deirdre rode for the NCAA equestrian team both on the flat and over fences. She also became the dressage instructor and equine trainer at McLennan Community College. "These opportunities allowed me to pursue my equine professional goals while getting a backup degree at an amazing university," she said. 
Open for Business
Deirdre got her feet wet in the business while she was still at Baylor, riding five horses a day and teaching 10 lessons a week. "I was young and had classes to attend, but DDressage paid my meager living expenses while in college," she said.
Right after graduation, Deirdre started a job as the head trainer for an Andalusian breeder. After a few years there, a particularly harsh drought in Texas caused the breeders to downsize, leaving Deirdre without a job. Not willing to go to the design job yet, Deirdre started working for Gold's Gym as a personal trainer and traveled around giving lessons and riding horses on a daily basis.
In 2011, while traveling around, Deirdre found a facility she could call home for DDressage and create Salado Creek Riding Club.
"I started the farm with $400 in my bank account. It seems so impossible to me now, but the owners of the facility wanted to see me succeed, and they helped me so much in the beginning," Deirdre said. "Grateful isn't a strong enough word for what I feel for them."
An 80-acre parcel with five barns and 70 stalls, Deirdre didn't want to limit the facility to just dressage, thus creating the separate Salado Creek Riding business. "I wanted everyone to feel like they could come and enjoy it with their horse without the pressure of having to do dressage. It's worked out really well for the business and even brought on some converts to dressage," she said.
Deirdre loves sharing her passion for dressage with clients, both horse and human. To Deirdre, that sport is a never-ending journey of self-development.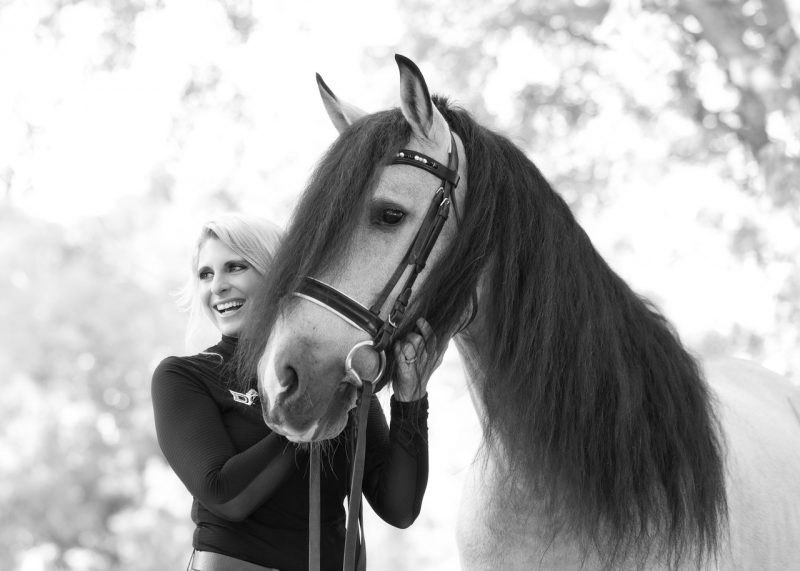 "I thrive on the fact that it can always be better, we can always keep growing. Every aspect of dressage excites me. I never tire of getting a new horse and finding ways to make that horse stronger, happier, more balanced and more confident," Deirdre said. "It's a constant puzzle that never gets old."
Salado Empire
Deirdre often jokes she's building the Salado Creek Empire as some of her clients have started businesses on the premises. "We have Salado Creek Tack Shop, LLC, Salado Creek Red Light Therapy, an equine-assisted therapy program for veterans and even a saddle fitter," she said.
She has also launched a few of her own ventures from the riding club including Equestrian Athlete Magazine and the companion Equestrian Athletes podcast. Having a strong interest in fitness, Deirdre had offered traditional personal fitness training for the equestrian athlete at the club to keep their athletes at the top of their game.
"The podcast was my effort to help even more people, than those just at the club, with their ambitions by teaching them fitness techniques, mental preparation and much more. Eventually that idea morphed into the magazine," she said. "Both have enabled me to find services and tools I didn't know existed and share those with others."
Equestrian Athletes Magazine is a one-stop shop for riders to learn how to better themselves. "I want to be sure everyone has the tools they need to change what they need to change in order to grow. That's my hope for the magazine," Deirdre said.
Still Dreaming
Deirdre learned at an early age to live each day to her fullest. While she has her plate full with business and family obligations, at the end of the day she's still that 5-year-old horse-crazy girl who wants to ride for Team USA.
From U.S. Dressage Final wins to competing at the top level of dressage, Deirdre's small goals throughout the years led to the main goal. "I've already accomplished so many goals and it keeps getting better," she said. "I've been asked several times, 'What if you don't make it?' The only response is, 'I will never make it if I don't try.' I would rather know that I put everything into it and tried than be afraid of not completing the dream." 
For more information, visit www.ddressage.com
Photos by Kristie Nichols, moonfyrephotography.com
Double D Trailers Info