Heather Blackwell-Batchelor, the founder of the whimsical equestrian handbag brand Paul & Lydia, fell in love with horses as a girl when her family moved from Indianapolis to a horse farm in rural Boone County, Indiana. An opportunity for Heather's mother to become a barn manager precipitated the family's transition from city to country and fulfilled her mother's lifetime goal of having horses. Shortly thereafter, Heather's mother and younger sister, Stephanie, began competing in horse shows, but Heather aspired to perform in the circus, vaulting and doing tricks with horses. Her dream was to entertain a crowd with her equine artistry.
Today Heather's passion for equines and art have merged into her business, Paul & Lydia, with a product line featuring wallets to wine bags and garment bags to totes. The colorful brand, which is sold in tack shops, online, and in several foreign countries, was born after Heather designed a Little Red Riding Hood-themed diaper bag for her sister Amy, who was expecting. The bag was a hit and the seed of an idea sprouted.
City to Country
Risk-taking came naturally to Heather, the oldest daughter of Steve and Marilyn Blackwell. Her father was an entrepreneur and when her mother took on the job of barn manager, she had no experience with horses. In addition, a special relationship Heather formed with a senior chestnut mare named Little Bit who was, as Heather recalls, "a very sweet, good horse," gave the adolescent girl a taste for daring adventure. "I'd stand on her and ride and sometimes jump off the hayloft onto her back." Heather's early leaps from the loft onto Little Bit foreshadowed life transitions foundational to the startup and success of the Paul & Lydia brand.
As an adult, Heather's desire to perform led her to move to New York and later to Los Angeles to pursue theater life. Heather has two children, Caleb, now 23, and a competitive bass fisherman who recently graduated from Adrian College in Michigan; and Madelyn the equestrian, now 20 and a junior at Adrian. While living in California and the children were young, the Batchelor family's life took a turn for the horse.
"My daughter Madelyn had a love of horses from a very young age but we were in the city and she wanted to be around them. My kids were more country than I was. I grew up in the country and couldn't wait to get into the city." As the shine of city life wore off, Heather began missing home and farm life, reminiscing about the times she and her sisters would play in the barn. In the hayloft, the girls would partition off their own imaginary apartments with bales of hay. Heather knew it was time to head back to Boone County, Indiana, to her family and her roots.
Settling back into country life in Indiana and eventually moving two miles away from her parents, Heather's daughter Madelyn, then a third grader, finally had a chance to be with horses consistently and began riding lessons with trainer Patty Kent at Colonial Equestrian in Zionsville, Indiana. It was a natural fit for Heather to homeschool her children, allowing them to invest in both academic and extracurricular pursuits with a flexible schedule. For Madelyn, homeschooling allowed more time for riding and horse shows, and for Caleb, who began casting well before kindergarten, more time for fishing.
As the children approached college age and the days of homeschooling were numbered, Heather relied on her faith to guide her and began praying about what she should do next in order to fill the hole. She knew she wanted to have her own business and was inspired by the example of Lydia from the Bible, who was a successful businesswoman, a seller of purple dyes used for the clothing of the Roman elites. The apostle Paul met Lydia, sharing his faith with her, and Heather was drawn to the symbolism of an entrepreneurial woman living out her faith and so the name Paul & Lydia fit. A small purple tag can be found on all Paul & Lydia products.
Product Launch
The first bag, the diaper bag that Heather created for her sister, was based on one the siblings discovered, purchased and loved for its functionality and whimsical design. Prior to that initial diaper bag, Heather had been contemplating starting a business, but she was unsure if she would go to market and buy others' products and sell them in her own store or make a product of her own.
The lightbulb moment came when working with the seamstress Heather contracted to sew her sister's bag, when Heather realized there weren't sizes involved such as in women's or baby clothes and how the artistic expression a woman has via her handbag makes a statement about who she is. "I studied art and always wanted to perform or create. This, to me, was my canvas to be able to express artistically what I wanted." She found a way to plug in her art to entrepreneurship.
After the diaper bag creation, Madelyn wanted a bag to take to horse shows and so Heather made a hot pink bag with black jumper horses, a tan fox bag, and a teal bits bag. Soon Heather's friends wanted the unique bags and so Heather began selling them at horse shows, where they would sell out. Heather set a goal to sew 75 bags and get into local tack shops. "The first time they were in Grand Champion Tack in Indianapolis — that was huge. A milestone," she said. The bit print design has become the foundation of the Paul & Lydia line.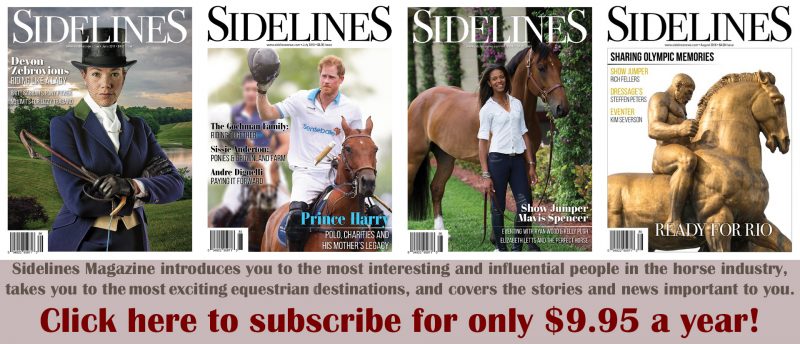 Paul & Lydia
Things got crazy when Paul & Lydia debuted at the American Equestrian Trade Association in 2016. "I was making them by hand and receiving lots of orders, and I still did not have a manufacturer … I had to scramble, but it worked out when a friend of mine who worked for Vera Bradley connected me." In a two-month period, Paul & Lydia went from being created by a mom sewing in the bedroom to being shipped from a professional manufacturer.
Heather compares launching her business to the Wild West. "If I'm willing to learn how to do it and work hard, I can compete. I learned how to sew, I learned how to create a website. I had to learn social media and SEO [Search Engine Optimization]." Once she figured out how to use Instagram, stores began contacting her, leading to Paul & Lydia bags being sold in Japan, Canada, Australia and Great Britain. Speaking of Instagram, Heather's daughter, Madelyn, and niece Ally Warmoth model the bags along with the family's three horses — Frankie, the OTTB; Annie, the Quarter Horse; and Thunder "the Wonder," their miniature horse.
Heather derives deep job satisfaction from her entrepreneurial adventure, stating "the best part is when a woman sees a bag and she connects with it. It's a community and conversation — that's kind of what art is. I've started sending out newsletters and I get people responding like we're friends — I did not expect that. Or to have women who get one and they keep re-buying things. They're not just customers — they are relationships."
Through the various learning curves on the Paul & Lydia path, Heather thought about her mom managing the horse farm "doing something she didn't really know how to do but she did it anyway and it became a part of our family." Heather has followed in her mother's footsteps, repeating family history — with the tenacity of a cowgirl trick rider.
About the writer: Susan Friedland-Smith of North Tustin, California, is a middle school teacher and equestrian lifestyle blogger at Saddle Seeks Horse. Check out her blog saddleseekshorse.com and follow on Instagram @SaddleSeeksHorse.
Double D Trailers Info