By Laura Scaletti
Portraits by Adrienne Morella  
When Emily Hamel was 11 years old, her 4-H group took a field trip to the Rolex Kentucky Three-Day Event. From that day forward, Emily, who hadn't yet experienced the thrill of eventing, was determined to return to Kentucky as a competitor at the prestigious event.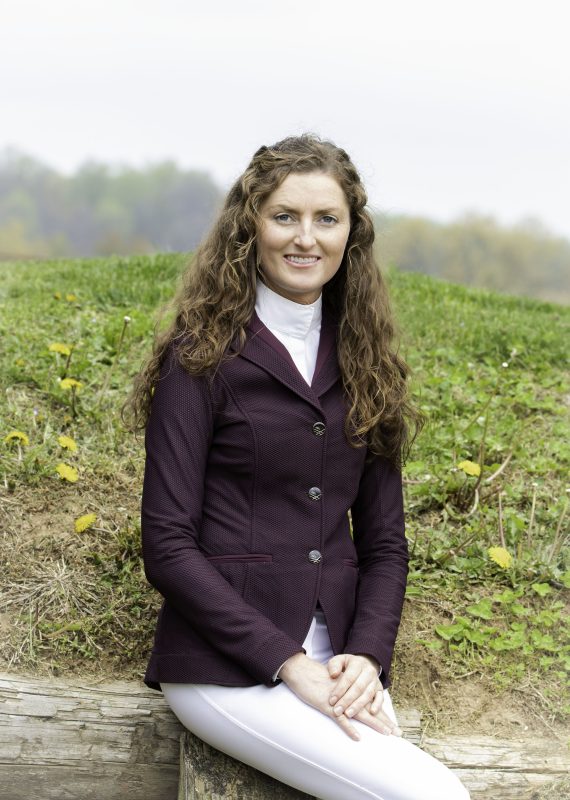 Twenty plus years, a competition name change from Rolex to Land Rover and a lot of hard work and determination later, Emily found herself achieving that goal in 2021. "It was so worth the wait. I had been close to going with my first Advanced horse, Ramsey, owned by Katherine O'Brien, but due to an unfortunate injury before our last qualifier in 2016, that didn't happen," Emily said. "That was gutting at the moment, but now I am so glad that Corvett, affectionately known as Barry, was my first five-star horse."
Since Emily first sat on Barry in 2016, he's been helping her check off items on her eventing bucket list. Five stars, Kentucky, Europe—Barry has taken Emily all those places and more. 
Early Years
A horse enthusiast as long as she can remember, Emily didn't officially become an equestrian until she was 8 years old. She was in New York visiting her dad, John Hamel, and stepmom, Marianne Hug, and it was Marianne who took Emily to her first riding lesson. "She rode growing up and still would occasionally ride, so she wanted to share that with me," Emily said. "In just one lesson, I was completely hooked. When I went back home to Wisconsin, I begged my mom, Deana Hamel, and stepdad, Paul Sprague, for more lessons." 
Thankfully, Deana and Paul agreed, and Emily was soon taking lessons on a regular basis, sparking her passion even more. After a year of lessons, Emily's parents bought her a horse of her own: Louie, a Spanish Barb. "Knowing what I know now, their choice to buy me a slightly feral, relatively untrained rescue horse was a bit crazy. However, it made me a better rider in the long run," Emily said.
With a year of horse ownership under their belts, Emily's mom and stepdad decided to buy a farm in Kiel, Wisconsin. Although the duo wasn't horsey by nature, the idea of living on a farm appealed to them as they enjoyed building things and doing projects. Deana and Paul also knew having a farm would allow Emily to pursue horses on a deeper level.
"Once we had the farm, it opened opportunities for me to start making money with horses at a young age. We boarded a few friends' horses, so I was responsible for doing chores, which helped pay for my horsey habit," Emily said. "I started giving riding lessons and taking horses in for training when I was 15, which made me realize this is what I wanted to do with the rest of my life."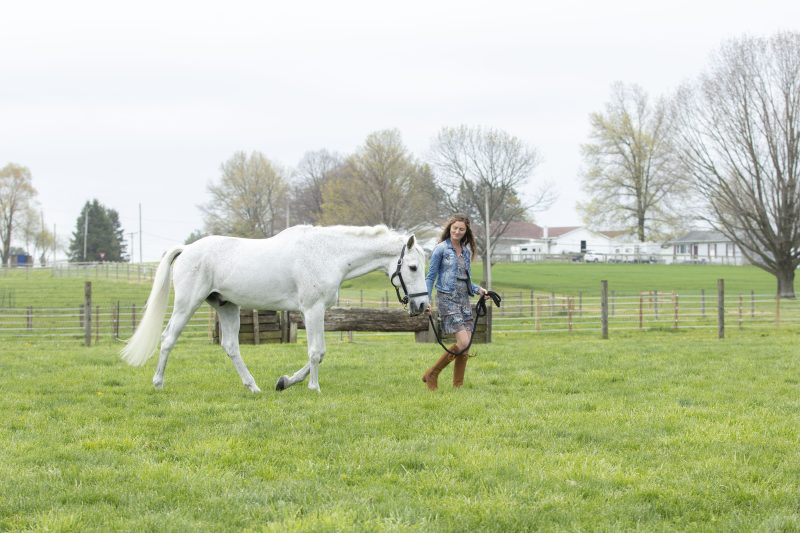 When Emily took that 4-H field trip from Wisconsin to Kentucky for Rolex, she had no idea it would be a turning point in her equestrian career. "Just like with my first riding lesson, I was hooked immediately and set my mind on competing there one day," she said. At the time, Emily was riding Western and English with a little jumping in her repertoire. "Rolex definitely inspired me to go the eventing route," Emily said. 
After that trip, Emily was all in when it came to eventing. However, before going professional, she decided to attend college. "I knew I didn't need a degree to be a professional, but I thought it was a good idea," Emily said. While in school, Emily held a working student position during the summers at C Square Farm with Courtney Cooper in Pennsylvania.
With a degree in hand, Emily moved to Lexington, Kentucky, where she established a great group of clients and was the instructor for the University of Kentucky Dressage Team. Although she had a great business of her own, Emily realized she needed help with her own horse, Ramsey, and began working with Phillip Dutton one winter in Aiken, South Carolina.
Eventually, Emily decided to make a leap of faith, close her business and move to True Prospect Farm in Pennsylvania to have the opportunity to learn and work for one of the best in the eventing business. 
Team Barry
It was once Emily accepted the position at Phillip's that her dreams started to accelerate and become a reality. As Phillip's head rider, Emily had the opportunity to ride a lot of prospects and sales horses. However, once she sat on the quirky, talented, brave and sassy Barry, everything changed for her.
"Barry was owned by a young rider who was training with Phillip, but it wasn't the right partnership, so he suggested she sell him. Phillip gave me the ride on him with the instructions to make him rideable so we could sell him," Emily said. "After a few rides, I realized how much I liked him and because he wasn't proving easy to sell, I was able to get a great deal on him."
Essentially selling him to herself, Emily loved everything about Barry. "I originally convinced my parents to buy him with the idea that I would put a year's worth of training into him and then sell him for a profit. Well, after our first competition together it was obvious that he was special. Luckily, my parents were open to letting me keep him to pursue my five-star dreams," she said.
Emily and her parents aren't the only fans of Barry—he has a whole village supporting him. "I love how much people love Barry. I've always known he is special, but it's encouraging to see how much other people appreciate him, too," Emily said. "I think he has a bigger fan club than I do!"
That's part of the reason why Emily created Team Barry, a way for supporters to have an impact in Barry and Emily's journey as they try to tackle their dreams. "I started Team Barry to make it accessible for people to be part of something exciting," she said. On her website, Emily has a Team Barry swag shop as well as a way to contribute to their endeavors via donation.
"I'm humbled by how many people were willing to donate their time, effort or money to help us get to England this year. We honestly couldn't have done it without everyone's contribution," Emily said. "I'm proud that together we've been able to achieve great things."
European Adventures
In 2021, after a lot of training and competing through the levels, Emily and Barry finally qualified to run a CCI5* event. She had her long-awaited Kentucky moment, where they were the highest placed CCI5* first timers and finished 21st out of a field of over 60 horses. From there, the duo competed at the Maryland 5*, where they had another outstanding event, earning the MagnaWave Ride of the Day for their crowd-pleasing show jumping performance as one of the first pairs to jump clear. "Barry was clearing the fences by at least a foot and there was a lot of oooing and ahhing from the crowd," Emily said. 
It was after Maryland that Emily decided it was time to head across the pond. "You never know how long you'll have a five-star horse, especially one as cool Barry," Emily said. "So, I figured, why not cross Badminton and Burghley off the bucket list now?"
With it being a major investment to uproot Emily and Team Barry, she decided to make the most of her European adventure and spend the summer training and experiencing all England had to offer in the realm of eventing. "It's been a wonderful experience to see how the Brits do things since, clearly, they are extremely good at it," Emily said.
Never having competed in Europe before, Emily figured Badminton wasn't too shabby an event for her European debut. But first, she had to get on the qualification list. With COVID forcing the cancellation of Badminton in 2020 and 2021, there was a lot of pent-up demand to once again compete at this world-class event. 
"They can only take the top 85 FEI ranked horse/rider combinations and over 130 entered. I don't compete Barry that often at the FEI level, because I like to save him for the big competitions, so we started out 9th on the waitlist," Emily explained. "That was slightly nerve-wracking because even though it wasn't a guarantee I'd get off the waitlist, I had to plan my trip overseas like I was 100% going."
Even before she made it off the waitlist, Emily had to deal with an unexpected meniscus tear and subsequent surgery. One week post op, Emily got the news they had gotten off the Badminton waitlist. That's when Team Barry went into overdrive making sure that nothing derailed their dreams of going to Europe.
"Sydney Solomon, who fills in for me while I'm in Europe, kept the horses I had in training going and rode Barry until I got back into the saddle. My working student/groom Isabel Lopez also helped keep Barry fit. My clients, Garrett and Alexis Kletjian, opened their home so I had a place to recover," Emily said. "And my mom flew in to help me organize my life and pack before I left for the UK, which was hugely helpful as I tend to overpack and needed a reality check to get down to the essentials."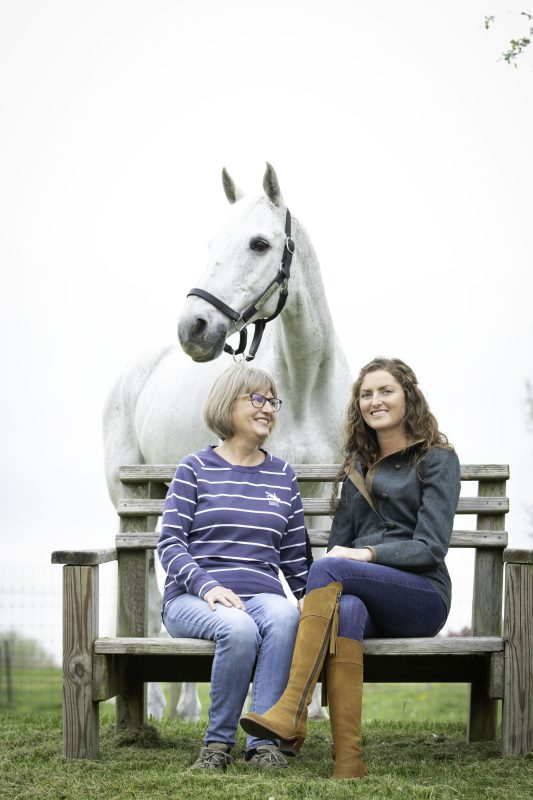 Although not the Badminton prep Emily initially envisioned, her team made it possible for her to both heal and chase her dream. "The perseverance that it took to get there and then the atmosphere once we arrived is something I will never forget. Riding through the arch and past the Badminton House was the moment I realized that I had arrived in more ways than one," Emily said.
Emily truly was living her best life the entire weekend of Badminton. "I was incredibly thankful to be there and overwhelmed with emotion, in the best way possible. I know it sounds crazy, but I wasn't nervous throughout the competition, because I was just so happy to be there with Barry, my friends and my family," she said.
Emily and Barry had a successful first European outing finishing 52nd out of 85 starters. "Overall, I was very pleased with Barry's performance. He handled the big atmosphere like a pro," Emily said. "Through each phase, he made improvements on past performances and gave us homework to work on."
A bobble in cross-country took the duo out of contention. "He was an absolute machine and ate up the course. Unfortunately, we picked up 20 penalties at 17b (The Mars Sustainability Bay) when he jumped funny over 17a and almost unseated me. Luckily, I didn't go for a swim but couldn't quite make it to 17b," Emily said. "Barry happily jumped it when I actually presented it to him, and he doesn't know anything went wrong."
While Emily would have loved to have placed higher overall, the incident at the water on cross-country precluded that. "It's a huge accomplishment to finish Badminton and I'm proud to say that Barry and I did it! I do hope I have a chance to go back and compete there again in the future," she said.
To close out Emily's time in Europe, she competed in Burghley in early September. "A lot of people have told me even though Badminton is amazing, they prefer Burghley. They weren't wrong," Emily said. "Badminton was fantastic, but Burghley had a totally different feel, and it was incredible. It's known as the ultimate test of horse and rider and I would 100% agree."
When the duo came through the finish flags on the cross-country course, Emily was on the biggest adrenaline high she'd ever had. "The first thing I said to my support crew in the vet box was, 'That was literally the hardest thing I've ever done in my life,'" she said. "Barry was an absolute machine and tried his heart out the whole way around."
Some quick thinking after a bobble when Barry stumbled into the water at the Trout Hatchery helped Emily stay in contention this time around. "I'd walked my options, so I knew I could reroute and avoid jumping penalties. I'm so unbelievably proud of us for finishing our first Burghley in the top 20," Emily said. 
Big, Bold & Brave
In addition to being a character in the barn in real life, Barry also is the main character in Deana Hamel's book "Big, Bold & Brave." "My mom and I were casually having a conversation and inevitably Barry came up. I said something along the lines of, 'Barry's such a character, he should have his own book.' That's when my mom said she'd always wanted to write a children's book," Emily said.
Within a few days, Deana had taken the idea, run with it and had a rough draft. Knowing they needed great illustrations if they were to make the story really come alive, Emily realized that she knew just the right person for the job. "When I taught in Lexington, I had a student whose husband, Tom Monarch, was a very talented graphic designer. We reached out to him, and he was happy to be part of the project," she said.
The book tells Barry's story from the beginning: how as a young horse his mom told him to be great, he was going to need to be big, bold and brave. However, as time goes on, people start telling him he's too big, too bold and too brave. Barry feels like no one understands him until he meets Emily. In the end, the story is about how the right partnership brings out greatness in everyone and helps dreams come true. 
"The message is to embrace who you are and recognize the people that help you become the truest expression of yourself. Our hope is that this book will resonate with equestrians and non-equestrians alike," Emily said. Like all things Team Barry, purchases of the book help Emily and Barry keep pursuing greatness together. 
The Whole Equestrian
In addition to chasing her dreams, Emily is also committed to helping equestrians be the best they can, whether it's through her training or her podcast, "The Whole Equestrian." Started in 2017 with her friend Tyler Held, "The Whole Equestrian" helps riders bridge the gap between riding and wellness.
Emily and Tyler quickly developed a good working relationship with each other as they both wintered in Aiken with their respective employers, Phillip Dutton and Dr. Kevin Keane. As Dr. Keane's vet tech, Tyler worked hand in hand with Emily while doing vet work for Phillip's horses. They quickly realized that they not only shared horses in common, but also had a passion for self-improvement and helping others. 
"We noticed that people in the horse industry tend to take better care of their horses than themselves. They want to do the best for their horses by making sure they are eating a quality feed, giving them the right amount of exercise, doing bodywork to help them perform their best, etc.," Emily said. "On the flip side, we saw riders and grooms being nowhere near as thoughtful when it came to their own self care."
Having both spent years in the industry, Emily and Tyler knew how easy it was to put horses' needs before their own. "Through our own personal development through mindset, fitness, nutrition and community, we've seen major improvements in our quality of life in and out of the barn. Our mission is to share that with other equestrians to hopefully encourage them to make positive shifts in their lives," Emily said.
Each month, listeners can tune in to a new podcast or visit their website and social media accounts for blog posts. "I love that the podcast lets me spend more quality time with one of my best friends and have interesting conversations in an effort to be better humans and help others in the process," Emily said. 
Emily Hamel Eventing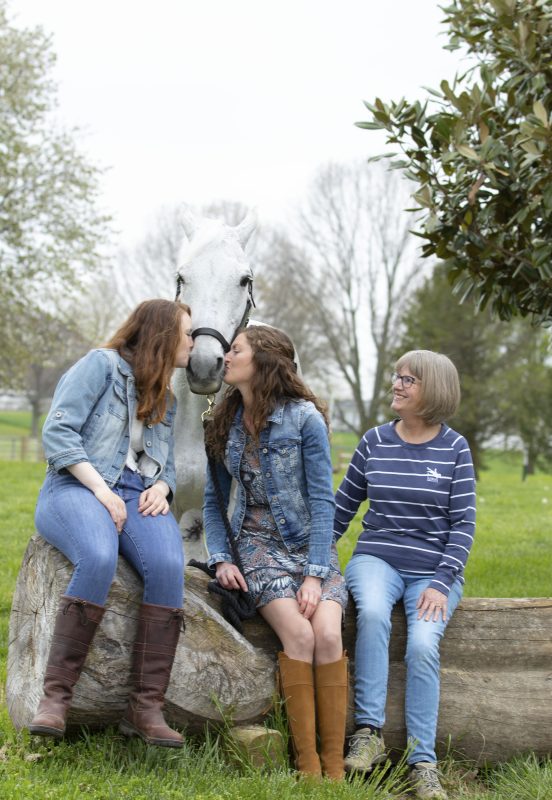 With a summer of amazing adventures behind them, Emily and Barry are looking forward to being even more competitive in the five-star level moving forward. "I had such a great experience in England, and I definitely want to go back at some point, but I think I'll stay a little closer to home next season," Emily said. "My plan is to do Kentucky in the spring to get the full experience since when I did it in 2021, spectators weren't allowed due to the COVID-19 pandemic. At this point, I also feel very confident in our five-star abilities, so my goal is to put in a personal-best performance."
Not only does Emily want to focus on Barry's training moving forward, she's excited to bring her newest young horse, Newman Hoksehoeve, up through the levels. After many false starts in finding a new prospect while in Europe, Emily decided to stop looking and focus her energy and attention on Burghley.
"It always seems that when you stop looking, that's when something comes along, and that's exactly what happened. Long story short, my fiend Amelia Winter told me about a full sibling to her horse whom I adore. The next week we hopped on a plane and I ended up falling in love with a different horse," she said. 
Although Newman Hoksehoeve hasn't yet shown, the 4-year-old KWPN has all the parts to make him a talented eventing horse in years to come. "He has an extraordinary brain, elastic movement and a scopey jump," Emily said. "I'm excited to show him the ropes."
Having put her business, Emily Hamel Eventing, on pause to compete and train in England, Emily is looking forward to seeing what the future holds. "I want to use my experiences to help others achieve their goals, while still chasing mine," she said. "I will need to make up for lost time with my clients, so I will be teaching a lot and helping them reach their competition goals."
One way Emily plans to do this is by teaching a couple of clinics each month at different facilities around the country, because it's an effective way to do what she loves: teach. She's also hoping to get more students in the Chester County, Pennsylvania, area who want to trailer in for lessons. 
Regardless of what the future holds, Emily knows she has the backing of Team Barry behind her every step of the way. Together, Emily and Barry will be "Big, Bold & Brave" as they continue to chase their dreams.
For more information, visit www.emilyhameleventing.com
Photos by Adrienne Morella, www.adriennemorellaphotography.com
Double D Trailers Info