By Laura Scaletti
Portraits by Melissa Fuller
As "Roots" author Alex Haley once said, "In every conceivable manner, the family is a link to our past, a bridge to our future." At Harkaway Farm, the Freels/Isop family is the living embodiment of this statement.
For over 60 years, the family-run Harkaway Farm has been developing hunter-jumper riders from their first time in the saddle to achieving their goals in the show ring. Established in the late 1950s by Bob and Jeri Freels in Greenwich, Connecticut, the farm is still going strong today with the Freels' daughters, Tracy Freels and Susie Isop, and granddaughter Hannah Isop.
Bob and Jeri's backgrounds infused a high degree of horsemanship from the start. "Dad took his knowledge from being manager of the USET and working closely with Bert de Némethy to teach us how to apply those skills to hunters and create smooth, rhythmic rounds," Susie said. "Meanwhile, Mom was a wonderful rider who started many young horses that went on to become talented and successful show hunters."
In the early 1980s, Tracy stepped up and took over the reins of Harkaway Farm, with Susie joining her a few years later. Today, Susie's daughter, Hannah, has joined the team helping run the Brewster, New York, and Wellington, Florida, based operations. 
Horse First
Bob and Jeri made sure Tracy and Susie were exposed to amazing horses, grooms and professionals during their formative years. "We learned from the very best, not only the ins and outs of horse showing, but the joy of trail riding, Pony Club, swimming with and just enjoying horses in general," Susie said. 
Unlike many who enter the competitive world of horses today, Tracy and Susie got to experience the joy that comes from simply hanging out and having fun with their horses and ponies. "Growing up, we competed at a top level, but also did so many other things that gave us empathy and depth that so many Juniors today don't have the opportunity to do," Tracy said. "All in all, it gave us a better understanding of horses in general and taught us to think outside the box."
Tracy and Susie not only bonded with their horses growing up, but they also learned tending to the horses and putting in hard work was just part of the deal in the Freels family. "It never occurred to us to have breakfast before horses were fed, open Christmas presents before chores or have any holiday where horses weren't part of the equation. Our parents would never ask our grooms to do anything they wouldn't do themselves," Susie said. "We always worked together as a big Harkaway Farm family."
Instilled early on, this work ethic is something Tracy and Susie have carried into their adult lives and careers. When it came time to have three children of her own, Susie knew they would be involved in the daily chores that come from being part of a farm family. "Although Hannah's siblings, Sara and Dustin, have gone on to career paths away from horses, they both have an incredible work ethic I believe comes from their days sharing in the chores around the farm," Susie said.
Hannah was lucky to also have the same fun horse experiences her mom and aunt had growing up. "I tried to give Hannah a similar experience by blending showing with having her pony in the backyard, showing at the local fair and staying there overnight and spending countless hours at the barn with her best friend building hay forts and then mucking out," Susie said.
"Mom taught me the importance of dedicated care and paying attention to the details of good horsemanship, as well as having a good time," Hannah said. "At a very young age, I worked with Tracy and attended horse shows whenever I was able, on whatever pony or horse we had at the time. These opportunities to learn on a variety of horses gave me such a strong background that allows me to ride a diversified group of horses today."
Passion for Precision
Horsemanship is always at the forefront at Harkaway Farm. Tracy, Susie and Hannah believe precision is what makes the difference between good and excellent horsemanship.
"Precision and attention to detail is an important aspect of our day, every day," Susie said. "This starts with feeding routines, turnout schedules, veterinary care, riding and training techniques and so much more. By catching things early, we can avoid many obstacles that all professionals face and create positive solutions."
To ensure an individualized program is established for each animal under their care, Harkaway tries to keep their numbers between 25 to 30 horses at a time. "I believe each horse deserves their own routine. That creates not only a happy horse, but one who is performing at its highest level," Tracy said. "All these small details make a difference."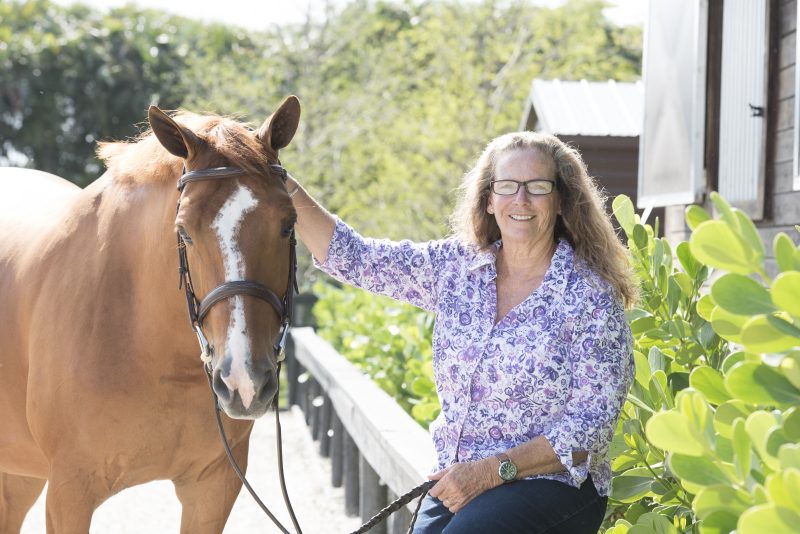 Tracy, Susie and Hannah each have different roles at Harkaway, though they can each step in and handle each other's duties as necessary. Tracy is the boss lady who handles all aspects of running the farm in addition to her training and management duties at home and on the road at competitions. "Tracy is extremely talented in finding the perfect match for horse and rider," Susie said.
"Dad taught me to not just look at the present, but also what the future might bring in selecting horse and rider combos. Partnerships can happen instantly or may take some time; the trick is creating the partnership," Tracy said.
Susie keeps the home fires burning at Harkaway, teaching their students, overseeing layups, greeting incoming horses and handling general barn management. "There's nothing more satisfying than shutting off the lights on a well-kept barn and hearing the munching of content horses," Susie said.
Hannah teaches, rides, competes and manages Harkaway's showing team. "Of course, I love riding and teaching, but I inherited a little of my mom's love for behind-the-scenes barn management as well. Quality riding can't come without a solid team behind you, starting with grooms, vets, blacksmiths, body workers … the list is endless," Hannah said.
Third Generation 
As a third-generation horsewoman, Hannah has been lucky to learn from her grandparents, mother and aunt. "Getting to learn about their favorite aspects of the business has been a priceless experience. Having different passions makes it easier to work as a unified team," Hannah said. 
A part of Harkaway since birth, Hannah officially joined the team as a professional in 2009. When it came time to dive headfirst into her career, Hannah had an old friend who helped show her the ropes: her first pony, Charity.
"Charity taught me all the things first ponies teach, including my first outside course at the Fairfield Hunt Club summer show. However, her real gift to me was being an amazing partner for my first teaching experiences," Hannah said. "She helped me learn how much I enjoyed teaching. Her patience and kindness will always be a foundation for me and the empathy I have for my equine partners."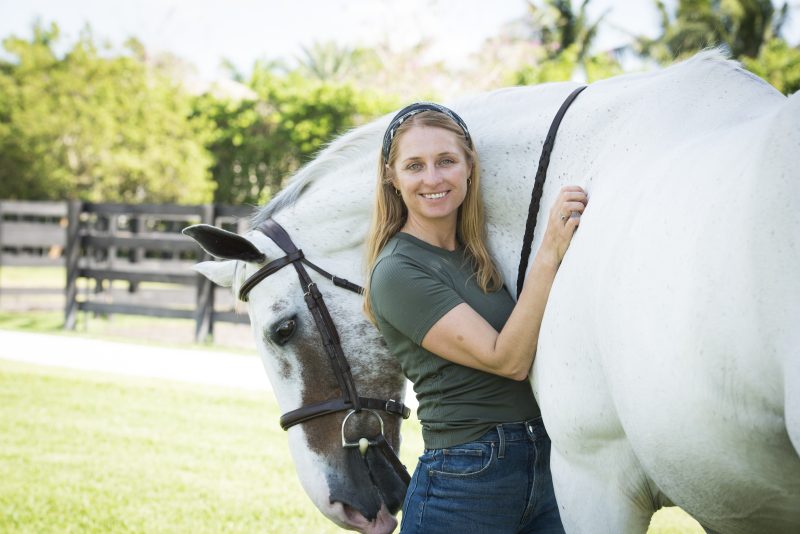 Hannah credits two other special horses with making a mark on her equestrian journey: Keep It Simple, aka Kiss, and Red Ryder. Of course, Tracy had a hand in finding these two horses for Hannah to rise through the ranks on.
Kiss was a diamond in the rough who arrived at Harkaway to be evaluated and determine what was best for his future. He ended up being purchased by Tracy's significant other, Kerry Critzer, and found a forever home at Harkaway. Since Kiss was a horse who'd seen his share of barns, Tracy hit the pause button and slowly rebooted his training, beginning with lots of flat work. Hannah and Kiss eventually made it all the way to the Grand Prix classes.
"He taught me invaluable lessons about the training process and the importance of flatwork. Every class was a thrill with him. I'm so thankful Tracy and Kerry gave me the chance to ride such a talented horse," Hannah said.
Red Ryder introduced Hannah to the world of international hunter derbies, making a splash and winning the very first one they entered at Old Salem Farm. He was originally a jumper who Tracy thought could be a derby contender, and he's proven her right. The pair won the $25,000 USHJA International Hunter Derby at HITS-on-the-Hudson V in July, following it up with the Reserve Championship in the USHJA International Hunter Derby Championships.
"Ryder taught me that hunters can be just as exciting as jumpers, and how much I love galloping to our derby formats. He also taught me patience as he recovered from an injury," Hannah said. "When he came back, I think he loved the show ring even more!"
Lasting Legacy
At Harkaway, working with horses is more than a job: it's a passion; it's a lifestyle; it's in their DNA. "Tracy and I are looking forward to seeing the business grow and expand with Hannah leading the way," Susie said.
With Hannah in the saddle and Tracy on the ground, they plan to develop young horses that succeed in their respective rings for years to come. "I hope to continue the legacy of Harkaway Farm and the incredible reputation it's had for so many years," Hannah said. 
As time goes on and the roles evolve and change, one thing is certain: Horses will always come first at Harkaway Farm, and a supportive family will be behind the operation. "Family businesses can be very hard," Susie said, "but when it all flows in place, there is nothing better than sharing your life with those closest to you." 
For more information, visit harkawayfarmllc.wixsite.com/mysite
Photos by Melissa Fuller, msfullerphotography.com
Double D Trailers Info