By Lyssette Williams
Portraits by Lori Ovanessian
Most people would find it hard to believe that FEI 3* vaulter Geoffrey Woolson's first brush with horses left him with a negative impression. "I didn't like horses," Geoffrey said. "My first time riding was at the Griffith Park pony rides in Los Angeles, California. The pony bucked me off and I hit my head."
When his younger sister started hippotherapy for her cerebral palsy, Geoffrey didn't want to go to her sessions, let alone climb back into the saddle.
"In 2005, Valley View Vaulters mailed out a promotional DVD highlighting their adaptive vaulting program," Geoffrey, now 24, said. "Vaulting is very inclusive — anyone can be a vaulter. I was terrible at every other sport growing up except running, and I hate running!"
The adaptive vaulting program at Valley View Vaulters accommodates participants of varying physical and cognitive abilities in mixed teams of their peers, promoting diversity and encouragement while developing coordination, balance, strength, creativity and self-esteem: all skills that would eventually launch Geoffrey to international success in the years to come. Still, Geoffrey wasn't inclined to be involved.
"By our third visit, the coach, Rick Hawthorne, was asking if I wanted to join the lesson," Geoffrey said. "While I dragged my feet at the idea, I was also easily bribed by my mom to try vaulting with the promise of McDonald's!"
Before long, Geoffrey didn't need the bribery to find motivation to ride. Giving horses a second chance led to Geoffrey's continued love affair with the sport of vaulting and set him on his life's trajectory.
Leaping Up the Levels
Geoffrey vaulted with Valley View in Lakeview Terrace, California, for six years. By his fourth year with the team, he had mastered the walk and trot divisions and was ready to move up to cantering.
"The vaulting community is very intertwined," Geoffrey said. "All the clubs interact regularly, and coaches tend to work with more than one club. In 2009, Blake Dahlgren, a gold and silver medalist at previous World Equestrian Games, came to coach at Valley View and that coincided with me wanting to be more competitive."
That competitive edge began to take its toll on Geoffrey. "I was 13 years old and over-training," Geoffrey said. "I was not naturally gifted at the sport — I put in a lot of practice time. I was working under the mentality that if I worked extremely hard, I would get good results."
Combining the physical exhaustion of overworking his growing frame with the mental turmoil from being an outcast at school, Geoffrey was considering leaving vaulting behind completely. "I only had two things in my life at that time — vaulting and school," Geoffrey said. "And at school I was 'the weird kid wearing spandex on horses.' It was very demotivating."
Persistent encouragement from his mom and his friends on the vaulting team helped him overcome his doldrums. "I realized that vaulting had such a positive impact on my life," said Geoffrey, who suffered from depression for many years.
Having overcome his fatigue with vaulting, Geoffrey went on to win his first national championship in the Men's Bronze Individual division in Denver, Colorado, in 2011 — at 14 years old. "After that, our vaulting team formed a high-performance club," Geoffrey said. "The Los Angeles Equestrian Vaulting Club, located in Burbank."
The 2011 National Vaulting Championship was the first time Geoffrey would perform his favorite move — the backflip. "Backflips were a lot less common in 2011," Geoffrey said. "That year I struggled with staying on the horse and came off at nearly every competition. I began to fall off the horse at nationals and turned my fall into a flip. After that, I began practicing back flips at home."
Through 2012, Geoffrey came into his own, clinching first and second placings in Silver-level Men's Individual at every competition. He also won the national championships again, this time in Lexington, Kentucky, later that year. In 2012 Geoffrey made his debut in his first internationally ranked competition in the United States, the Woodside Vaulters Spring Fest CVI2* in California, placing third. With these wins under his belt, Geoffrey ended the year receiving the honor of a lifetime: being named 2012 Vaulter of the Year by USEF.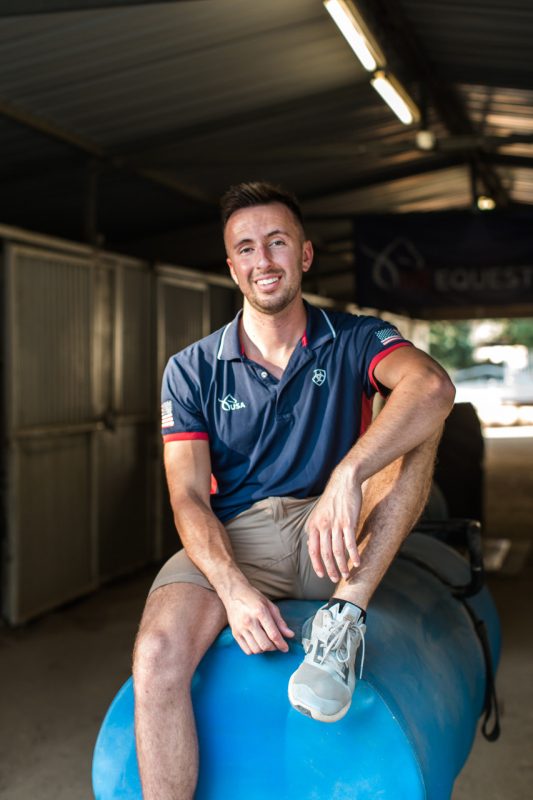 "It was my first big award," Geoffrey said. "Initially I wasn't going to attend the USEF Pegasus Awards ceremony. I didn't realize how big of a deal it was." Geoffrey and his family had always juggled the financial costs and time commitments of vaulting with everything else in their lives.
"Finances dictated what competitions I attended," Geoffrey said. "Traveling across the country to receive an award felt out of reach." Geoffrey's coach Blake encouraged him to find a way to attend the ceremony.
"The founders of my current club, the Frankels, reached out to me with a generous offer of financing my flights," Geoffrey said. "The Frankels have always been passionate and invested in growing the sport of vaulting in the United States. Attending the USEF Pegasus Awards was a big part of bringing national awareness to our sport."
The Pegasus awards ceremony was Geoffrey's first exposure to the other affiliate sports under USEF's umbrella. "In my years of vaulting, I hadn't interacted with people from the other disciplines much," Geoffrey said. "It was cool not only seeing the differences, but also many of the similarities of what it takes to be at the upper levels of each sport."
Capping off that banner year, Geoffrey also received an award from the city of Los Angeles for his accomplishments in vaulting and his contribution to the sport. 
Catching Air
Not one to rest on his laurels, Geoffrey buckled down and put in hours of practice to move up from Silver Division to Gold and from CVI2* to 3*. In 2016, with high hopes and much anticipation, Geoffrey competed with the U.S. Vaulting Team at his first World Championships in Le Mans, France. Geoffrey had been first alternate for the team and had to quickly replace friend and teammate Kristian Roberts after he broke his leg during practice.
"While vaulting is considered one of the safest equestrian sports, accidents do happen," Geoffrey said. "Our team was practicing indoors, and a thunderstorm blew in. The horse spooked at the thunder causing our teammates to fall on Kristian while he was standing in the handle."
Geoffrey was ready for the challenge and put in extra training time to not let his team down. "Vaulters are used to working with many different horses over the course of the competition year," Geoffrey said. "That year I competed on four different horses at seven competitions. Though we try to stay consistent, working with the same horse to develop a bond and harmony in our routine, it's not always possible."
To prepare for the World Championships, the U.S. team spent many weeks training in Munich, Germany. Despite all the time and care Geoffrey put into the event, the unthinkable happened during his freestyle routine.
"The atmosphere of the arena — the noise of the crowd — got to the horse I was riding, Clay's Power Ball," Geoffrey said. "He spooked badly, and I came off twice. If I had come off a third time I would have been disqualified."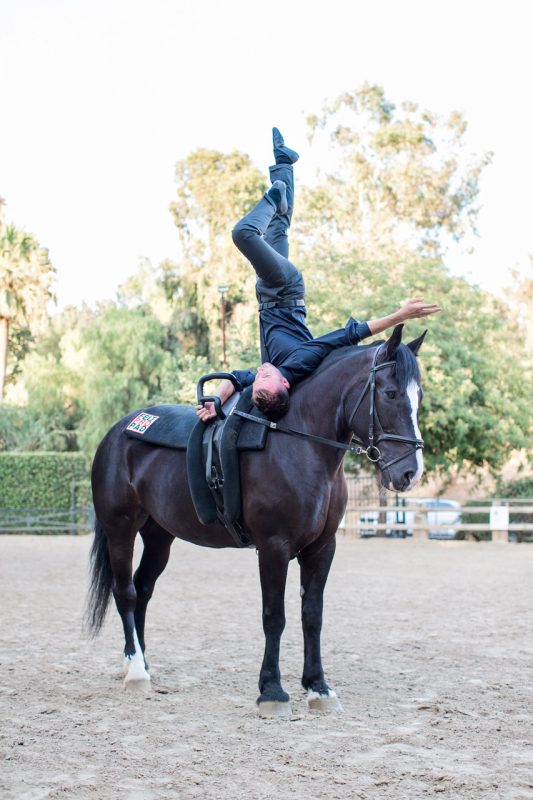 Placing 23rd, Geoffrey's world championship dreams for 2016 came to an end. "My emotions were overwhelming," Geoffrey said. "But when I found out it was the horse's first big competition, I set my own sadness aside. I went to his stall and comforted him. I wanted him to know that everything was OK and that he was a good horse. Kindness to the horse is very important to me."
Geoffrey wouldn't let that 2016 World Championships drag him down. Between 2017 and 2018 he worked with coaches Devon Maitozo, a former gold medalist at WEG, and Kalyn Noah, an accomplished vaulter, at FACE vaulting club in Somis, California. "I've learned important lessons from every coach along the way," Geoffrey said.
More recently, Geoffrey has been focusing on working with a select few horses so he can develop a trust and bond that runs deep. "I've been competing with Pacific Coast Vaulters in Woodside," Geoffrey said. "I make the drive every weekend from Tujunga, California. I work with Carolyn Bland; she's one of the best coaches in the country."
Balancing Act
In 2019, Geoffrey and his family established Shadow Hills Vaulting Club in Shadow Hills, California. Stepping into the role as coach, trainer and mentor has been a fulfilling experience for Geoffrey. "It's been fun and challenging growing the sport by opening our own club," he said. "It's incredibly rewarding to see your athletes excel and accomplish their goals and dreams."
At Shadow Hills, he teaches primarily with a black mare named Gigi, on loan from the Orange County Vaulting Club. "She's a classic mare," Geoffrey said. "She's very particular and our relationship is one of give and take. Gigi has been a great addition to our program."
Geoffrey has also tried out other equestrian disciplines. "I dabble in dressage to cross-train our horses," Geoffrey said. "It's better for them to be kept fit through riding since lunging keeps them on a circle and that can put a lot of strain on their tendons. I've also jumped a little bit, but I find it terrifying! I am way more comfortable doing a back flip off a horse than riding over a pole."
The COVID-19 pandemic threw a wrench in not only Geoffrey's business plans, but also the U.S. Vaulting Team's international competition plans. "During the first part of the pandemic we only took care of the horses," Geoffrey said. "We've always been observant of the guidelines and as things have opened up, we've been running classes at 50% capacity. Vaulting is a team sport, so it's tough to avoid all contact. The U.S. Vaulting Team is our own bubble, so we can keep training. And we are all super careful about whom we have contact with outside our circle."
Geoffrey works with the U.S. team year-round, re-qualifying each year but generally working with the same group of people — including many from Pacific Coast Vaulting. His long-time coach Carolyn Bland of Pacific Coast Vaulting has only positive things to say about Geoffrey. "I've been working with him on and off since about 2010," Carolyn said. "He's an absolutely reliable teammate. His technique is good, and he has a natural ability to perform. Above all else he is dedicated to the sport, a hard worker and very coachable."
Geoffrey continues to train hard for the 2021 World Championships and perfect his Men's Individual and Squad routines. "A lot of decisions in my life are focused on how to advance my career in the sport," Geoffrey said. "My goal for 2021 is to continue growing the Shadow Hills Vaulting Club: to help my students hone their skills and come full circle by taking them to their first National and World Championships one day. I'm also going to keep vaulting my best for Pacific Coast Vaulters and the U.S. Vaulting Team."
Like many, the pandemic downtime has allowed Geoffrey space to explore other interests and develop additional goals. "I've really gotten into photography and videography," Geoffrey said. "I've been working with several companies this past year, and it's been fun to turn my other passion into a side business that I'd like to grow in the future!"
While it's possible to continue vaulting into his 30s and 40s, Geoffrey isn't sure he will. "I'll keep vaulting if it remains accessible, if I continue to be financially capable of competing, and the sport remains enjoyable," Geoffrey said. "Vaulting is very demanding on the body. I put more strain on my body in vaulting practice than I do during a hardcore weightlifting session at the gym. The difficulty of the sport has transformed in the last decade. Movements and techniques that used to only be seen at the international level of competition have filtered down to the lower levels."
Even if he stops performing aerials and backflips off the horse, Geoffrey wants to stay involved at some level. "I'll continue to expand my role as a coach and clinician," Geoffrey said. "It would also be really cool to be in a leadership position."
Though the future remains uncertain, Geoffrey remains optimistic and grateful — for the journey and for all the people who have helped him along, from the early financial struggles in his vaulting career to overcoming depression. "I've come so far in this sport," he said. "None of it would have been possible without the love and support of my parents, coaches, friends and sponsors. They've kept me going through the roughest parts of my journey. I just want to look back at the end of my life and know I did all that I wanted to do, and I did it well."
For more information, visit www.shadowhillsvaultingclub.com
Photos by Lori Ovanessian, simpleefocused.com
Double D Trailers Info