By Kimberly Gatto
Portraits by Shawna Simmons
It is said that each of us can make a difference in the world, and professional rider Josh Dolan seems to personify that statement. Whether he is training a young horse, rehoming and shoeing dwarf minis, rescuing an exotic animal or creating beautiful artwork, Josh is always making a difference—and touching countless lives in the process. And along the way, Josh also makes sure to have fun.
For Josh, the animals always come first. In addition to being a professional hunter and jumper rider, Josh founded and operates the Peeps Foundation, which rescues and rehomes miniature horses. He also cares for numerous other rescue animals, ranging from antelope to kangaroos, on a daily basis. Josh's secret to maintaining success is keeping things light, or, as he says, "keeping the fun in it."
Unlike many professional riders, Josh wasn't born into an equestrian family. He and his three siblings grew up in Hilton Head, South Carolina, an area known more for its golf courses and tennis courts than horse showing. But young Josh was smitten with horses from the first time he saw one. 
"I grew up on a plantation," he said, "And there were horses by the back gates. I was enthralled by them from the beginning. As a young child, I always begged my parents to let me stop and pet the horses." 
Josh soon convinced his parents to allow him to start taking lessons at a local farm. He progressed quickly, beginning in Short Stirrup and moving into the pony hunter divisions with great success. "I was fortunate to have the most amazing medium pony called Music Man," he said. "He was just awesome—a really exceptional pony who taught me a lot. He ended up being Horse of the Year in the mediums."
After winning countless championships in the pony divisions and later in the Children's Hunters, Josh opted to take a break from serious riding as a teenager. Unlike many of his peers, he didn't compete in the equitation divisions. "I showed only once a year during those years," he said. Instead, he played tennis and other sports. In his late teen years, however, Josh made a return to riding full time, eventually discovering the thrill of the jumper ring.
"I love the jumpers even though I'm not always super fast," he said. "I like being accurate and having to calculate. The margin of error is quite small. The feeling is different from the hunters—it's a real rush of adrenaline—and when it all comes together, it's very rewarding though I have not yet mastered the art of the speed part."
Josh did not turn pro immediately upon entering adulthood; instead, he honed his skills in the saddle aboard his own mounts. "I focused on riding and showing my own horses for six or seven years," he said. Josh's ability to bring out the best in his own horses impressed those on the sidelines, spurring some owners to ask him to ride a few of their youngsters. "As it turned out, I was asked to take over the ride on a hunter when the horse's regular rider was injured," Josh said. That experience convinced Josh that he wanted to make a living as a professional rider and trainer. "It just kind of happened that I was at the right place at the right time, and everything fell into place," Josh said. "Since then, I've never looked back."
Going Solo
After working as a pro in partnership with another show barn for several years, Josh decided it was time to break out on his own. "I enjoyed riding many horses for clients," he said, "But I didn't have a lot of time to develop my own horses. I enjoy building a partnership with any horse that I ride. Since I often rode sales horses, I wasn't able to develop long-term partnerships because the horses would be sold once they began doing well. I was no longer having fun, so it was time for a change."
This led to the establishment of Bee U, LLC, a partnership between Josh and his close friends Rebecca and Megan Patterson. "The name 'Bee U' comes from our philosophy of just being true to one's self. That applies to horses as well as people. I believe in allowing a horse to be itself and not forcing it or rushing it into something." The operation is based in Ocala in the winter months and in South Carolina in the summer, though the barn will be moving to its new summer home in New Jersey this year.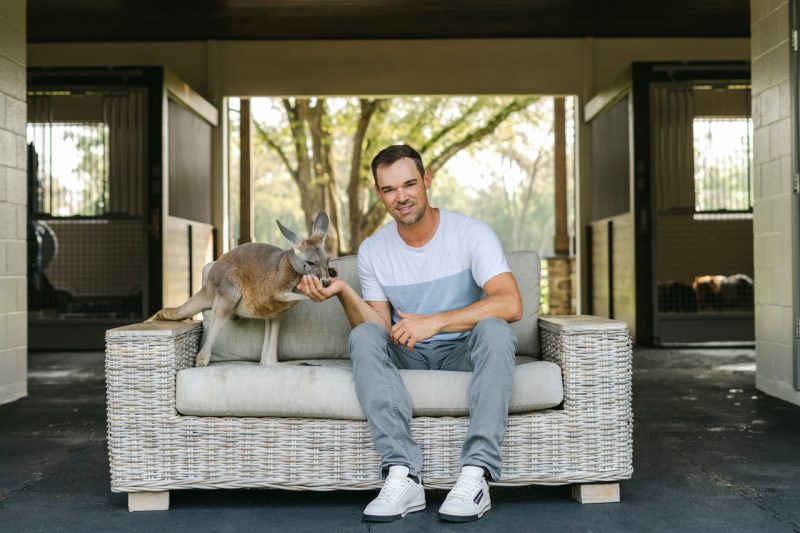 "It's wonderful, because I now have six or seven horses that I'm bringing along at their own pace. While I'm a competitive person and enjoy doing well at shows, it has to remain enjoyable and fun. Chasing points and rushing things too quickly to get a horse to a certain height or goal, or fitting them into a certain 'box,' takes the fun out of it for me. So I choose to do the shows that I enjoy, and to bring each horse along at its own individual pace, which actually gives them a greater chance of success."
Josh believes in maintaining a sense of relaxation around the barn. "We try to keep things fun and light," he said. "We have ping-pong tables, corn hole, darts, Connect 4—you name it. We are very easygoing, which I think makes the horses calmer, too. They also get used to a lot of activity, which helps when they get to the shows and have to deal with everything going on around them."
The Peeps Foundation
While Josh maintains a busy and thriving training barn, he has also become well known for his philanthropic work. As the founder of the 501(c)(3) charity The Peeps Foundation, Josh has, to date, rescued and rehomed over 600 miniature and dwarf horses, many with serious health conditions. The foundation was created after Josh discovered numerous mini and dwarf horses in a field—most suffering from the effects of severe neglect—while he was driving through rural Kentucky en route to a horse show. After investigating the situation with the assistance of local animal control representatives, Josh purchased, rehabbed, and rehomed most of the animals, which led to the establishment of The Peeps Foundation.
The foundation is named in honor of Josh's first rescue mini, Peeps, who still lives happily at his farm, where Josh says she "keeps everyone in line." Peeps has become a celebrity in her own right, having made headlines when she appeared at several "Saturday Night Lights" shows at the Winter Equestrian Festival in years past. She also maintains an active social media presence. "Peeps is very opinionated and bratty, so we don't take her many places anymore," Josh laughed. "She's a real diva."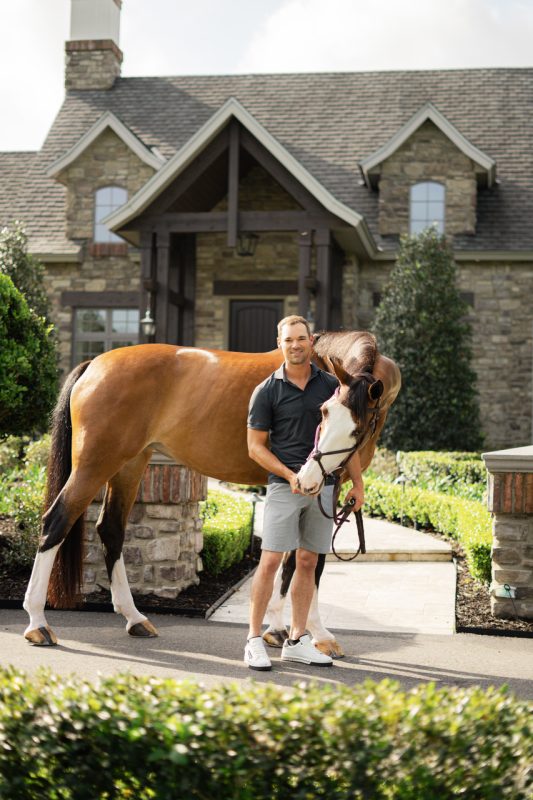 Since that first rescue, The Peeps Foundation has expanded to include two chapters: The first specializes in rescue and rehoming healthy, able-bodied animals, while the other chapter maintains a sanctuary for those with special needs. "The Peeps Foundation has become really big," Josh said. "We never did it thinking of becoming this big operation—we just wanted to save the animals. What's really cool is that we now have more separation between the two parts of the foundation. At first, the rescue and rehoming part of the foundation was huge, but now there's a lot of activity in rehab and in the sanctuary operation."
Josh explains that many of the dwarf horses suffer from hoof problems that require corrective shoeing. Amazingly, Josh is able to perform many of these services himself. Dwarves travel from all over the country to be shod by Josh, and the need is tremendous. "I do all of the corrective shoeing myself," he said. "I was lucky enough to have an amazing farrier, Curtis Burns, and he taught me everything. A while back, a little dwarf came to me in terrible shape, and there was no time to wait for Curtis to get there. Since then, I've been doing much of the corrective shoeing myself. Hopefully this continues to grow, and I can keep helping the animals that need it."
From Kangaroos to Art
Josh's deep love of—and devotion to helping—animals extends much further than the equine world. In addition to his horses and more than 60 dwarves and minis, Josh's farm includes a menagerie of various other rescue animals, many of which are exotic creatures. "It started with a kangaroo who had only one arm," Josh said. "A friend of mine had gone to an auction to rescue some dwarf minis and saw this depressed-looking kangaroo. It was so sad. So I took him in and he has been here ever since."
After obtaining special licenses and permits—and installing kangaroo-proof fencing—Josh has now rescued numerous kangaroos that were headed to uncertain fates. "They are all so different and unique," Josh said. "They're kind of like rabbits in terms of personality. And they not only can jump, but they can also go under fences—hence the special fencing. They are amazing creatures."
In addition to kangaroos, Josh's farm includes a myriad of sulcata tortoises, antelope and various other creatures—all of which were in need of loving homes. Thanks to Josh, these animals are now safe for the remainder of their lives. "Tortoises can live very long lives," he says. "Some of mine are over 40 years old; they could live to be 100."
With such a busy schedule, one would think that Josh would have no time for anything else, yet he keeps fit every day—running, swimming and working out. "I'm big into fitness," he said. "It helps me unwind." Another way that Josh is able to unwind is through art. He's an accomplished artist, creating black-and-white drawings, some of which have been displayed in hotels. "My art is what I would call geometric, realistic," Josh said. "I use pens and pencils—no color, just black and white. My dad was a very talented artist. I've done some pieces for hotels as a favor, silent auctions, birthday gifts and stuff like that." He adds, modestly, "I guess I should have some of them framed."
But animals are Josh's passion. "I truly love my animals," he said. "My favorite thing is just coming to the barn and spending time with them. My assistants often have to pull me out of my mini field because I just love spending time with the animals. It's neat to be able to wake up and have everything that makes me happy. I'm very grateful."
Photos by SAS Equestrian, www.sasequestrian.com and @sasequestrian on Instagram.
Double D Trailers Info