By Jan Westmark Bauer
Kate Kosnoff, better known as Kate at the In Gate to equestrians at horse shows, is a busy photographer and entrepreneur. Kate wears a lot of hats running two businesses—Kate at the In Gate and In Gate Goods. "Kate at the In Gate has focused on equestrian sport and portrait photography, but I am currently transitioning into more of a content creator role," Kate said. "I've loved photographing clients at horse shows and in fine-art settings, but going forward, I will be working with brands, sharing more of my journey as an amateur rider, and building a community of passionate horse girls." While Kate at the In Gate undergoes a change of direction, her other business, In Gate Goods, is an equestrian-inspired stationery brand with products she designs using her photographs. "We sell greeting cards, notebooks, stickers and more. It started as a fun side project when I was feeling really burnt out from horse show life, and it continues to bring me so much joy!" When Kate's not busy working, she rides, spends time at the barn and competes in the adult hunters with her horse Breadwinner.
How long have you been part of the horse world?
Both of my parents are lawyers, so they logged a lot of hours in the office, which meant that my brother and I spent our summers at a variety of day camps. Sewing, cooking, swimming, cheerleading, pottery—you name it, I tried it (for at least a week). But the one that I looked forward to the most? Riding.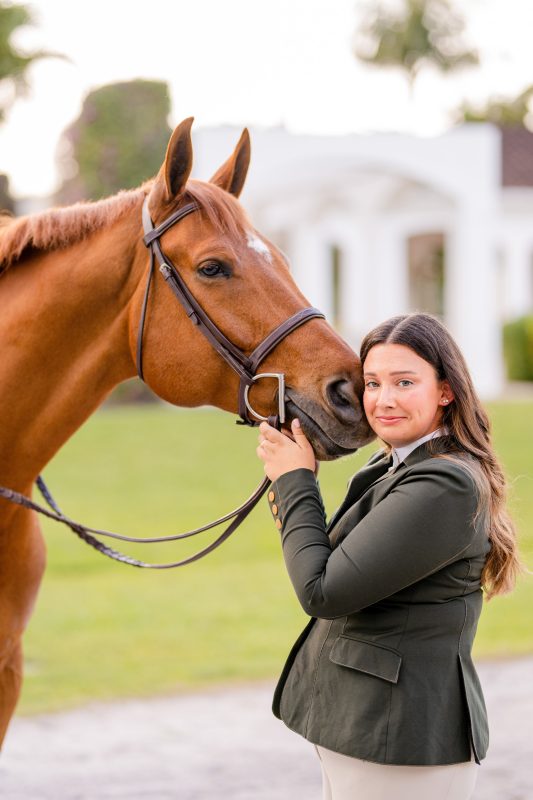 At riding camp, I learned how to groom, tack up and the basics in both Western and English riding. I rode in a white Troxel helmet, blue jeans and tennis shoes, and it was always the best week of my year. After much begging and pleading, my parents signed me up for once-a-week lessons when I was in eighth grade.
It wasn't until high school that I got my first horse, Mac, and moved to a show barn, where I started riding more seriously and began competing on the rated circuit. Soon after, I got my second horse, Marley, who showed me the ropes in the children's hunters and the 3' equitation until I aged out and went off to college. They were instrumental in getting me through my teenage years, when I struggled with obsessive-compulsive disorder, anxiety and depression. I was lucky enough to keep them both until they passed, Mac at the age of 29 and Marley at 25.
Somewhere between that one-week riding camp and now, horses turned into my whole life. I think 9-year-old Kate would be so proud of that—after she picked her jaw up off the floor!
Tell us about your horses.
I currently own two horses: Breakfast In Bed, aka Waffle, and Breadwinner, or Bambino. I got Waffle at the end of my sophomore year of college, and have done everything with him since: derbies, adult equitation, adult jumpers—you name it, we've tried it. He's a strawberry roan with a flaxen mane and tail and a big white blaze, so he's basically a Barbie dream horse. No matter what we showed in, he was always game and took the best care of me. Waffle is now on long-term lease at Caldwell Farm in Lebanon, Indiana, where he enjoys an easier life at age 18.
I purchased Bambino as a 6-year-old who had never shown, and my trainer, Megan Southam of Treesdale Farms in Carmel, Indiana, brought him along through the Baby Greens and the 3' Greens. He is coming 8 this year, and together we show in the Low Adult hunters or the Adult Amateur hunters if I'm feeling brave. He is big, goofy, and has a heart of gold. He's also very pretty to look at!
 What has the horse world taught you?
That you are nothing without a village behind you. Riding may not be a team sport, but we get by with a little (or a lot) of help from our friends, trainers, grooms and families.
If you had to pick a few favorite things about the horse world, what would they be?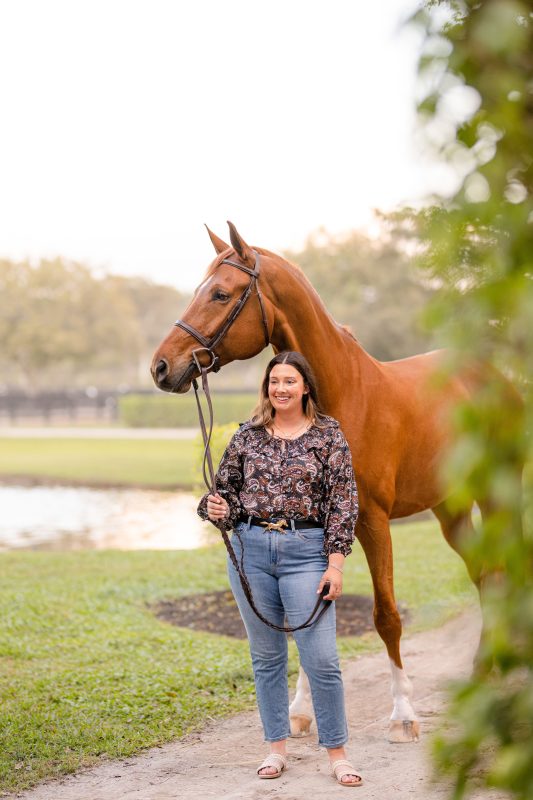 The relationships we create with the animals, first and foremost. Some of my happiest moments have been on the back of or beside a horse. It's such a privilege to be around them, learn from them, and earn their love and trust. I love that in this sport, we are always learning. One of my favorite things to do is sit by the ring and watch the top riders show. It's a free master class in riding.
What's your biggest achievement in the horse world?
Bambino and I earned a champion tricolor at WEF 2022 and we got to walk in the parade of champions under the iconic green bridge and in the international ring. That was a bucket list item, and it's a week I'll remember for the rest of my life.
How did you become an equine photographer?
My parents always had cameras growing up, and I took photography courses in both high school and college, but taking pictures of horses as a career never really occurred to me until I worked as a marketing intern at the 2017 Winter Equestrian Festival and then as a daily editor at Noëlle Floyd after graduating from college. Both of those opportunities really opened my eyes to the possibilities in the equestrian industry.
I charged $50 for my first real "photo shoot" (I use that term loosely because I had absolutely no idea what I was doing) and edited the images in iPhoto. I thankfully use slightly more professional gear and software now!
I've learned to be observant, to blend into my surroundings (primarily at horse shows), and that a good photograph should make you feel something. There are a lot of talented equine photographers out there, so I've learned to create a niche and to market myself to riders whose values align with mine. I've learned how to create my own kind of work and to take photographs that make me happy.
What's happening with your business now?
My business is currently in a period of transition, and I'm now the one in front of the camera rather than behind it. Photographing clients at some of the most competitive rated horse shows in the country only tells one story about riding, but the truth is that horses are for everyone. I love photographing clients, but I think I can use my talent as an artist to make this sport more welcoming, inclusive and supportive.
So why am I changing my focus? As Kate at the In Gate, I want to leave the equestrian industry better than I found it. Right now that means doing things like partnering with brands to show what a size 10 body looks like in riding clothes. I have a decent sized platform on social media, and I feel the urge to use my voice and following for good. It's hard to be vulnerable online, but we have to have difficult conversations if we want to make the equestrian world better.
What's the best thing about your life?
That I get to be around horses all of the time! I'm lucky that I've created a career around my love of horses and riding.
 What have you learned about being a woman entrepreneur?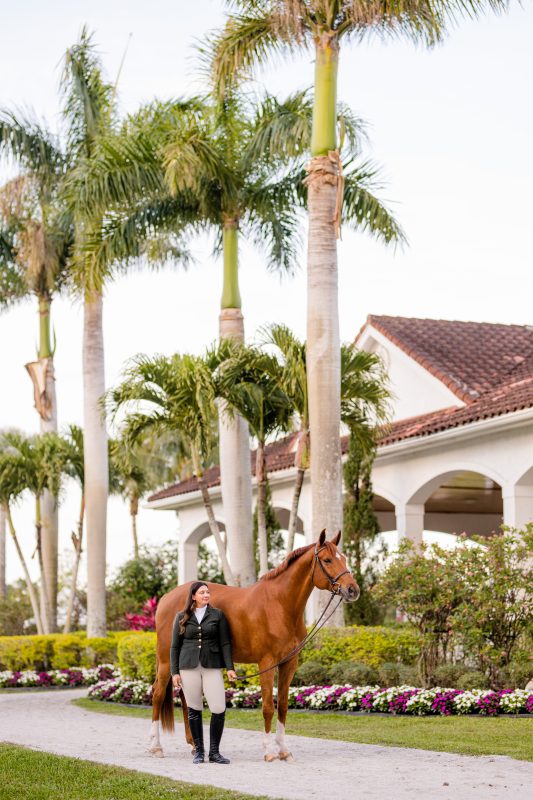 The biggest lesson I've learned about running my own small businesses is that being a "solopreneur" doesn't mean that I have to do everything alone. Honestly, being an entrepreneur can be very isolating and lonely if you let it. The equestrian industry has a sort of cutthroat reputation, but I am friends with so many other women entrepreneurs—photographers, social media managers, professional riders, tack store owners—who are simply rooting for each other and just want to see their peers succeed. I think it's really important to have people in your corner who inspire you, push you to be better and celebrate your wins.
At the end of the day, I'm a creative person, not a business person. The artsy part is easy for me, but the more mundane managerial duties, well, they're not my strong suit. I've made a lot of mistakes as a small business owner over the years. I now have systems in place that keep me on track when it comes to sending emails, managing clients and packing orders. My mom also does a lot of the behind-the-scenes stuff. She's a huge part of both Kate at the In Gate and In Gate Goods!
How has being an entrepreneur impacted your life?
I think a lot of people dream of being able to work for themselves, so I'm proud that I've made that happen for myself. But as great as being able to do things like set my own hours or travel schedule is, it can be difficult to hold myself accountable and actually get work done. As someone who struggles with a chronic illness that affects my energy and sleep, some projects just take longer for me to complete. I often think about what my life would be like if I worked a more traditional 9 to 5 office job … but I'm definitely happiest being my own boss!
Best-kept secret about what you do?
I keep a stick horse in my car to get ears up during photo shoots. If you press his ear, he neighs. His name is Bill.
For more information, visit kateattheingate.com and shopingategoods.com
Photos by Nicole Shultz, nicoleschultzphotography.com
Double D Trailers Info