By Ruby Tevis
Portraits by Melissa Fuller 
When Kerrigan Gluch was 15, she took a leap of faith. The horse-loving teenager left her family and normal lifestyle behind to chase her dreams of dressage success, gold medals and international competitions. 
At 23, Kerrigan's dreams have come true. Though her career is just getting started, Kerrigan has a resume that could challenge seasoned riders twice her age. On top of it all, she recently graduated from Florida Atlantic University with a degree in business leadership.
Her Beginnings
Kerrigan spent her childhood in Mt. Pleasant, Michigan, with her parents and younger brother. "I grew up with a pretty typical Midwestern childhood, enjoying barbecues and cherishing family experiences. I loved playing sports and being outside," she said. 
Though Kerrigan's family wasn't involved in the horse industry, her mother always admired horses. "She always knew she wanted to introduce me to them at a young age," Kerrigan said, thinking back to her first riding lesson as a young girl.
Kerrigan's first pony was a Paint mare named Powder. "She was a trail horse, and by trail horse, I mean she knew how to go, stop and neck rein — that was it!" she laughed.
Though Kerrigan was only 11, she taught Powder how to canter on the correct lead, how to go over small jumps, and eventually dabbled in dressage.
"The biggest lesson I learned from her was the process of training," she said. "She loved her job and was always eager to learn new things. She taught me so much about horsemanship at a young age." 
Together, Kerrigan and Powder participated in 4-H, and eventually Lendon Gray's Dressage4Kids program. "I got involved with Dressage4Kids because I knew I wanted to pursue my education in dressage, and I knew Lendon was a huge part of young riders gaining more opportunities," Kerrigan said. "She's a huge believer in correct riding, no matter what type of horse you're on. For me, a girl coming from a small town and riding a not-so-expensive horse, it was a perfect path."
After Kerrigan participated in several Dressage4Kids clinics, Lendon Gray introduced her to Kim Van Kampen, owner of Hampton Green Farm. Though only a freshman in high school, Kerrigan took advantage of a working student opportunity and moved to Wellington to work at Hampton Green Farm. Now, eight years later, Kerrigan has worked her way up to being an assistant trainer actively competing in the U25 Grand Prix, with experience competing in Europe, Nations Cup medals and national titles. 
Rising in the Ranks
Kerrigan noted the challenges that came with moving away from home for the first time at such a young age. "I knew right away that my teenage years would not be like everyone else's, but I knew that I could potentially have some amazing experiences that many people don't get," she said.
Since Kerrigan made the move to Florida without her parents, she moved in with Kim to live on the farm. To accommodate her new lifestyle, Kerrigan transitioned her learning platform online, completing school assignments after long days in the barn.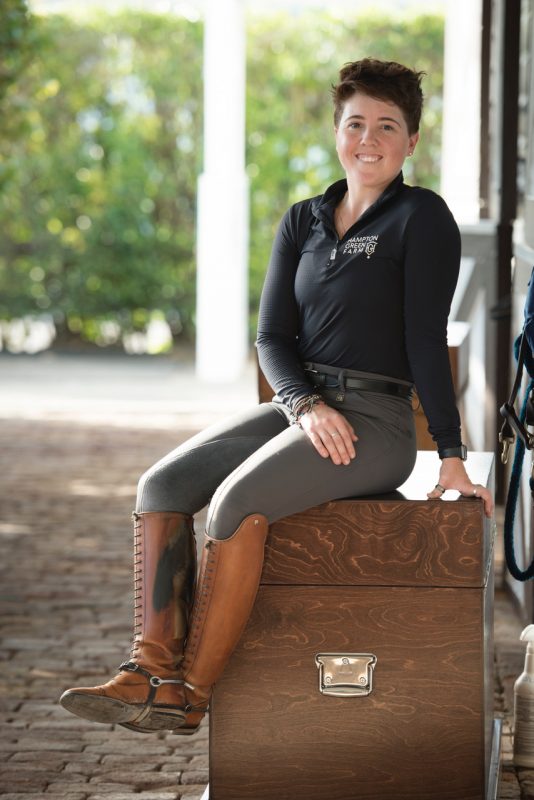 "It wasn't that hard for me to be on board with online school. It was what I had to do to pursue my horse career, so that motivated me to be responsible," she said. "Throughout my younger years in school, I was always 'the horse girl,' so it was no surprise to anyone that I would leave and pursue my career."
After establishing herself as a hardworking member of the Hampton Green Farm team, Kerrigan was offered the ride on Vaquero HGF, a PRE stallion bred by Kim. "Kim felt like we would be a good match, so I got really lucky," Kerrigan said.
The flashy gray stallion had just returned from training in Spain, so they had a few short months to prepare before their first centerline and the start of Kerrigan's first season in the FEI ring, competing in the Young Rider division.
Together, Kerrigan and Vaquero captured bronze in the freestyle at the North American Youth Championships, then turned around to sweep Young Rider reserve champion at the 2015 Festival Of Champions. "It was a great feeling to have the connection building between us and a successful summer to top it off," Kerrigan reflected.
As soon as she thought things couldn't get any better, Kerrigan received a phone call — she and Vaquero had been chosen to compete on the 2016 European Young Rider Tour. 
Europe and the U25
Kerrigan joined Bebe Davis and Lauren Asher on the 2016 European Young Rider Tour, coached by Chef d'Equipe George Williams. The first stop on the tour was the CDIO-Y in Compeigne, France, followed by the Future Champions competition in Hagen, Germany.
"When I found out I was going to Europe for the first time, of course I was so excited and grateful, but I was very nervous as well," Kerrigan said. "The intensity seems much greater over in Europe. It was intimidating competing the first time, so I just tried my best to focus on Vaquero and the importance of sticking to our routine."
After a successful tour in Europe, Kerrigan came home with new perspectives and passion burning brighter than ever. With little time to rest, Kerrigan was back in the ring riding full steam ahead toward her ultimate goal — the Grand Prix. 
With a new mount, HGF Brio, Kerrigan accomplished her lifelong dream of competing in the U25 Grand Prix. "Brio is such a fun horse to ride and is always there for you," Kerrigan said of the black PRE owned by Hampton Green Farm.
"My first Grand Prix was very special. Halfway through my test, I thought to myself, Wow, am I doing all of this intense work I'd only dreamed of doing in the show ring, right at this moment? During the test I was so focused, but afterwards I was very happy and proud of our accomplishment," she said.
The following year, Kerrigan and Brio were invited to represent the United States in the 2017 Nations Cup in Wellington. "Representing the United States during a Nations Cup is something I cherish. I know it's always a privilege to be a part of, so I tried to enjoy every little moment," she said, remarking on the strong team bond that is shared between the American riders who won team gold.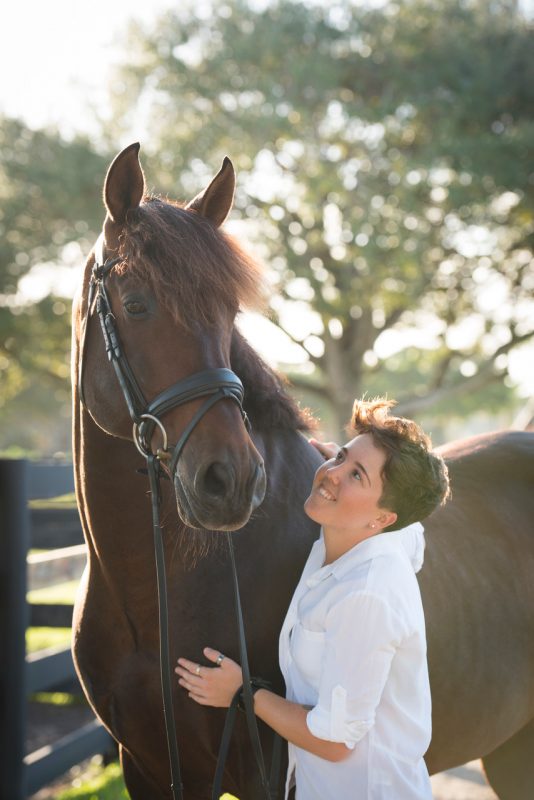 "Everything is done as a team and nobody is left out," she said. "NAYC set me up to know what to expect of a Nations Cup. The NAYC is a great learning experience for young riders to learn that this sport is not always just about individual scores, and learning that at a young age really helped me."
Always Learning
In the three years since competing in her first Nations Cup, Kerrigan has worked diligently to improve her riding and expand her education. After earning individual silver in the Grand Prix freestyle at her second Nations Cup with Bolero CXLVIII, another of Hampton Green Farm's stallions, the pair traveled to Europe in 2018. 
"Going into another Europe trip, I was very eager," she said, admitting that she wasn't as nervous about the traveling but did feel more pressure the second time around. "I was mostly being hard on myself, but I wanted to represent the United States well, so I tried very hard to do that."
This time, the U25 riders had the opportunity to stable with the senior team throughout the tour, and their support made the experience even more special for Kerrigan — it also further inspired Kerrigan to set her sights on her dream of becoming an Olympic team rider. Until then, she's enjoying the journey one step at a time. Part of that journey has been completing her degree from Florida Atlantic University.
"Going to college has always been important to me," she said. "I knew I wouldn't necessarily have the 'normal' college experience because I would go part-time and not live on campus, but I still wanted to experience it. It has been very stressful to stay caught up with the horses as well as school, so I'm proud of myself."
Now that she's finished with her degree, Kerrigan looks forward to more time to focus on her equestrian education, particularly teaching and the sales aspect of the sport. As an assistant trainer, her days consist of barn work, horse care, and riding up to eight horses per day.
"I love the feeling of earning everything I have and working hard to achieve a goal," Kerrigan said.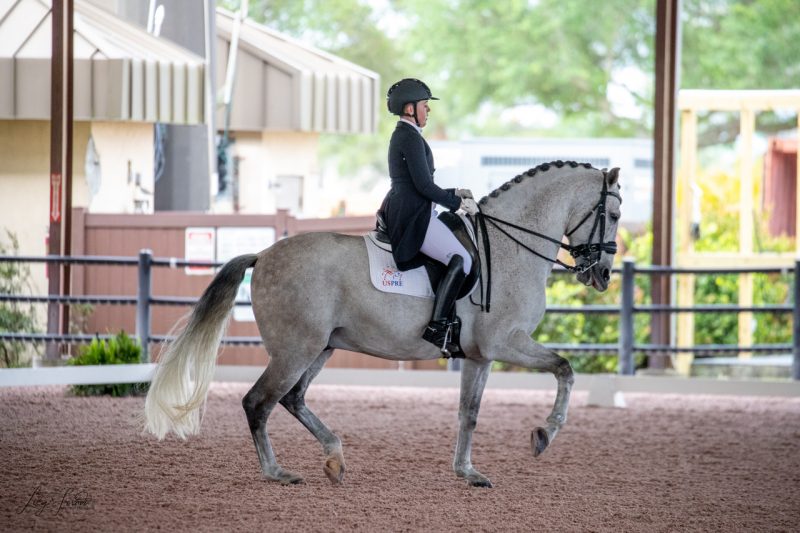 She enjoys playing a part in the development of Hampton Green Farm's young horses, and   looks forward to watching them shine in the show ring. "I'm very thankful for everything that Kim has allowed me to do with her horses. I look up to her in so many aspects, not only with horses but as a successful, generous businesswoman," Kerrigan said. "I've grown up with her family for years, so in a way, I feel like she is my second family."
Along with Kim's support, Kerrigan is grateful to her parents for allowing her to fly the nest early to chase her dreams. "My parents have always supported me with my crazy horse life," Kerrigan laughed. "Also, none of my accomplishments would have been possible without the guidance of all of my past and present trainers, including Lendon Gray, Jose Daniel Martin Dockx, Robert Dover and Charlotte Bredahl."
As Kerrigan approaches her final two years as a U25 rider, she hopes to take advantage of as many programs as possible.
"A goal of mine is to make the U25 team and travel to Europe again. There are a lot of factors to that, but it would be such an honor," she said. "I want to thank everyone that has supported me thus far in my journey. I am truly grateful and can't wait to see what the future holds." 
Photos by Melissa Fuller, msfullerphotography.com, unless noted otherwise
Double D Trailers Info