By Shya Beth
Up-and-coming 22-year-old artist Lauren Pitylak has a multifaceted worldview—a view that she shares with her audience through multiple forms of artistic media. Whether she's in her studio painting or stepping off a plane for a photo shoot, Lauren's eye for detail and style makes her work stand out amongst the crowd.
Being a young artist still in college, it's a balancing act between classes and running a small business, but it's a challenge that Lauren wouldn't trade for the world. "The best part about being an artist is knowing that I have the ability to positively impact the lives of other people and bring them happiness through the work I create," she said. "The influence a horse can have on someone's life is monumental, and embodying that in my work makes my job beyond fulfilling."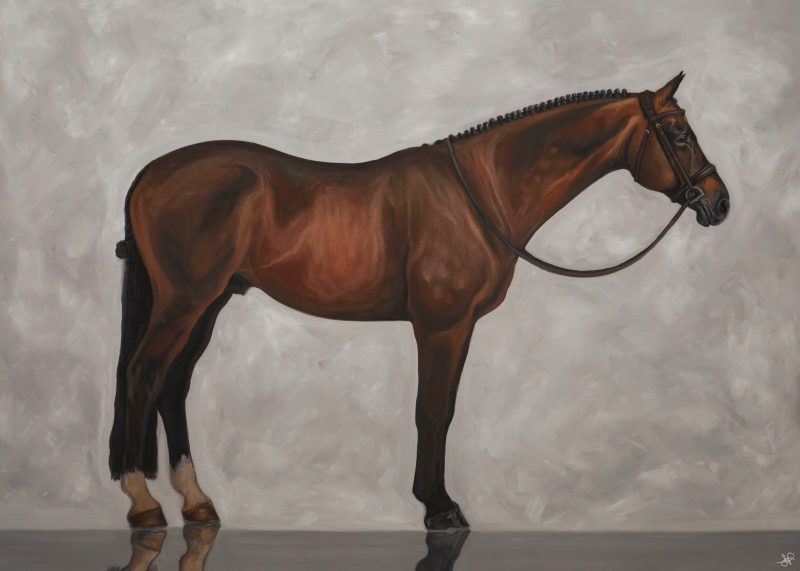 Portrait of Orbetello
Lauren's photography focuses on highlighting all angles of the equestrian lifestyle. She specializes in traditional horse and rider portraiture, equestrian fashion photography and commercial photography for brands within the equine industry. "My style combines traditional equine photography with subtle aspects of high fashion, minimalism and fine art," Lauren explained. "Above all else, the horse is the true core of my passion and ambitions. I'm looking forward to the day I finally have one of my own."
One of the biggest moments in Lauren's career so far was when she realized she could combine her love of horses and passion for art into a means of providing for herself. Thanks to the power of social media, in 2021, Grand Prix dressage rider Ellesse Gundersen commissioned Lauren to create several paintings of her horses. "Shortly after that, Ellesse gave me the opportunity of a lifetime to visit Wellington, which had always been a dream of mine."
Creating Her Future
Lauren grew up in the quiet town of Clarkston, Michigan, and spent her summers at her grandpa's cottage about 30 minutes outside of Traverse City, Michigan. "For as long as I can remember, I expressed interest in both horses and art," Lauren said. "I owe my artistic abilities to my Grandpa Wight, who was an automotive clay modeler at Ford Motor Company."
Her interest in horses pushed her to spend days drawing and daydreaming, and although nobody in her family was involved with horses, her mom recognized her passion early on. From ages 5 to 12, Lauren took weekly hunter-jumper lessons and learned all she could about all things horses. "I improved as much as I could with those weekly lessons, but my time in the saddle came to a screeching halt at around 12 years old because of my parents' divorce," Lauren shared. "My mother could not financially afford to continue paying for my lessons, but that didn't stop me."

Beauty of the Equestrian Trypict
Luckily, Lauren found an opportunity to "work to ride" when she was 14, at a private farm only a mile down the road from her grandfather's cottage. Every summer, she worked at her working student position with Bob and Sherry Canniff, immersed in horsemanship and exploring a variety of disciplines with their Andalusians and Tennessee Walking Horses.
Art was never too far away from Lauren, and she spent countless hours photographing horses at local shows, where she created fun photo shoots with her friends that helped hone her skills behind the camera. "I originally wanted to be a large-animal vet before I knew being an artist or a photographer was a career option," she said. "It worked out perfectly—I'd always tag along to local shows and was more than happy to be around horses and support my friends, even if I couldn't ride, myself."
Slowly, her art grew into a business that has allowed Lauren to pursue her dream of eventually owning her own horse and competing. By the time she reached high school, she had become heavily focused on her artwork and concentrated primarily on drawing horses. "Since I couldn't ride often, art was my way of still being able to enjoy their company. I was lucky enough to have a teacher who believed that my passion could be turned into a career, and she pushed me to build a portfolio and apply to one of the top art schools in the country."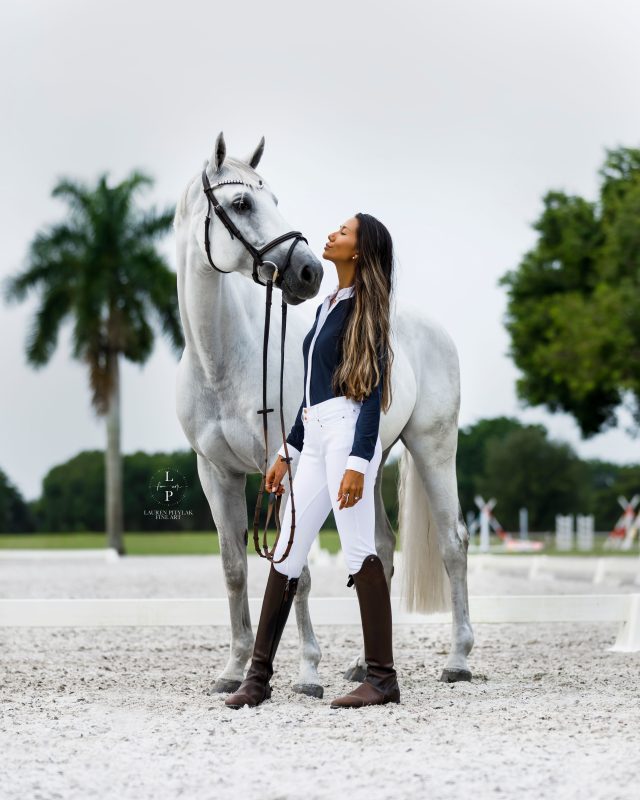 Ellesse Gundersen
In 2018, Lauren's portfolio of artwork earned her a scholarship that opened the door for her to attend the College For Creative Studies in Detroit, Michigan, where she is currently a student in her junior year. As a student, Lauren still lives in her childhood home, but travels to Florida almost monthly for photo shoots. "My daily routine consists of attending my art classes, editing photos from my shoots and working on commissioned paintings. I also like cooking elaborate meals, going fishing with my boyfriend and spending time with Marty, my 1-year-old Sheltie. A future goal of mine is to design a custom barn with a dedicated studio upstairs!"
Until then, Lauren's ambition and drive is pushing her to pursue her passions. "I think my work is unique in the way that I can offer the industry some variety," she explained. "Many artists tend to focus on a single art form, whereas I enjoy the freedom and ability to express my love for horses and the equestrian lifestyle through multiple outlets. Through painting, I can achieve results that expand beyond a camera's capabilities."
It's easy to see why her work has captured the attention of horse lovers around the world—her artistic process is a love story between humans and horses. "Where the equine form ends, their true beauty and heart begins," Lauren said. "Being around horses is good for the soul, and since it's impossible to spend every waking moment at the barn, I strive to bring the horse out of the barn and into people's homes with only oil paint and a camera."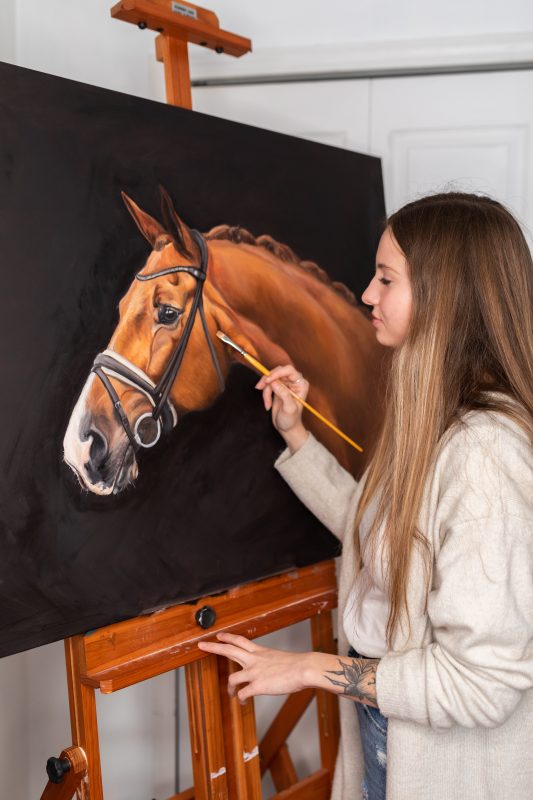 Portrait of Villeroy Nord
For more information, visit laurenpitylakfineart.com
Double D Trailers Info