As Michelle Durpetti waits to jog her amateur-owner hunter, Lucca, at the Kentucky Horse Park, she's talking animatedly into headphones tucked carefully under her helmet with her cellphone in hand.
The 40-year-old Chicago native is on a conference call with part of the Turnkey Hospitality Group team — her family's company whose brands include famed Chicago steakhouses Gene & Georgetti, The Estate wedding venue, Turnkey Events Catering and more. Before the conference call and her mid-day amateur-owner hunter rounds, Michelle had already spent several hours doing work from her camper, set up onsite at the Horse Park to provide her with a home base and, on this day, an ideal location to field phone calls and finalize details of an upcoming wedding, planned by Michelle's own Michelle Durpetti Events.
When she leaves Lexington, Kentucky, Michelle will return home to Chicago just in time to put on an event and to partake in several meetings regarding her family's next restaurant, Bar Ida, which is slated to open in 2019.
It's all a relatively typical day for the amateur equestrian and accomplished entrepreneur, but watching it from a distance is enough to make anyone question how Michelle is able to do it all, and so seamlessly. Michelle, however, knows that there is really no secret to her success. It's all just something that her dad, Tony Durpetti, taught her that she needed a long time ago: a good, old-fashioned work ethic and a commitment to excellence."
Accomplishing Goals
Michelle was not raised in a family of equestrians. However, she was raised in a family of hard-working entrepreneurs who taught her to go after her goals with tenacity. At the age of 9, riding became one of her goals.
"My dad has been a multi-tasker and goal-setter my whole life, and he taught me to set a goal, work to achieve it, and then springboard off of it to a bigger goal," said Michelle, whose first equestrian goal was learning to ride through lessons taken not far from Chicago.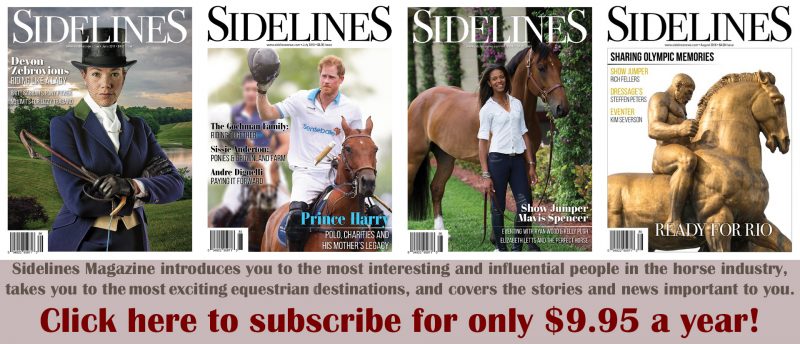 After leasing her first horse, a 15-hand Appaloosa named Keebler, and falling in love with riding, showing, and her time spent at the barn caring for Keebler, Michelle spring-boarded to her next goal and began riding with accomplished hunter/jumper professional Katie Kappler. After spending her junior years riding and competing successfully under Katie's tutelage, Michelle began her initial amateur years riding with Lynn Jayne out of Our Day Farm.
While Michelle knew she always wanted to return to the saddle, she took a hiatus from riding during her early adulthood to pursue another sizeable dream. Shortly after high school and her initial years studying communications and Italian at Dominican University in River Forest, Illinois, Michelle moved to Florence, Italy, to complete her studies in her family's country of origin. Following graduation, Michelle worked for two major event management, public relations and communications firms — Jasculca Terman and Edelman.
By the time Michelle was 26, however, she had realized two things: that the traditional corporate lifestyle did not fit her personality and entrepreneurial spirit and that she greatly missed riding. So, Michelle set her sights on two new goals: forging an alternative career path and finding her way back into the saddle.
Pursuing Her Passions
In 2008, Michelle founded Michelle Durpetti Events, now one of Chicago's leading firms for wedding styling, planning, logistics management and event production. Shortly after that, having discovered her professional love, Michelle also returned to the saddle and her own personal passion for riding.
Through a recommendation from a friend, Michelle connected with hunter-jumper professional Greg Franklin at Canterbury Farm in Hampshire, Illinois. Michelle spent several years training with Greg, and ultimately with Caitlyn Shiels, who was working as Franklin's assistant trainer at the time.
"Caitlyn's ability and attitude are beyond compare," said Michelle, who also formed a fast and close friendship with Caitlyn. "She has a knack for understanding the horses she rides and bringing out the best in them, and she does the exact same thing with the people she teaches. She's made me so much more confident in the saddle, and together we've been able to achieve riding goals that I previously only dreamed of."
The equestrian goals that Michelle sets for herself are not small ones — particularly given that they must be pursued simultaneously with her demanding career ambitions.
"As amateur riders, I know many of us can say, 'I'm too busy. Now's not the right time because of x, y or z.' But when will be the right time?" said Michelle. "I don't know exactly where I'm going to be in a year. So instead of putting off pursuing my passion amidst the craziness that is life, I've found a way to make my passion a priority and to let it positively impact my careers, my relationships and all facets of my life."
With the work ethic and pursuit of excellence that her father instilled in her, Michelle has checked off numerous achievements and milestones from her bucket list in the last year alone.
After qualifying for and competing at the 2017 Pennsylvania National and Washington International horse shows — where she earned top-four finishes aboard Lucca amongst a competitive field of 36-and-older amateurs — Michelle married professional wedding photographer Collin Pierson in a beautiful January 2018 ceremony with a grand reception at The Breakers in Palm Beach, Florida.
Just a few days later at the Winter Equestrian Festival (WEF), Michelle competed her 9-year-old warmblood gelding Cassius in the Amateur-Owner Hunters for the first time, as well as showing her jumper mare, Serafina, and taking top-three placings with her hunter mount of several years, Lucca. During the second week of WEF, Michelle and Cassius claimed their first WEF reserve championship tricolor together, marking the achievement of another goal and part of what always keeps Michelle going.
"With a goal in mind, I never make excuses like, 'I don't feel like going today because I'm too tired or too busy. I worked a 400-person wedding for 14 hours yesterday. I don't want to get up and go ride,'" said Michelle. "It keeps me going, because I know I've set this goal, and I know Caitlyn is getting up every morning and helping me and putting in the time to keep me confident and to train me. The grooms are helping my horses be able to achieve that goal. When I know we're all working toward this objective, and I have all of these people helping, I know I've got to get up, show up and do my part."
At the start of 2018, Michelle was also highly instrumental in Caitlyn's launch of her own hunter/jumper riding and training operation, True North Stables, now based in Florida and Zion, Illinois. Michelle became True North's very first client.
With Caitlyn's guidance and their mutual support system, Michelle garnered a number of wins and top ribbons throughout the year from HITS Ocala to the Great Lakes Equestrian Festival in Traverse City, Michigan, and the Kentucky Summer Series in Lexington. The team marked the end of their summer at the USHJA International Hunter Derby Championships, where Cassius had qualified to compete with Caitlyn for the second consecutive year and ultimately finished 17th out of 83 entries and eighth in Section B.
"Those are the kinds of moments dreams are made of," said Michelle, who now has her sights set on the 2019 winter show season and the launch of Bar Ida. "I really believe that voracious tenacity, steady faith, good, old-fashioned discipline and a great team of people around you are the secret to life. Anyone deserves a shot at their dream, and it's with those ingredients that dreams can become reality."
Those and, as her dad would say, some "good, old-fashioned work ethic and a commitment to excellence."
Photos by Aullmyn Photography
Double D Trailers Info