By Natasha Holt
On a sunny day in the woods of North Central Florida, more than 300 visitors flow through the gates of Mill Creek Farm. They stream in to pet and feed carrots to the 132 retired horses that call it home.
It's a normal Saturday at the farm, and as guests trickle in, Paul Gregory stands at the welcome booth greeting those arriving, and only half-checking to see that visitors have brought the required entry fee—two carrots.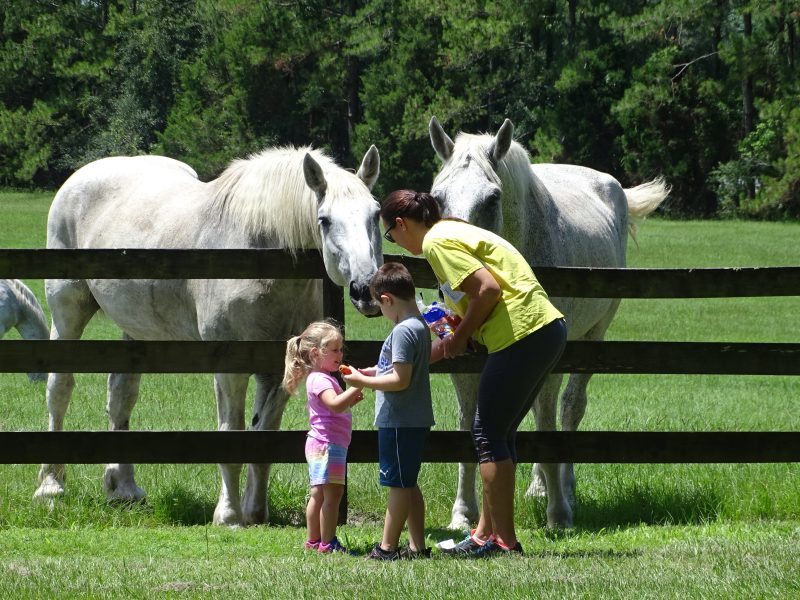 Paul, the executive director, board president and son of farm's founders Mary and Peter Gregory, just wants to be sure they understand the mission. And it's all about love.
The mission of Retirement Home for Horses at Mill Creek Farm is to provide a safe, lifetime to senior horses that have been seized by law enforcement in cruelty and neglect cases, brought to frontline rescue organizations but cannot be adopted out because of age and medical issues. They also honor some of America's heroic equine public servants with well-deserved lifetime retirement for police and military horses when they've completed their civil service duties.
The Beginning of a Dream
The farm began as a dream, sparked many decades ago when a young couple from London would stroll through a horse farm outside of the bustling city. Mary Gregory and her late husband, Peter, met at the University of London. During their courtship, they loved to go on dates to visit the farm that gave work horses a few weeks of rest each year. Those visits inspired them to speak wistfully about starting a similar operation, if they ever could.
"We decided that if we ever made money, we would use it to rescue animals," Mary, now 90, said in a sedate-yet-singsong British accent. "We were on the same wavelength about it."
So, after she and her husband succeeded in the hotel industry, they asked themselves: Should they spend their retirement going on vacations and cruises? The "neighs" had it and they determined to fulfill their decades-old dream of devoting the rest of their lives to animals in need.
The Sunshine State
After living in their hotels and not owning pets, Mary and Peter decided to relocate somewhere warmer, a place with rolling land. They landed in Alachua, Florida, about an hour north of Ocala, known as the world's horse capital.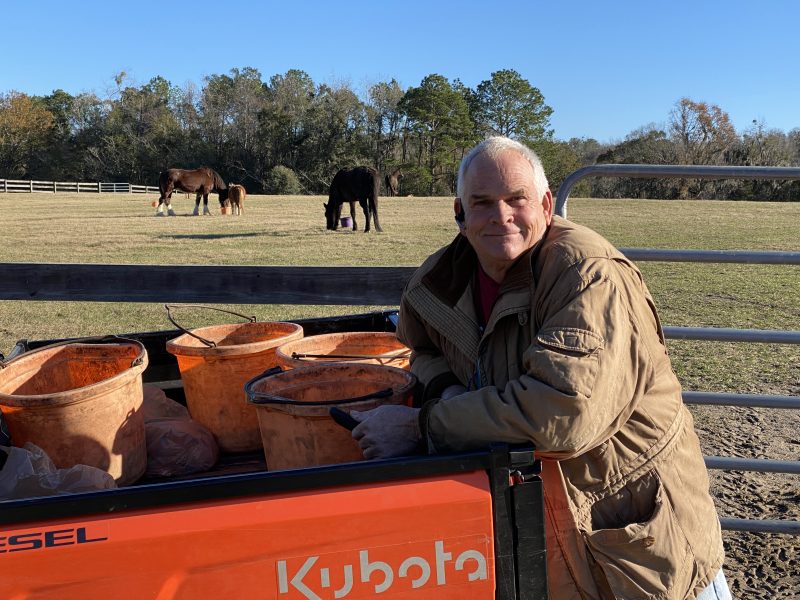 In 1984, they officially founded Retirement Home for Horses, Inc, a 501(c)3 non-profit based out of Mill Creek Farm. The organization is supported 100% by public donations. The 335 acres of lush, hilly pastures are protected in a conservation easement held by the Alachua Conservation Trust, so that the farm can continue to be used for the purpose of helping animals—the horses, of course, a donkey, a zorse, a handful of cats and a passel of rescue dogs.
"Once they step foot onto the property, we promise them that they'll never leave," Mary said, nodding to visitors as they ambled past toward paddocks, carrots in hand. The horses also are promised that they'll never be ridden again but will enjoy their years of peaceful retirement without work, and with the highest standard of nutrition and medical care.
Always Be Kind
Mary learned to ride and to love animals at a young age when she was sent off to a private boarding school during World War II. There she was taught to ride by an instructor, who also worked with Queen Elizabeth II's horses. The headmistress of the school, also her Latin teacher, would bring her dogs to class. Students were much more interested in playing with the dogs than studying Latin, Mary recalled with a smile.
The teacher admonished her students, "You must always be kind to animals." That has stuck with Mary across the next eight decades. Even now, she finds it inconceivable that someone might be cruel to an animal. When she speaks of it, a tear slips down her cheek.
As if purposefully refocusing on something more positive, she cheerfully greets an approaching group of visitors, and watches approvingly as they poke carrots at the residents' inquisitive noses. Like a grandmother sharing about the accomplishments of a grandchild, she pipes up with bits of history on each aged equine.
While former military and police horses are taken in at any age after their service, the farm also takes in horses from other rescues after they've reached the age of 20. If they've been rehabilitated but can't be placed in an adoptive home, Mill Creek Farm promises green pastures forever.
Farm volunteer Cynthia Lucia rattles off encyclopedic knowledge of every horse who is fortunate to call Mill Creek home. "This one was left tied to a tree in the Everglades, without any water, to be food for alligators," she said with disdain, gesturing at one of the grazing horses. At their time of rescue, some of the horses were found with bites that revealed desperate tangles with gators.
"And this one, Savannah, is blind, and has this one, Laura, as her seeing-eye horse. They stay together and Laura shows Savannah where to go," Cynthia said. "You can feed Savannah carrots if you tap them on the fence to show her they're there."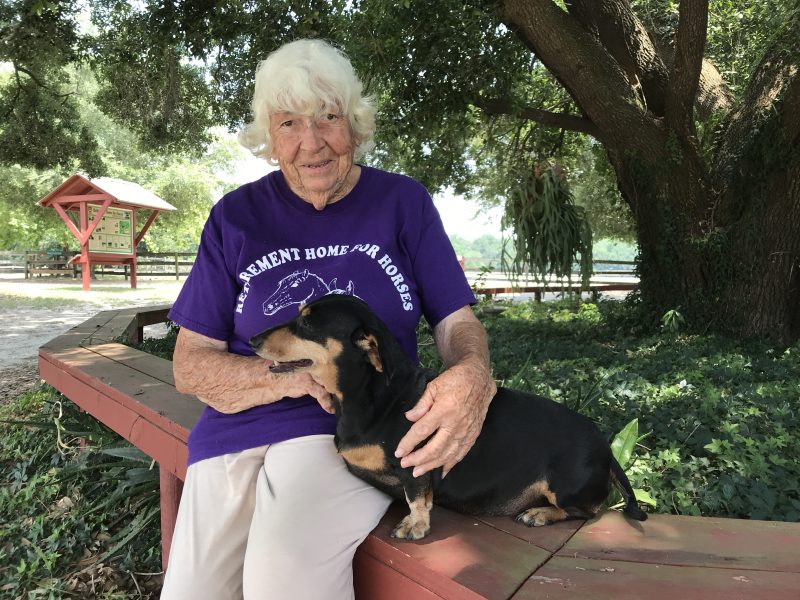 "Most of the horses arrive with arthritis and other health conditions that require special care and treatments," confided Nora Denslow, a volunteer and board member. The farm provides the costly medicines necessary keep the horses out of pain and to manage any other conditions they may have, such as Cushing's disease. Cost for care tops about $400,000 per year.
The horses also receive weekly grooming, annual vet and dental care, and hoof trims by a farrier about every eight weeks. Not long ago, a team of equine dentists came out and gave 41 horses their annual dental in one day. Some of the professionals donate their services.
"Anything the horses need is done without sparing any expense," Paul said. He moved to Alachua when his father died nine years ago in order to help Mary manage the sanctuary. "We feel that they've done their public service and deserve a great retirement."
As a volunteer-structured non-profit, the farm is maintained entirely by staff and volunteers—and the focus definitely remains on the horses. "If a golf cart goes down, and we can fix it with a rubber band and paperclip and get two more weeks out of it, then that's what we will do," Paul chuckled.
"It's all about the horses," echoed his mother, who bounces along the farm's paths on her golf cart, usually with a rescued dog on the seat beside her. "The horses own this place, because everything that's done is for them."
Retiring With Honor
Before coming to Mill Creek Farm, many of the horses had successful careers in the show ring while others dutifully served their country. The retired mounted patrol horses at the farm previously helped with crowd control at beaches and large events—everything from the Super Bowl to riots. Many were ridden in parades and performed law enforcement memorials and funerals.
Many sustained injuries that required retirement. Others grew into their old age and began to need expensive care, which made it especially difficult to find them homes. Even though officers love their equine partners, they usually can't take over their care and retire them, as K-9 officers often do with their four-legged partners. That puts the horses at risk of being euthanized, Nora said.
"One would hope that these horses would have a place to go. But often when horses outlive their usefulness, they are discarded. So, we are glad to be able to give these animals a forever home where they can live out their days," Nora said, adding that the law enforcement officers often express gratitude for a guaranteed forever home for their former partners, and as a result, the farm receives annual donations from some of the agencies that have placed horses with them.
Before retiring at Mill Creek Farm, some of the military horses served as "U.S. Army ambassadors," performing in mounted color guards. Some served as the riderless horse, a symbolic memorial performed during funeral processions of some law enforcement officers and soldiers. The horse is led, draped in a black blanket, with the stirrups of his saddle containing empty boots facing backwards.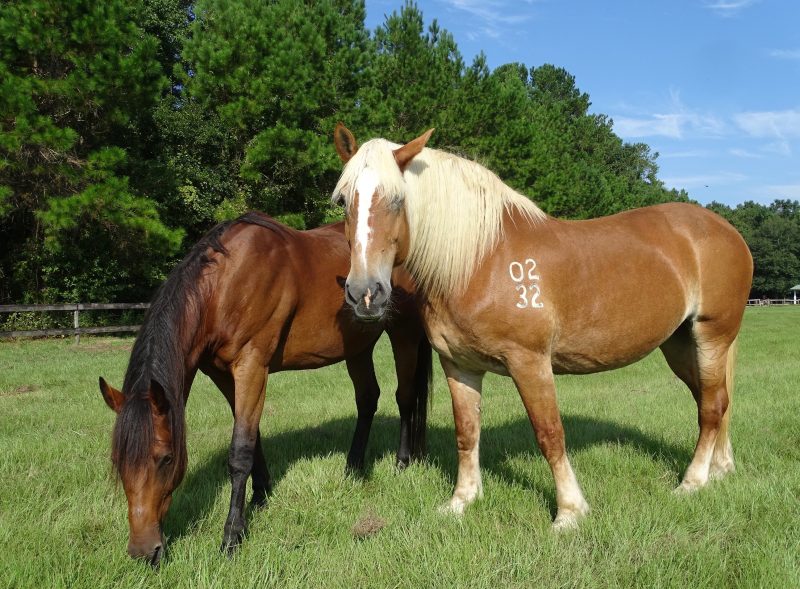 The solemn gesture symbolizes the final ride of a soldier, backwards-facing boots representing his final look back on his platoon and his family. One last ride.
When an old horse at Mill Creek passes away, volunteers weep. The horses are buried in the farm's "Field of Dreams." Many are honored in perpetuity with memorial plaques on the fences of the pastures where they once grazed. The oldest equine on the farm is the 41-year-old miniature donkey, Shamrock. R.C., an Appaloosa and former police horse, recently passed at 45.
A Legacy of Love
The farm relies on a group of dedicated volunteers to continue the mission. They donate their time and efforts to complete tasks such as feeding, grooming and checking the horses for any health concerns such as arthritis or skin conditions that have flared up. They also spend hours on farm chores such as repainting buildings, cleaning pastures and scrubbing water troughs.
"We have the most incredible volunteers I've ever seen." Paul said. "We're so grateful to have them."
Visitors are welcomed at the farm every Saturday from 11 a.m. to 3 p.m. Hundreds of visitors, both local and out-of-town, flock to shower love on the horses, rain or shine, during the four-hour window. Often, those who vacation in Florida make the farm an annual stop, bringing their families and grandkids back every year.
"It's a way for people to see what we do," Paul said. "And also, to teach the next generation that just because an animal is old doesn't mean it doesn't deserve to have a quality life. They can't speak for themselves, so they need someone to step up and take care of them."
As visitors look out on the pastures that the retirees call home, they see the legacy of the dream that Mary and Peter formed long ago. "Everything's gone the way I wanted it," Mary said. "And Peter would be so proud of it now."
For more information, visit millcreekfarm.org 
Photos by Nora Denslow
Double D Trailers Info