By Julie Unger
Sarah Rowen has a talent for finding fabulous fashion items, and even creating them herself. She has "it," the "eye for fashion," and it all came naturally to the self-taught owner of Fab Finds by Sarah.
Sarah grew up in Toledo, Ohio, an area better known for its glass, automotive and solar industries than its red-carpet runways. After studying psychology at Michigan State University, Sarah ventured into the United States' fashion capital: New York, New York, where she worked for numerous top law firms as a headhunter.
When she was younger, her grandfather had a factory that manufactured women's clothing in the Garment Center. Because it brought back fond memories, Sarah would explore the area during her lunch breaks.
"I was always drawn to the energy of the city, and the Garment Center, in particular, because it reminded me of him," she said.
Finding Fab
Now, the Garment Center is known as the Garment District. It was, and still is, the hub for high fashion in the city. As Sarah perused the numerous boutiques, shops and storefronts — there are now 6,500 business owners in the Garment District Alliance — she discovered a fashionista's paradise, with high fashion available at all different price points. She quickly realized that not everyone had access to the fabulous fashion that was, quite literally, at her fingertips, and a business idea began to form.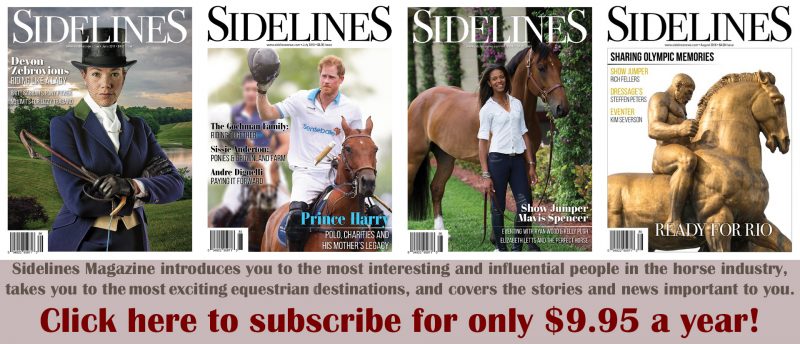 Sarah thought, Why not make amazing fashion available to everyone?
As she walked through the many stores, she realized that a boutique would be the perfect size, offering the opportunity to venture away from what she saw in other stores — often similar merchandise — and choose what she wanted to sell.
Observation was key, and as a self-proclaimed people watcher, with a background in psychology, Sarah had a strong handle on what people were interested in and what was going to be the next big thing in the fashion world.
Her decision to open a boutique was only solidified when she moved to Florida and attended various charity events. She observed vendors donating a percentage of their sales for a cause, and knew she wanted to add a philanthropic element to her business model.
She took the plunge in 2004 and began Fab Finds by Sarah. In 2011, Sarah moved from New York to Florida and attended the Winter Equestrian Festival in Wellington for the first time.
"Immediately, I was taken with the beautiful, tranquil setting," she said. "The environment was so beautiful and peaceful that I just knew this was where I wanted to be."
It didn't take long for Sarah to set her new plan in motion; before the end of the season, she opened her store at the Festival.
Sarah expanded the Fab Finds by Sarah range to have a more equestrian slant and knew her vision for an amazing boutique — where she could follow her passions and help women feel fabulous — had found its forever home. A few years ago, Sarah transitioned from advising jewelers on the types of jewelry she wanted to sell in her boutique to designing jewelry herself, and S. Row Designs, featuring elegant diamond, ready-to-wear jewelry, has come to fruition.
A True Experience
Fab Finds by Sarah has some unique rules for her store: be supportive and don't be negative. "Women are too hard on themselves," Sarah said. "I have those rules in my store because I'm all about empowering women, helping them to feel good. That's the experience I want them to have. Instead of saying, 'I hate my arms,' or, 'I hate my legs,' I suggest to them that we discuss a body part they love, such as their waist, and put our energy and focus into that."
Sarah wants her customers to love what they purchase from her and she encourages them to only buy things that feel good to them. If something doesn't bring a customer joy, Sarah encourages them to use her generous return policy.
"The best compliment I can receive is when customers tell me that they absolutely love what they bought from me," she said. "Women are too hard on themselves sometimes and fashion is fun and should feel good."
At 46 years old, Sarah is able to relate to clients of all ages; her passion for fabulous fashion transcends age, which is just a number.
Part of the Fab Finds by Sarah experience is that Sarah treats all clients the same, whether a particular client purchases one of each item, can only browse or picks up a $10 good luck four-leaf clover bracelet. She encourages clients to explore colors that compliment their complexion and lifestyle, and that will be well-loved. Part of the joy of owning a boutique is getting to know the many people who stop by and chat. Helping them find that perfect piece is a bonus.
"It's important to me to be able to offer a wide variety of items at various price points, where you could get a wonderful gift for someone, whether you are looking for something specific or something $100 or less," she said. "Either way, you'll come up with a beautiful gift that you'll be proud to give."
Unique pieces and collections are cultivated for Fab Finds by Sarah clients, including favorite and in-demand brands such as Golden Goose, 360 Cashmere, Skull Cashmere, Zadig & Voltaire, Brodie Cashmere, Monrow, AG Denim, Mcguire Denim, Paige Denim and JBrand. Sarah is also proud to carry N.Philanthropy, a philanthropic brand that with each piece in their collection, donates a percentage to an individual charity.
When Sarah is choosing her inventory, she keeps in mind the items that clients enjoyed, as well as items that she believes would be perfect for specific clients. Finding something special for someone is something that enhances the Fab Finds by Sarah experience for clients, where they find a personal shopper in Sarah.
Sarah works with many of the brands she carries to offer custom pieces, as well as favorites. This year, she is collaborating with Brodie Cashmere, an exclusive cashmere brand based out of London, and Danny & Ron's Rescue to create a custom cashmere sweater. Proceeds will benefit the rescue's many animals in need of a forever home, something near and dear to Sarah, who has two rescues, Miley and Roscoe.
Miley and Roscoe go everywhere with Sarah, including on the road to top equestrian shows such as Devon, Tryon, the World Equestrian Games, Old Salem, Great Lakes Equestrian Festival, the Kentucky Horse Shows, the Gold Cup, Lake Placid, Washington International and the World Equestrian Center, where Fab Finds by Sarah will be located from September through the end of April. Fab Finds by Sarah also has two stores at the Winter Equestrian Festival in Wellington from November through mid-April – one in Vendor Row and one on Hunter Hill. Sarah participates in many charity shows, and personally volunteers her time for several charities in Palm Beach County.
Whether it's at a boutique or online, Sarah is fulfilling her dream of making fabulous fashion available to everyone — especially the horse show community.
For more information, visit www.fabfindsbysarah.com.
Photos courtesy of Sarah Rowen
Double D Trailers Info