By Jan Westmark-Bauer
Portraits by Hannah Waroway
Savannah Hutto doesn't even remember sitting on her first horse—she was only 3 months old. Savannah said growing up on her mom's farm was the equivalent of the question, "Were you raised in a barn?" because yes, she was. Now 19, she is a sophomore at St. Andrews University (SAU) in Laurinburg, North Carolina, where she loves riding on the collegiate equestrian team.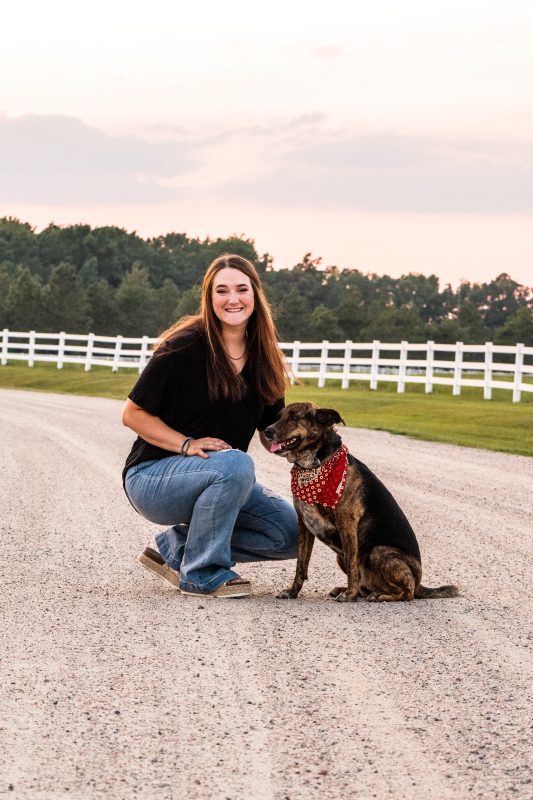 "My mom started riding when she was young and now has an 'A' and 'C' show riding facility, Tally Ho Equestrian Center in Timmonsville, South Carolina," Savannah said. "I have been riding and showing since I could walk and the path of horses led me straight to St. Andrews! I grew up making so many friends, riding so many horses and learning how to run a barn. I learned the necessary things you do for your horses, the clients and for yourself to be a successful show barn. I learned the process of buying and selling horses and how to be professional when I was just a kid. I think growing up in a show barn taught me responsibility and gave me a lot of character, alongside being a hard worker!"
How did you decide to attend St. Andrews?
I chose St. Andrews because my mother is an alumnus, and she spoke so highly of the school and the riding program. For a couple of summers, I did a camp at SAU. I loved how involved Peggy McElveen, director of equestrian programs, was in everything in the school; she really raised my expectations on college and riding programs. I loved the riding facility and the campus, and absolutely fell in love with the atmosphere and how things were run. 
What do you like about St. Andrews?
I really love the equestrian center and all of the horses because that's what I want to do when I graduate: I want to run my own facility and become a trainer, and I thought St. Andrews could really help me do that! As for the campus, I loved that the degrees can be specialized into what you want. I can take so many classes regarding horses and other classes that will help me become the trainer and professional I want to be one day. 
What's your major?
My major is equine business management. I will be taking classes on horse anatomy and on how to run a barn efficiently and effectively. 
What do you like about the riding program?
The riding program at SAU is amazing. I'm on the hunt seat team, show team and the ANRC team. I love how diverse our program is. You can really do anything you want to from Western to dressage, hunt seat, ANRC equitation and going to shows outside of school. I look forward to this upcoming season of IHSA and my favorite horse, Peter Pan! 
What part do you play on your school's riding team? 
I feel my part on the team is having fun with everyone. It's so nice to come to the barn and have such a good time with everyone because it makes the atmosphere of the barn so joyful. Being a good teammate is also a part I think is very big at school. I always try to be supportive of my teammates and I love watching everyone on the riding team grow! 
What was your riding life like prior to college?
Prior to college, I showed competitively on the 'A' and 'C' show circuits. I do the hunters and equitation. I've gone to the National Horse Show Hamel Finals twice, qualified for Maclay Regionals and went to Junior Hunter Finals last year. I was also on my mom's IEA team for seven years and went to Zones multiple times and Nationals. I have always worked at my mom's farm, feeding, cleaning stalls and lots and lots of riding. My trainers were my mom, Katrina Hutto and Mary Wooten. We went to so many shows in Aiken and Camden, South Carolina, and Tryon, North Carolina. 
What do you like most about riding in college?
I love that we can ride so many different horses. If you're like me and don't have a horse, you can ride every single day at St. Andrews. The trainers are there to help you out and to make you into the rider you want to be. We also have super nice horses! 
What are your goals for the future?
To finish at SAU, get my degree in equine business management and go work under a great professional. Eventually I will run my own business and show on the 'A' circuit with clients. 
What advice would you give to others who are looking to ride in college? 
It's the best thing ever! Everyone should ride in college no matter what discipline you do. It's such a learning experience and the friends and connections you will make will last you a lifetime! 
What's something people don't know about you?
I think people see me as a very confident rider and I can ride almost anything you put me on. What people don't know is I'm very insecure about how I ride. I'm always thinking about how I can ride better and what will make me a better rider so I can go professional when I graduate. I always get nervous before I go in the ring and that will never change. I want to always do right by horses and put the horses before myself. 
For more information, visit www.sa.edu/equestrian
Photos by Hannah Waroway, hpwaroway.myportfolio.com
Double D Trailers Info