By Britney Grover
Portraits by Shawna Simmons
To anyone who's followed the national hunter-jumper world in the last decade, Victoria "Tori" Colvin is a household name. Her record-setting talent on horseback seems almost magical. From ponies and Best Child Rider awards to three consecutive wins in the USHJA International Hunter Derby Championships, Tori's accomplishments remain unmatched.
In May, she was honored as the National Show Hunter Hall of Fame Rider of the Year after compiling a long list of accomplishments in 2019, and she's just 23 years old. After dominating as a child, Tori's again becoming a familiar face at the pony rings — this time as a trainer.
Now, it's 12-year-old Parker Peacock in the irons earning ribbons, while Tori coaches from the sidelines.
"When we go to the ring, I sometimes run into some of my old trainers or people I rode ponies for," Tori said. "It's an interesting dynamic to have grown up so much that I'm now one of their peers."
Prodigy to Professional
As the daughter of a farrier and a dressage trainer, Tori was born into horses and never considered doing anything else. "Even from a young age, I always knew this was my life," she said. "I enjoyed doing other things growing up too, and even got pretty good at playing tennis — but I think it was always clear that I would be a professional equestrian. Both of my parents are in the business, so it's a way of life for us."
Tori began showing short stirrup when she was 7 — and earned her first circuit championship. At 9, Tori rode Scott Stewart's Cortina at the 2007 USEF Pony Finals: It was her second Pony Finals, and one of her most memorable (of many) moments in her pony career.
"We competed in the Medium Green Pony Hunters and got scores of 95, 95 and 96 for our over-fences round!" Tori said. They won the class, the division and the overall Grand Green Pony Championship. "Although winning was exciting in itself, I remember it was particularly memorable because of my mom: She was so happy for me, shaking and crying!"
Tori's parents have remained supportive of her career as she advanced through her junior years as one of the most accomplished young riders in history. They've watched her become a top hunter and jumper rider, including winning three USHJA International Hunter Derby Championships on three different horses and earning the WEF Overall Hunter Rider Circuit Championship in both 2018 and 2019.
Now that Tori's a professional, her parents work with her personal horses at their farm in Florida and are a vital part of the team that's making her career possible — including helping her through the transition to professional, which wasn't seamless despite Tori's unprecedented talent.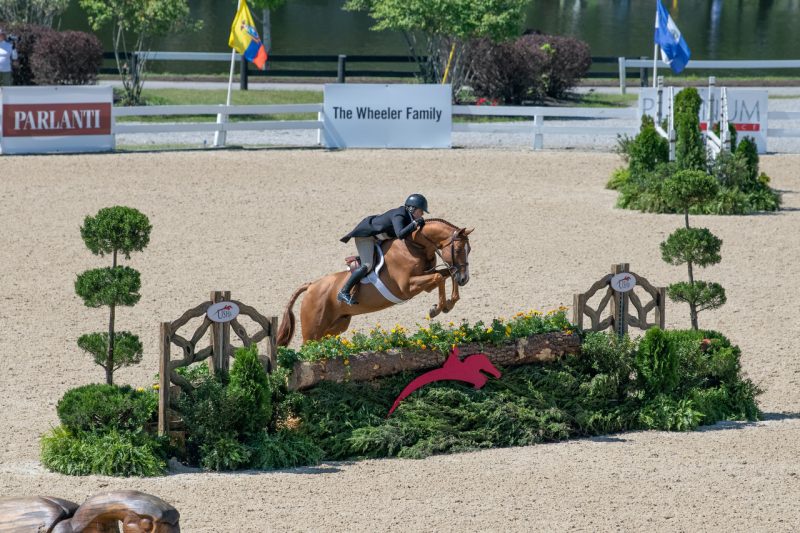 "Actually, I think it was scarier than a lot of people let on," Tori said. "Not only because of the responsibilities that you have — much more so than being a junior or an amateur — but also because everyone that was your friend is suddenly now your competition, not just in the ring but for your livelihood. It's a different world, but I loved it and pushed through and am happy that I did."
Though she still rides and competes for Tom Wright, Torrey Harrdison and the Ingrams, Tori is also back at the pony ring. Now, she's the trainer.
"When I first started training, I was so shy because it was new to me to be the one giving the directions," Tori said. "But now I really like it. It's fun to see how things have come full circle from the time I was the one riding ponies."
After so much success of her own on ponies, Tori's knack for training young riders isn't surprising. She enjoys making sure kids learn everything correctly from a young age.
"Plus, they're still so excited to be with the ponies and to ride!" she added.
One such passionate pony rider is Parker Peacock.
Peacocks and Ponies
Like Tori, Parker comes from a supportive equestrian background. Her mother, Ashley, grew up riding and picked it up again after starting her career. She founded Peacock Acres near Winston-Salem, North Carolina, for her own horses and a group of friends', but it expanded to much more.
Ashley considers herself lucky to recruit Kristi Watson as lead trainer, and the business took off. Peacock Acres has had a waitlist ever since — and has nourished Parker's passion for ponies.
"Parker has always had a love for animals," Ashley said. "She was riding ponies before she could even walk. I loved riding myself, but watching her ride and achieve her goals far surpasses my personal enjoyment in a horse."
Though she was raised riding, Parker's pony career didn't always go perfectly. At her very first horse show, she walked into the ring, did one trot circle and the pony bucked straight up in the air and threw her off.
Liza Boyd leased the Peacocks a pony named Maryanne, who gave Parker the confidence not just to persevere but to progress quickly.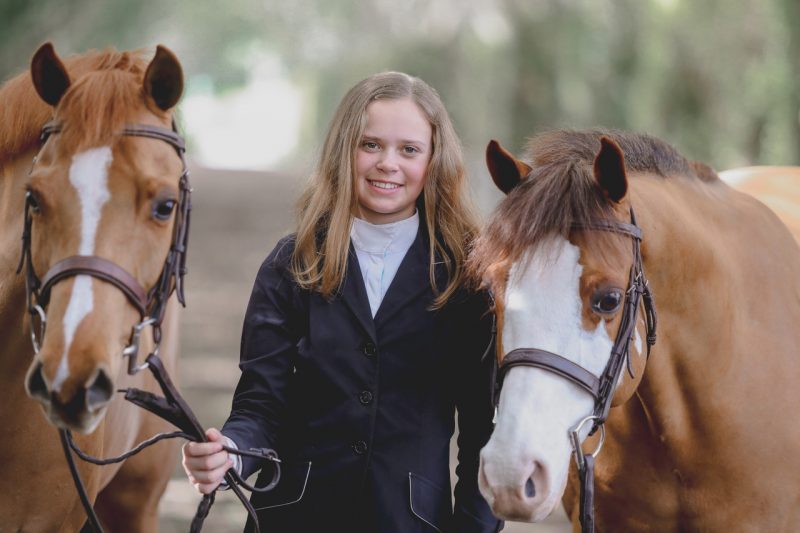 "My first time showing in the crossrails on my saint of a pony, Maryanne, all I had to do was sit there," Parker remembered. "She would hear the judge say 'trot' and she would trot, and at the canter she would do automatic lead changes every single time."
With her skill and confidence, Parker has been able to overcome other memorable "pony" moments, like during her first catch-ride derby. She was "nailing" the course until it came to the very last line, which required a halt at a gate. The pony spooked and threw her across the fence.
Now, Parker has earned impressive results all around the country, whether catch-riding or riding her own ponies for Peacock Acres.
"I love all the fun things to do at Devon," she said when asked about her favorite horse shows. "WEF is so much fun! You can do so many classes and I love how beautiful it is there. And I really love getting to do the indoors, especially showing at Harrisburg, because it's so different."
Trainers such as Kristi Watson, Lynn Forgione and Robin Greenwood have all played important roles in Parker's riding. But Parker's relationship with Ashley remains part mother-daughter, part best friends and part student-teacher as they spend all day every day together.
"I would never call myself a trainer," Ashley said, "but I've been an eye on the ground for her for a long time. To this day, Parker wants me at the ring even if she's just hacking a pony or taking a lesson."
A Perfect Pairing
Ashley's involvement in Parker's career was the catalyst for their relationship with Tori. "I've watched Tori ride for several years, and I feel like to be the best, you have to learn from the best," she said.
In 2016, Tori taught her first clinic at Peacock Acres. "I was pretty nervous the first time I met her, because I felt like I had to impress her," Parker said. "I'd grown up watching videos of Tori ride, so I was pretty excited, too."
Parker wasn't the only one anxious about the clinic.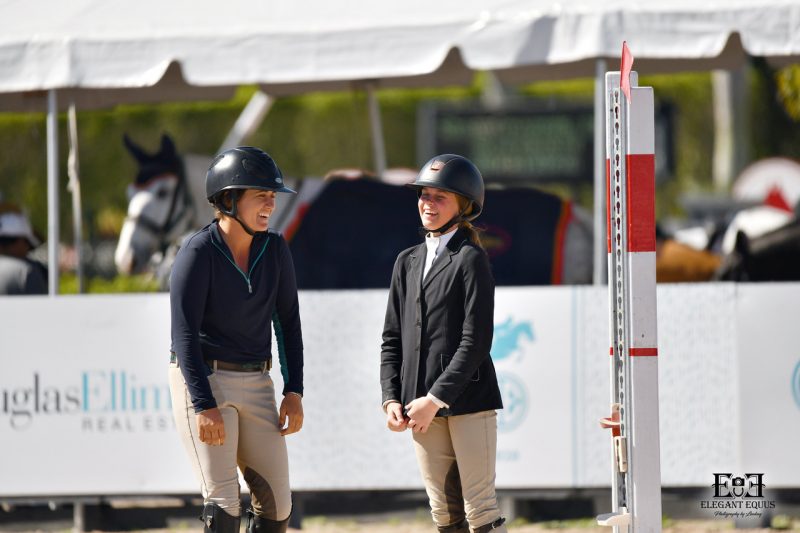 "I was actually really nervous," Tori admitted, "but the Peacocks were amazing and forthcoming, and our relationship developed from there."
Ashley says Parker "just clicked" with Tori. "I knew at some point Parker would want to go on and do more in her riding, and working with Tori has been the perfect fit for her."
"It's really fun training with Tori," Parker said. "Sometimes it's hard because I want to be perfect for her because she's perfect, but she's a really good trainer and teaches me so many different things. I like that Tori is confident in my abilities, and makes me feel confident."
As "perfect" as Tori may be, her level isn't out of reach — Tori sees some of her own qualities in Parker.
"Parker is a super hard worker who wants to learn. She reminds me a lot of myself at that age!" Tori said. "She's been doing a great job working on her riding and has improved tremendously. Parker's a natural horsewoman, and it shows both outside and inside the show ring."
Tori has helped Parker work on learning to catch-ride and quickly be comfortable on horses and ponies she doesn't know, and has given her opportunities to do so. At WEF this year, Tori put Parker on a horse she had never ridden, when Parker had never consistently shown a horse. By the end of WEF, they were circuit champions.
"Tori has brought out the best in Parker," Ashley said. "She challenges Parker in a way that makes her better, and believes in her enough to put her on all different types of horses and have her show them — that gives Parker the confidence to get on, go right in the show ring and be successful. We're so grateful for the many ways Tori has helped Parker progress!"
A Bright Future
Parker enjoys swimming, being with friends or playing with the menagerie of Peacock pets: Peacock Acres is also home to three miniatures (Banks, Pickles and Hashbrown) and two pigs (Barbie and Popsicle).
"We have three dogs: Booger, Happy, and Broby; a bird named Flower; and a barn cat that has a lot of different names but her current name is Layla," Parker shared. "We also have 10 chickens and a lot of snakes around our house."
But most of her time is spent riding. When she can't train with Tori in person at WEF or other shows, Parker gets help and advice on the horses she has at home in North Carolina on a daily basis by sending Tori videos. 
Tori's goals for Parker include continuing to catch-ride, eventually transitioning to horses and perhaps campaigning a large pony if they find "an amazing" one. Parker has already been thriving in the children's hunters as well as the ponies. She hopes to move up to 3'3"-3'6" by the end of the year and has her sights set on Devon 2021.
"I'd love to be as good and consistent as Tori one day," Parker summarized.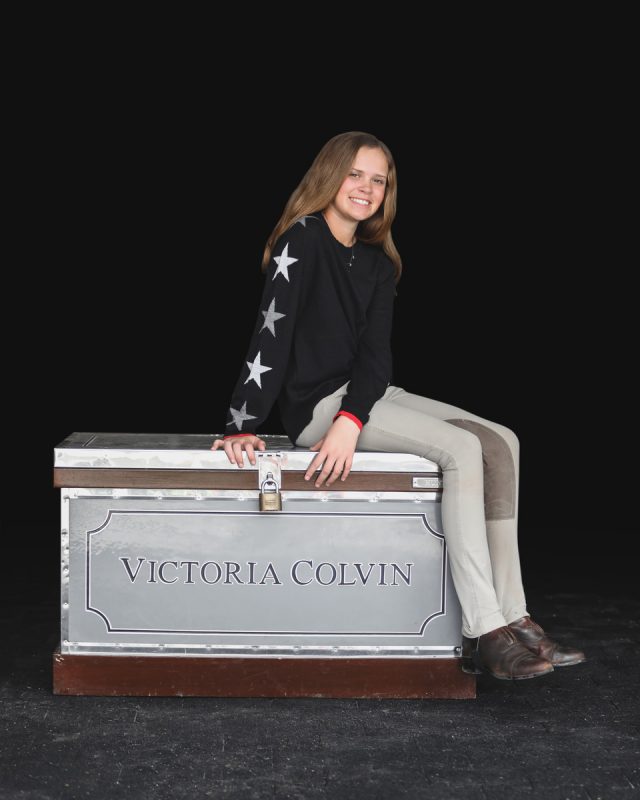 "Parker and Ashley have been great to work with, and I hope we can continue to train together for a long time," Tori said.
Tori's own goals might surprise some. "Although I've become known for the hunters since I ride so many hunter and derby horses, I'd love to have a string of jumpers," she said. "I have young ones I'm producing and that I'm very impressed with right now, but it takes patience while they grow up."
In the meantime, Tori's happy with coming full circle. She hopes to eventually have more clients, concluding, "There's nothing more rewarding than taking a student, no matter what age, to the ring."
Photos by Shawna Simmons, www.sasequinephotography.com, @sasequinephotography, unless noted otherwise
Styled by Shawna Simmons. Thank you to Fab Finds by Sarah, @fabfindsbysarah for outfits for Tori and Parker, including tan and green sweaters, sweater with stars, the denim jacket with lips and star necklace. Belts by Ruespari, www.ruespari.com, @ruespari
Double D Trailers Info