CREATE FINANCIAL FREEDOM. Be your own Boss.  Part-time/Full-time.  Work from home.
www.nsinder.com For more info. contact  Joyce jjones@myacc.net or 954-796-1809
MA1
A/C AND POOL HEATING SERVICE 
A/C AND POOL HEATING SERVICE, MAINTENANCE AND REPLACEMENT. 28 years experience. N.A.T.E. certified Journeyman. Highly skilled, reliable and professional service. BEST RATES.  Locally serving Wellington and surrounding area Call Marc today to schedule a FREE consultation!  561-801-0168
MA2
AIRPORT TRANSPORTATION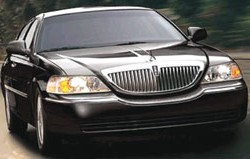 WELLINGTON TOWNCAR & CAB
561-333-0181
Airport Transportation Service
www.wellingtontowncar.com
ON TIME –EVERY TIME!!
JL01
BARN RENTALS
WELLINGTON – FIRST CLASS 10-STALL BARN FOR RENT – on 2.3 acres, Groom's quarters, on bridle path. Call (561) 801-2633 or Email: SCOTTBRITAN@AOL.com
JA1
WELLINGTON ,WEF PALM BEACH POINT .12 stall barn , Hack to show grounds, grassy paddocks, large jump ring w/jumps rent the whole barn of just dry stalls  Tamara411@mac.com or 561-762-5741
JUL 1
10 STALLS W/APT: All the show barn amenities. Arena, washer/dryer, AC tackroom ect. 561-202-4025 meikos@aol.com
FOR RENT
12 STALL W/APT: Sand ring 5 min from WEF Saddle Trail
14 STALL W/APT: sand ring 5 min from WEF Saddle Trail
6 STALL W/APT: Sand ring 10 min from WEF Saddle Trail
11 STALL W/APT: Sand ring 5 min from WEF Palm Beach Point
12 STALL W/GUEST HOUSE: 15 from WEF Palm Beach Point
Holly Chaney, Boca Executive
561-719-0828  holly@bocaexecutive.com
MA4
8 STALLS FOR RENT IN AIKEN SC:  2 large paddocks, 12×12 matted with water to each stall, washer, dryer, wash rack, perimeter track, some jumps, security gate, owner on premises, night check available.  7 miles from Hitchock Woods off 302. Call 803-678-9806
10 Stalls W/APT: All the show barn amenities. Arena, washer/dryer, AC tack room etc.  561-202-4025 meikos@aol.com
LOXAHATCHEE, FL. FULL SERVICE BOARDING: on quiet, private farm in gated equestrian community. Hack to White Fences Shows. Access to miles of riding trails. New CBS barn and Dressage arena with all amenities. Large grass paddocks. Owners on premises. Training/Lessons available. 561-706-5401 or dana@hawkridgefarmsfla.com.
WELLINGTON, SADDLE TRAIL – Beautiful 14 stall CBS center isle barn.   A/C, tack room, laundry room, feed room.  Fly system.  5 grassy paddocks.  2 wash stalls.  100 x 200 fiber ring, Large fully furnished APARTMENT.  Across from Show grounds.  561-722-9801  www.DiamondGStables.com
BARN AND HOUSE RENTALS
WELLINGTON FL, 2+ ACRES: w/8 stall barn on trails to show grounds, lg. pasture, work areas, parking. 3200 SF house w/ enclosed pool & court yard.  No agent fees. Call 561-329-7676  rgzeka@gmail.com
JU2 
WELLINGTON – 24 STALL BARN; 2 Tack Rooms/Office (12' x 24' each), Grass Field, 250' x 300', 8 paddocks, Sand Ring, 150 ' x 240', 1100 sq. ft. house, Wash rack, Laundry room, 8/10 mile from Littlewood Show Grounds. Call (954) 448-1044
O810
WELLINGTON FL, 2+ ACRES: w/ 8 stall barn on trails to show grounds,large pasture, work areas, parking, 3200 SF home w/ enclosed pool & court yard.  no agent fees, call 561-329-7676, rgzeka@gmail.com
10 Stalls W/APT: All the show barn amenities. Arena, washer/dryer, AC tack room etc.  561-202-4025 meikos@aol.com
NEWLY RENOVATED RANCH FOR RENT:  3/2 home plus 29 Stall Brick Barn,  6 paddocks,.50 acres, 450 acre riding range located in Ocala, FL.  12 min. from HITS.  Call Sharon  352-895-0288
BOARDING AND TURNOUT
RETIREMENT PENTHOUSE FOR YOUR HORSE – 1 stall available, 12 x 12 in a new insulated barn with infrared heating in the winter and commercial fans in the summer.  7 lighted fenced acres of clay based pasture, so no sand colic worries.  Owners on premises all the time to personally care for your retiree!  30 minutes outside of Aiken, SC.  Stall opens into pasture and will be with 2 spoiled geldings.  Full board of $325.00 a month, not including extra supplements, trimming or vet.  References upon request.  Nice horses may apply at: tohim@pbtcomm.net or call (803) 685-5902.

AIKEN, SC – Large grassy pastures with trees for shade. $200/mo first horse and $150 additional. Will check on horses daily and refill water through. 803 257-7407
WELLINGTON, PALM BEACH POINT – Stalls for rent, full or partial board, large jump ring, grassy paddocks, hack to show grounds.  Full service facility.  Training available.  For rates,   561-762-5741  tamara411@me.com
JUL 2
OLD FIELD FARM, GOSHEN, NY:  A full scale Hunter/Jumper boarding facility.  104 acres, indoor board with clean, safe comfortable surroundings for horse and owner. 14'x14' stalls, 200'x300' outdoor riding arena, 100'x200' indoor riding arena, Acres of turn out.  Further info. 845-294-6339   oldfieldfarm@gmail.com
JU3
BOOKKEEPING SERVICES
ASSURED BOOKKEEPING SERVICES Offering full charge bookkeeping and accounting.  We can come to you, no matter how small your business.  Family owned and operated with confidentiality, integrity, accuracy & timeliness as our mission.  Combining 30+ years experience to serve your business.  561-839-0482
SE05
BREEDING SERVICES
CLONING—Want a horse just like yours?  Cloning produces an exact genetic copy. For more info;  kathleen@replicafarm.com  or 908-310-2125
MA03
CLINICS
Holly Hugo-Vidal Scheduling clinics for late summer and early fall.
USEF "R" judge, author of Build Confidence Over Fences
Trainer of numerous AA show riders Web site: hollyhugo-vidal.com
Email pacificblue2020@gmail.com
Mobile 828 674 7983
DOMESTIC STAFFING SERVICES 
SPECIALIZING IN COUPLES – Providing domestics of distinction to those discerning individuals who have come to expect THE VERY BEST.  We offer a variety of staffing services, including chefs/cooks couples, houseman/butler, companion  and many more  Florida's oldest and most reliable Domestic Agency with over 88 years experience. Allied Employment staffs local, statewide, national and Europe plus the Islands.   Allied Employment Domestics     561-882-4244  www.alliedemploymentdomestics.com
EMPLOYMENT
VERMONT, RIDING INSTRUCTOR/MANAGER NEEDED: for a 25 stall facility.  80×180 indoor, large turn outs, on farm hay and much more. 802-233-5932.  ALSO AVAILABLE first and second cut hay for sale.  WILL DELIVER as far south as RI.  802-233-5932
JU4 
WANTED: Agent/Driver forWellington,Fla. Based Horse Transportation Operation CDL Required Call: (954) 448-1044
A206
HORSES FOR SALE
DAVIDHOPPERINC:Amenia,New York12501. Outstanding selection of sport horses-from unbroken to competition ready. Hunters, Jumpers, Dressage, Equitation. All prices, ranges. David Hopper. Cell: 914-474-7175. Barn: 845-373-8897. www.davidhopperinc.com
FE5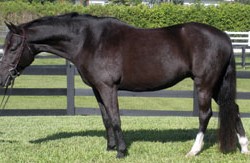 NINE YEAR OLD, 13.2 HAND, WELSH CROSS, MARE. Top hack and always brave to the jumps. Auto lead change. Very kind and vice free. Tricolors in Children's Ponies (including WEF 2011), Greens and the Medium division at A shows. Priced to sell; lease considered.   Pony recently showed in the Short Stirrups at Fieldstone Farm in MA and ribboned in every Hunter class out of 31 with a catch rider. Pony is located in MA. For more information: www.hobnobponies.com or 561-951-4225.
MA21
SPORT HORSES & PONIES FOR SALE:  4 –yr-old Welsh-Trakehner Pony Stallion by Schoponi, grey, 14.1 hands, $8,000;  3-yr-old Trakehner bay filly by Malachi,  $12,000;  Two 4-yr-old bay Trakehner fillies, $10,000 each.  Two 2-yr-old bay Trakehners by Malachi – 1 gelding & 1 filly, $9,000 each:  Bay weanling Trakehner colt by Malachi $7,000.  Broodmares for lease – reasonable prices.  Standing the ATA and CSHA- approved stallion Malachi (Graditz  *E*/Advocate*Ps*/Abdullah *Pg*E* bloodlines).  $1,100 Stud fee (book included) Loon Creek Enterprises.   kim@looncreekenterprises.com.  260-468-2392
DEC7
LAND FOR SALE
SELL OR TRADE – 5 BEAUTIFUL ACRES FOR A 2-3 HORSE TRAILER WITH LIVING QUARTERS.  5 acres in Suwannee County Ranchettes, FL, near Live Oak with quick access to Gainesville.  Perfect for horses and pastures; convenient to local tack & feed stores; close to abundant fishing and hunting; near 3 different rivers and multiple natural springs and parks.  Rolling land with beautiful hardwoods.  20 minutes to Lake City and quick access to Gainesville.  Shape of parcel allows a private entrance and as secluded as you would like.  Perfect for your dream home and horses.  High and dry with no deed restrictions.  Also have house plans with barn and covered arena already drawn up.  New Survey included.  Paid $50,000 now selling in the 20's.  Email: tohim@pbtcomm.net or call 803.466.7399 or 803.685.5902.
MASSAGE
MASSAGE FOR RIDERS ONLY
SPORTS AND REHABILITATION MASSAGE:  Jordan Weiner LMT-MA38880 Neuromuscular/Therapeutic Massage. Wellington 561-307-8884  Riders only
JA11
MEDICAL/SUAVE
CURE HOOF ROT / THRUSH NOW/ THRUSH B GONE
Penetrates to quickly and completely to eliminate thrush. ThrushBGone Kills Thrush on Contact. As a retired horse trainer who has used this product successfully for over 40 years , this product works. Read our testimonials for more information. $14.00 per 8 oz
thrushbgone@gmail.com 678-830-7010
PONIES FOR SALE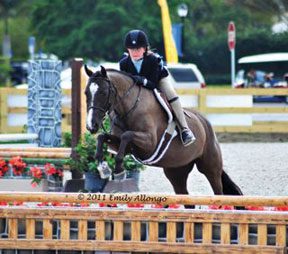 NINE YEAR OLD, 13.2 HAND, WELSH CROSS, MARE. Top hack and always brave to the jumps. Auto lead change. Very kind and vice free. Tricolors in Children's Ponies (including WEF 2011), Greens and the Medium division at A shows. Priced to sell; lease considered.   Pony recently showed in the Short Stirrups at Fieldstone Farm in MA and ribboned in every Hunter class out of 31 with a catch rider. Pony is located in MA. For more information: www.hobnobponies.com or 561-951-4225.
MA21
REAL ESTATE
OCALA, FLORIDA:  4424 Sq ft 4/3 home with barn and 1/1 Guesthouse on 11.5 acres $549,000 Busch Realty (352)690-1909 www.OcalaLuxuryHomes.com
CONYERS, GA: 6 BEDROOM 6 BATH HOME: on 16+/- acres, 8 stall horse barn, 2 miles from international horse park, $649,000.00, community partners realty 678.963.5390 
CLEVELAND, OH. 18 ACRES: 1900's home and bank barn, in ground pool, spring-fed lake..  $1.3 million   Julie Miller, Keller Williams Greater Cleveland SE.  216-390-5115  www.Juliemillersells.com
JUL3
WELLINGTON FL, 2+ ACRES: w/ 8 stall barn on trails to show grounds,large pasture, work areas, parking, 3200 SF home w/ enclosed pool & court yard.  no agent fees, call 561-329-7676, rgzeka@gmail.com
JU6
AMAZING SELECTION OF WELLINGTON PROPERTIES FOR SALE: BARNS, HOUSES & CONDOS.  Saddle Trail  Realty. LLC.  Mary Ellen Sencer  561-512-4340 saddletrailsrealty@gmail.com
JU8
WELLINGTON – WE CAN SELL YOUR PROPERTY! – Our knowledge of the equestrian and local area, personal network, internet marketing tools and honest, friendly, personalized service enables us to effectively market your property. Marino-Swanson Team: Joan R Marino – Broker/Associate (561-793-2122) & Mark G Swanson – Broker/Associate (561-596-6020) BODIS REALTY, INC
MA11
www.horsefarmsandcountryhomes.com
CINDY POLK  &  DAVID O'FLAHERTY. REALTORS –  703-966-9480  Specializing in horse farms and country homes.   *Land * Huntboxes * Hobby Farms * Polo Clubs * Fine Estates * Professional Equestrian Facilities*    Armfield, Miller & Ripley Fine Properties LLC 204 EastWashington St. Middleburg,Va. 20117
MA07
TURN KEY HORSE FARM UPSTATE NEW YORK: Near Saratoga Springs 76 acres 3 barns 14 spacious stalls 6 fenced paddocks top quality centaur fencing. call Joe D'Agostino Realty USA (518)-469-1751 for details or email joedagostino@realtyusa.com
RENTALS
WELLINGTON 3 BR 2 1/2 B: 1800 sq. ft. complete Luxury Refurbished Town House.  Accordion shutters, generator for storm security.  MUST SEE—REDUCED  $1,000 mo.  Call John for more info.  561-644-1144.
JU7
AIKEN, SC:  CEDAR BRANCH FARM: 4 ½ ac small farm with 3 bedroom/2bath brick ranch house. Living room, dinning room and family room. Two car garage. Four stall barn. Fenced and crossed fenced with three board black painted oak. Three paddocks and two run out pens. Round Pen. Large fenced doggy yard. Just 10 miles from town and surrounded by polo, eventing, and fox hunting. Lots of riding in the neighborhood. Rent $1,8000/mo. Would also lease with an option to buy, farm priced at $250,000.  803 649-6989 SamanthaC@SidelinesNews.com
BRIDGEHAMPTON AUGUST RENTAL FOR ONE MONTH OR TWO WEEKS:  (Hamptons Classic) totally private 2 acres- beautiful 4 bedroom – pool- beautiful gardens_ never rented before – 8 year old home- 3 minutes from Classic grounds or Polo field  55k for August or 30k for two weeks… 917.225.0232 or herb@timerherb.com
STUART, FL. WEST: 20 ACRE HORSE FARM FOR RENT
Rent beautiful 5 br, 3.5 ba, 6000 s/f home on 20 acres, 10 stall barn, equipment barn, 1 br cottage, 3 car garage. $3,950 per month, 1 yr lease. Call Larry 772-215-1100.
WELLINGTON 3 BR 2 1/2 B: 1700 sq. ft. Furnished Turnkey Town House.  Fenced large yard. $1,300 mo yearly.  Also available for shorter term. Call Olga 561-758-2489.
SADDLES
DUETT WIDE SADDLES: We can fit any horse.  Twelve models. Generous trial policy.  www.duettsaddles.com., duettsaddles@yahoo.com
MA16
DUETT WIDE DRESSAGE SADDLES: Fidelio model. Has narrow twist, Largo has cutback panel.  www.duettsaddles.com
MA17
STALLION BREEDING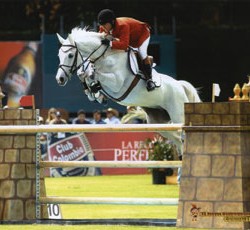 SAPPHIRE- HOLSTEINER BY LIOSTRO/MANOLITA:  Pan American and Central American Games Gold Medalist, Grand Prix winner. 908-310-2125 or replicafarm.com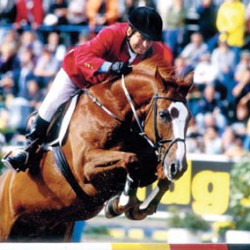 BREEDING NOW AVAILABLE TO ET-FRH: Two time World Cup winner ridden by Hugo Simon.  Hanoverian by Espri. 908-310-2125 or replicafarm.com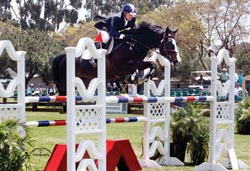 APPROVED, IMPORTED IRISH SPORTHORSE: By Vechta, out of Flexing (Flex/Cruising). Bay, 16.1 h Grand Prix jumper, beautiful mover.  908-310-2125.
TRAINERS
USHJA CERTIFIED TRAINER, USDF GOLD MEDAL RECIPIENT
1987 USET Grand Prix Dressage Champion. 1st US rider in World Cup of Dressage 1986
1st at Gladstone Selection Trials for 1986 World Championships. 30+ years of teaching experience. Master of Education degree. Lessons available; hunter/jumper and dressage
Dianna Rankin Delray Beach, FL 715-529-8614
TRANSPORTATION
SHIP YOUR HORSE BY AIR WITH CONFIDENCE.  ALEX NICHOLAS AGENCY.  OLDEST. FULLY LICENSED & INSURED SHIPPING COMPANY IN THE USA.   I.A.T.A. MEMBER AND IN-HOUSE CUSTOM HOUSE BROKERAGE.  CALL OUR COMETITOR FIRST, THEN CALL US.  YOU WILL NOT REGRET IT.  DAILY INTERNATIONAL FLIGHTS… 516-678-9100,  INFO@ANAHT.COM WWW.ANAHT.COM
JU8
SHIP WITH CONFIDENCE- CUSTOM AIR-RIDE VANS – ICC, AND DOT licensed. Transportation Dependable coast-to-coast service since 1959!  NATION-WIDE HORSE TRANSPORTATION, INC.  Colorado Springs, CO 80931  719-392-1888,  Fax: 719-392-1891  www.nwht.net   1-800-451-7696
MA18 
FARMINGTON GREEN HORSE TRANSPORTATION – (561) 791-9686; Cell No. (954) 448-1044 D. O. T. Authorized and Fully Insured Air Ride Equipped, Local and Long Distance.
O854
TURN-OUT ONLY
BEAUTIFUL GREEN TURN-OUT IN AIKEN SC: Experienced horse person to check over horses twice a day. Safe four board fencing and electric wire on top. Several individual pastures, Plenty of grass. Basic turn-out only $150/horse/month. Large group turn-outs will give group discount. Can individualize care if necessary. Call Samantha 803 257-7407 or email samanthac@sidelinesnews.com
VANS & TRAILERS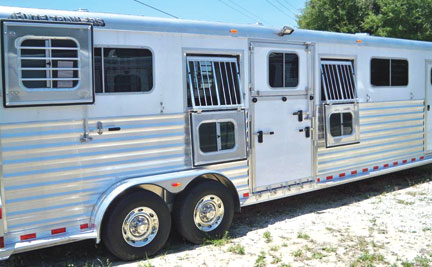 FIDDLER'S TRAILER – Dealer for Elite, Cimarron, Adam & Trailers USA.  Nationwide delivery available  1993 INT. 877-434-3353  www.fiddlerstrailers.com
FE12
FRANK DIBELLA DELUXE HORSE VANS – New / used horse vans and trailers  2-15 horse.  4 Star, Hawk & Kingston  Dealer.  (PA) 610-495-2270   www.frankdibella.com
MA22
1999 FEATHERLITE 39 FEET 3 AXLE: Well Maintained and Low Miles. 34 feet floor
8 feet wide, 6.6 feet tall. Rubber Mats on wheel wells and floor. $20,000 call 303-588-4067
Missed the deadline?
You can advertise on the website
Email: Classifieds@sidelinesnews.com

Next issue 8/14/12 – Deadline 7/20/12

List your ad on the Barn Book

Free classifieds
TO PLACE A CLASSIFIED AD:  The cost is $40 for the first 15 words and $1 for each additional word per issue.  $20.00 for each photo. Name, address, phone number, how many issues to run ad and payment (check or credit card number & expiration date) must be included with typed or handwritten ad.  Mail to Sidelines, Inc., 11924 Forest Hill Blvd., Suite 22 #376, Wellington, FL 33414, Email to classifieds@sidelinesnews.com Credit card number, full name and signature must accompany any ad taken by mail, email or phone 561-798-4828.  ALL ADS ARE PRE-PAID. Advertising deadline is 12:00 pm Wednesday, 17 days before publication.  Not responsible for mistakes due to illegible handwriting.  Phone 561-798-4828. No real estate photos.
Double D Trailers Info