May 18th, 2013– The 2013 Atlanta Spring Challenge Horse Show kicked off on Wednesday to blue skies at the Georgia International Horse Park in Conyers, GA. The show in its 10th year is produced by Aiken, SC based Equus Events and show manager JP Godard. The popular event is a USHJA Members Choice Award winning horse show and attracts some of the top hunter and jumper talent from across the country.
Thursday afternoon featured the 1.40 $5,000 Open Welcome Stake which took place in the International Arena. 21 horse rider combinations tried their luck against internationally famed course designer Michel Vaillancourt, but it was Frances Land and her Vieanne who came home the victors with a speedy jump off time of 37.83 just edging out Derek Peterson's Titus 2:11 and rider Jared Peterson. Theo Genn and Bridlebourne Stable's Winchester rounded out the top three. Complete results are as followed: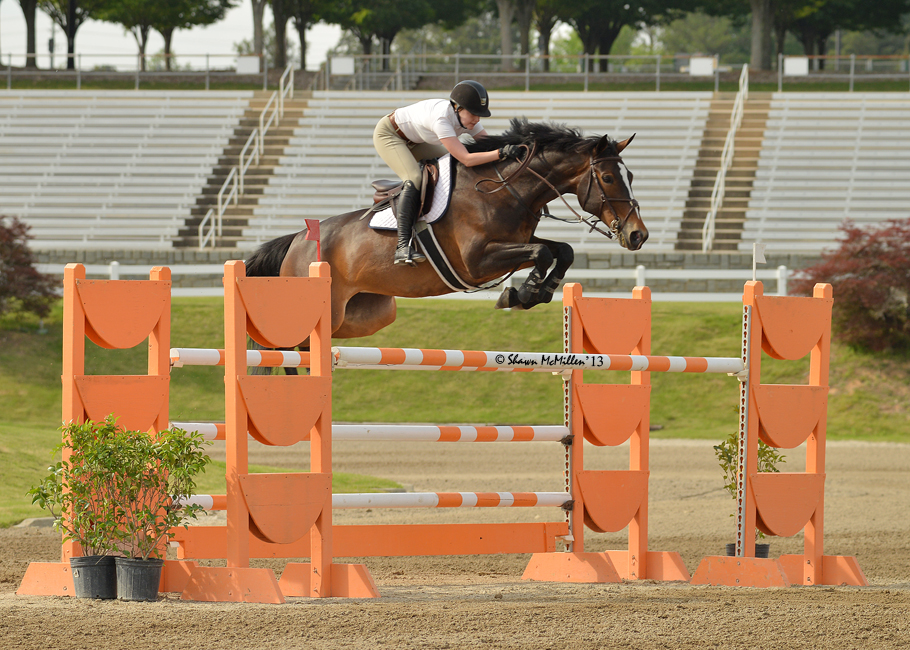 $5000 OPEN WELCOME CLASSIC 1.40M
Place Horse Owner Rider
1 VIEANNE: LAND, FRANCES: LAND, FRANCES
2 TITUS 2:11: PETERSEN, DEREK: PETERSEN, JARED
3 WINCHESTER: BRIDLEBOURNE STABLES LLC: GENN, THEO
4 BULL RUN'S ZINO PLATINUM: ISRAEL, CHRISTI: ISRAEL, CHRISTI
5 CALANDO Z: BURNS, PADDY ANN: CHOPPING, HAROLD
6 MERLIN: LAND, FRANCES: LAND, FRANCES
7 CADENCE: PROCEDURES, INC: WEXLER, MEGAN
8 CARDELLA: PROCEDURES, INC: WEXLER, MEGAN
9 HENNESSEY: BOGGIO, CHASEN:BOGGIO, CHASEN
10 LAZARO: COYNE, JORDAN: COYNE, JORDAN
The hunter divisions took center stage on Thursday and Friday with many championships being awarded as well as the USHJA International Hunter Derby taking place Friday night. Liza Boyd of Camden, SC made her presence known taking home multiple championships as well as the win in the $10,000 USHJA International Hunter Derby with her and Mrs. Janet Peterson's Brunello. In the first year green division Boyd took home the championship honors with Chestnut Avenue owned by Joann Loheac, the conformation hunter championship honors went to Erin McGuire's Casallo also ridden by Liza, and in the performance 3'6 -3'9 division it was Friday's Farm Banderas with Boyd again in the irons. Liza also took home the win in the popular new $1,000 USHJA pre green incentive class on Sarah Orberson's First Dance.
Friday evening featured the $10,000 USHJA International Hunter Derby presented by Brick Church Farm and Reflections Farm. Exhibitors and spectators enjoyed a beautiful evening complete with a cool breeze while watching some of the country's top hunter riders compete under the lights. While the action was taking place in the ring everyone ringside enjoyed the Derby Party catered by Proof of the Pudding and sponsored by the 2013 hospitality sponsors;
-Arbor Hill Farm and the Boggio Family
-Booth Parker
-Brad Spragg and the Atlanta Hunt Club
-Brick Church Farm
-DFG Stables and Daniel and Cathy Geitner
-Don Stewart Stables
-Finally Farm and the Towell Family
-Four Seasons Farm
-The Friedman Family
-Hot To Trot Boutique
-Janet Salem and Patchwork Farm
-Juan and Jennifer Gamboa
-Liz Tarumianz
-Meadow Hill Stables and the Porath Family
-Mike and Laura Regan
-Proof of The Pudding
– Market Place/Matt Martin and Raffi Kechejian
-Reflections Farm
Boyd continued her winning ways taking home first and second place honors in the Hunter Derby with Brunello taking the top spot and Quatrain owned by Finally Farm and Mrs. Janet Peterson taking home second place. Brunello and Boyd are no strangers to the derby winner circle taking home an impressive 15 wins to date. Course designer JP Godard produced a long and flowing course with many 4' options that were aimed to test the horse's athletic ability and the rider's accuracy. "It was such a fun course", said Karen Kelly of Brick Church Farm who rode Reflection's Farm Uncle Luc in the class to the overall 11th place finish. "It's a great warm up for finals in Kentucky because of the size and openness of the ring". Awards were presented by Meredith Mateo and Matthew Bravo representing Reflections Farm and Brick Church Farm, many thanks to these generous sponsor's for hosting this year's derby class.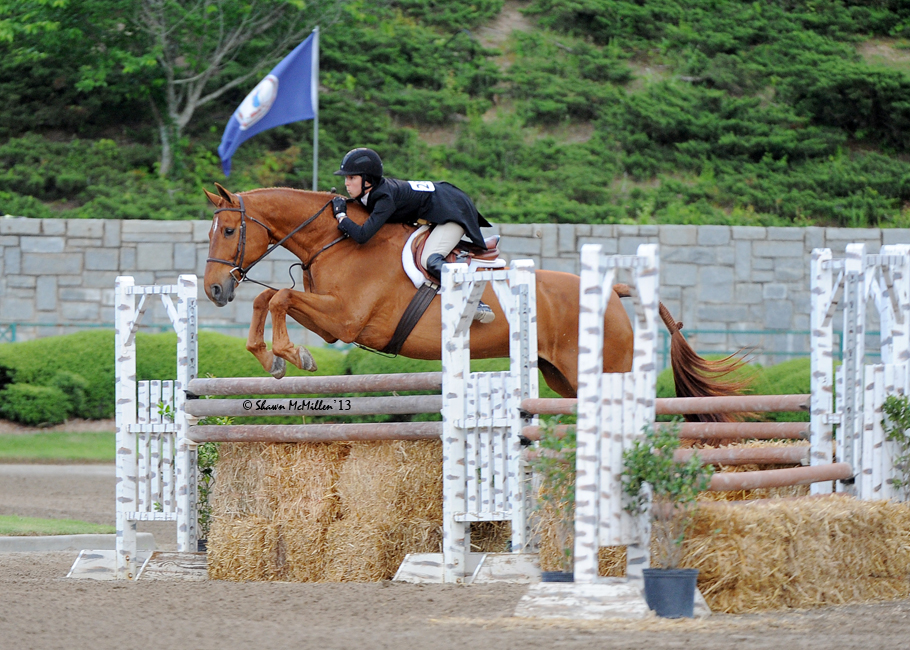 $10,000 USHJA INTERNATIONAL HUNTER DERBY OVERALL
Place Horse Owner Rider
1 BRUNELLO: BOYD & JANET PETERSON, LIZA: BOYD, ELIZABETH
2 QUATRAIN: FARM & JANET PETERSON, FINALLY: BOYD, ELIZABETH
3 LIFE IS GOOD: NOLEN, MARY ELISE: MADDRIX, TIMOTHY
4 FIEONA: TOWELL & KELLY MALONEY, HARDIN: BOYD, ELIZABETH
5 DAMOCLES: PETERSON, JANET: GEITNER, DANIEL
6 CARAMO: RUSSELL HOWE, CAROLINE: CHOPPING, HAROLD
7 ELOISE: STYSLINGER, CLAUDIA: MADDRIX, TIMOTHY
8 LEAD STORY: FIT TO PRINT FARM: CRENSHAW, KELCI
9 HANOVER ON THE ROCKS: CONNELY, MORGAN: CURTIN, JULIE
10 TRENDING: STYSLINGER, STELLA: MADDRIX, TIMOTHY
11 UNCLE LUC: REFLECTIONS FARM: KELLEY, KAREN
12 BLUE STEEL: MANERS, MADISON: YOUNG, GARY
New this year was a high point award sponsored by Fenwick Equestrian for the junior or amateur rider accumulating the highest two round total in the derby. Maddison Manners and her Blue Steele took home this award with their two round total of 286. The pair won a Fenwick high performance soft shell jacket donated by Fenwick Equestrian.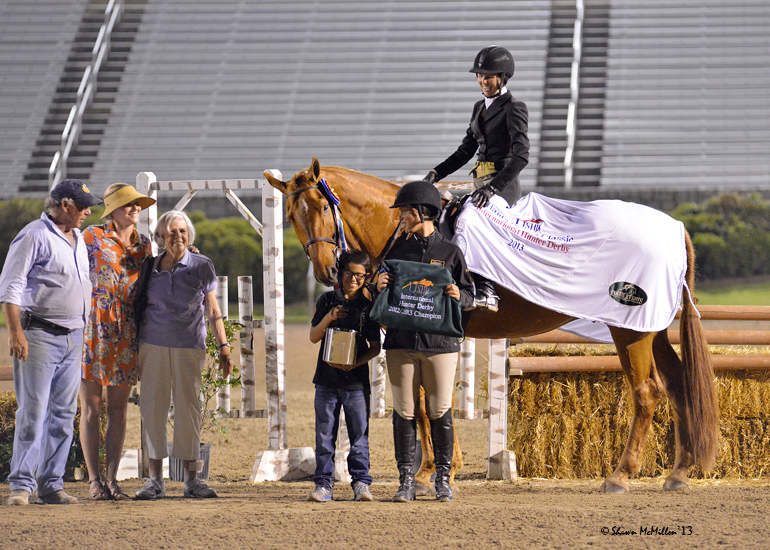 The Atlanta Spring Challenge continues today featuring the $30,000 Atlanta Spring Challenge Grand Prix sponsored by Fenwick Equestrian taking place at 6:30 in the International Arena. The annual Preakness Party sponsored by DFG Stables and Cathy and Daniel Geitner will also be taking place ringside along with viewing of the 138th Preakness Stakes. Post time for the Preakness is approximately 6:20.