Mythical and Jersey Boy Top the List to Return for Sunday's $50,000 USHJA International Hunter Derby Handy Round
Antioch, IL – September 7, 2013– A field of 39 horses galloped back-in-time over old fashioned coops, stone fences, logs and brush jumps in the $5,000 USHJA National Hunter Derby presented by ABBA Vet Supply. The derby is part of a special stand alone event at the 2013 Chicago Hunter Derby at Rush and Caroline Weeden's Annali Farm in Antioch, IL. Hunting to the top of the class was Alliy Moyer of Carmel, IN, and her nine year old Hanoverian, Carlson.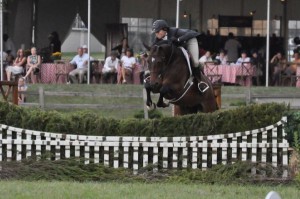 Alliy Moyer and Carlson win the $5,000 National Hunter Derby.
The rustic course was designed by George H. Morris of Wellington, FL and Bobby Murphy of Lexington, KY. The course was open and flowing, up and down hills and through the woods, resembling a fox hunting track.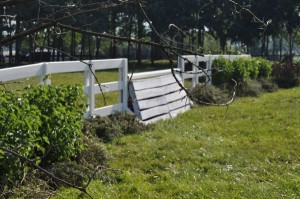 Riders rode back in time over the classic hunting course.
"I really liked how open the course was," said Moyer. "You could just gallop around."
This was Moyer's first derby win. Moyer, 19, spent this year showing in the Amateur Owner Hunter Divisions and now is trying her hand at the derbies.
"My horse was really confident," said Moyer. "My trainer (Tammy Provost) usually rides him in the bigger derbies so he's easy to ride."
Moyer came back in third place and just decided to be as handy as she could.
"My horse is really handy, he's little and compact so he's easy to turn," added Moyer, "so it worked out for the best!"
Moyer goes off to college now as a freshman at The University of Indianapolis to study Biology.
After the first round, it was Taylor Adams and In Print, owned by David Glefke, who took the lead. Following Adams was Tammy Provost and Sigfried owned by Susanne Stroh for the second spot and Moyer in third.
In the handy, Adams scored an 81 and an 82 with four high options for a total of 171 but Moyer edged her out with tighter turns earning an 86 and an 85 plus four high option points for a total of 179. Provost had an unfortunate stop at the first jump, knocking her into eleventh place.
Thanks to all the great sponsors, Moyer won an Animo jacket from Barrington Saddlery and a Le Fash gift certificate courtesy of Le Fash along with an ABBA custom jacket and gift certificate. Moyer also was the High Scoring Amateur in the class, winning a pair of Pikeur breeches sponsored by Frantisi, and also was wearing a Le Fash shirt, which made her a winner for the "Wear it and Win it Challenge" class. Le Fash will be donating $500 to the charities in Moyer's name because she was wearing a Le Fash shirt.
Clare Sargent was the High Scoring Junior rider and also won a pair of Pikeur breeches. Doug Boyd was the High Scoring Gentleman, winning a custom belt from Good Threads.
Barrington Saddlery also awarded Animo breeches to Taylor Adams and Samantha Segedy for second and third place. Riders placing second through sixth also received gift certificates for Le Fash shirts.
The 2013 Chicago Hunter Derby is presented by Chicago Equestrians for a Cause. The Mission of the group is to showcase high-level equestrian events with the express purpose of raising funds for selected charitable institutions in the Chicago area. The event features the $5,000 USHJA National Hunter Derby presented by ABBA Vet Supply and the $50,000 USHJA International Hunter Derby, generously sponsored by Canadian Pacific (CP). The proceeds from this unique stand alone event benefit three charities; Ann & Robert H. Lurie Children's Hospital of Chicago, The United States Hunter Jumper Association Foundation, and the University of Chicago Cancer Research Foundation.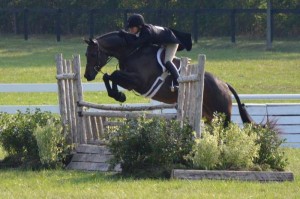 Mythical and Kelley Farmer win the Classic Round of the $50,000 USHJA International Hunter Derby at the Chicago Hunter Derby.
The excitement continues Sunday, September 8th, with the final round of the $50,000 USHJA International Hunter Derby. Twenty horse and rider combinations from today's Classic Round competition will hunt around the course again in the Handy Round for the coveted first prize. The riders returning tomorrow are: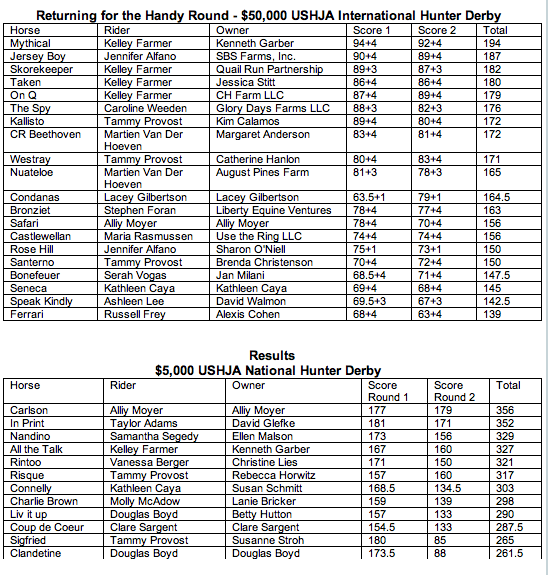 The 2013 Chicago Hunter Derby Fast Facts:
WHAT:
The Chicago Hunter Derby rated Hunter Special Competition by USEF
WEBSITE:
http://www.chicagohunterderby.com
WHEN:
September 7-8, 2013
WHERE:
Annali Farm, 18752 Edwards Road, Antioch, IL 60002
TIME:
Saturday's schedule:
10:00am The National Derby will begin
12:00pm lunch served
2:00pm The International Hunter Derby Round 1
5:00pm Cocktail party
Sunday's schedule:
10:30am Gates open and ticket holders welcome
11:00am International Derby course walk, brunch and bar open, children's horseless derby
12:00pm Calcutta
1:00pm First horse on course
3:30pm Awards ceremony (all times are TENTATIVE)
FEATURES:
$50,000 USHJA International Hunter Derby
$5,000 USHJA National Hunter Derby
JUDGES:
George H. Morris, Geoff Teal, Scott Williamson, Steve Wall
HOTELS:
Radisson Hotel & Conference Center, 11800 108th Street, Pleasant Prairie, WI 53158
In Gurnee Mills Illinois
La Quinta Inn and Suites
Gurnee Mills
$59.00 per night
Grand Hotel and Suites
Gurnee Mills
$56.00 per night
Comfort Inn and Suites
Gurnee Mills
$68.00 per night
Country Inn and Suites
Gurnee Mills
$86.00 per night
Holiday Inn
Gurnee Mills
$96.00 per night
In Kenosha Wisconsin
Best Western Executive
Kenosha
$85.00
Radisson Hotel and Conference Center
Kenosha
$95.00 per night
La Quinta Inn and Suites
Kenosha
$74.00 per night
SPONSORS:
Canadian Pacific
Abba Vet Supply
Barrington Saddlery
Le Fash
Good Threads
Angel's Envy Bourbon
Gene & Georgetti
Equisite Designs
Rocco Fiore & Sons
Halls Party Rentals
Michelle Durpetti Events
Knauz/Land Rover
Chicago Magazine
La Mundial
Clara Williams
Sugar Chic Designs
VIP Valet
TICKETS:
Prices for VIP tables on Sunday:
$10,000 – Grand Champion Table (Front row, center) VIP parking
$5,000 – Champion table (front row)
$2,500 – Blue ribbon table
$250 – individual seat
$75 – children's seating
Visit  www.chicagohunterderby.com to purchase tables for Sunday.
Attend Saturday's events with a $25 donation at the door.
DIRECTIONS:
From Chicago and Suburbs: The drive will take 60-70 Minutes. Take the Edens (94 West) to the Toll Way (94 North) toward Milwaukee. Follow 94 West/North approximately 6 miles beyond Great America. Exit at 173/Rosecrans Road. At the stop sign on the off-ramp, turn left onto Rosecrans Road. Go 1/2 Mile to the first intersecting Street, Hunt Club Road. Turn right onto Hunt Club Road. Go approx 1 mile to Edwards Road and turn left onto Edwards. Once you are on Edwards Road, go past the first stop sign, the entrance will be on your right (2nd driveway).
CONTACT INFORMATION: