Carson City, NV – August 5, 2013 – Historically, the number 21 is related to celebration, whether it is for a 21st birthday or dealing blackjack at a casino. At the $25,000 Franktown Meadows International Hunter Derby, located just outside Reno, NV, it was fitting to have 21 fabulous horse and rider combinations. Course designer and show manager Phil Devita exclaimed, "This was a perfect number for a standalone derby of this magnitude." Each horse and rider combination attempted round one of 13 fences and 4 options set at 4'3″. Round two would bring 12 of the top equestrians back for their second trip, rewarding riders for showcasing their horse's athletic abilities. The judging was "tough" noted one of the riders and the proximity of the scores kept the audience, of over 300 people, on the edge of their seats. As the last rider to gallop onto the field, Jenny Karazissis and Kelly Straeter's Undeniable had to maintain their lead over Hope Glynn and C.R. Haribo, owned by Emma Townsend. Karazissis would take a risk only taking one option fence in the final round, while her competitor Glynn and the Wurttemburg gelding had grabbed three options just moments prior. Karazissis' efforts were rewarded winning the $25,000 Franktown Meadows USHJA International Hunter Derby on August 3. This would give Karazissis a clean sweep with the Dutch Warmblood who also won the $2,500 National Hunter Derby on August 2, 2013. The entire weekend was in benefit of the Food Bank of Northern Nevada.
Under judges Keith Hastings, Robert Crandall, Linda Hough and Tammy Provost, Jenny Karazissis used her late spot in the order to her advantage. She noted, "I couldn't be happier; Everything was so much fun this weekend. It was hard to top my national round but I did want to do well in the international derby. I fortunately went late enough in the order during the international to feel that I didn't have to take the chance of doing a higher option fence. Going into the handy round I was only leading by one point and Hope Glynn is extremely handy. The risk of taking a higher option fence may result in hitting a rail.
Karazissis came off a right hand turn during the handy round and was the first horse to catch her trot immediately for the trot fence. "He is like butter," said Karazissis. "He came right back. He does not rush trot fences at the slightest. As a rider, it's hard to not want to goose him to leave. Undeniable trots and flows right over it . He is such an amazing horse."
With the National Hunter Derby used as a separate horse show, the riders agreed that having that prior show was beneficial to their following day rides. However, "It was a different atmosphere for the international than national," explained Karazissis. "Undeniable perked up a little bit more but his expression did not concern me. He settled in and did great."
She continued, "I feel really really lucky to be riding this horse. Our next competition will be Menlo, then Saugerties, then on to Capital Challenge. We may get to do Derby Finals next year but we will wait and see. This will be a good confidence boost going into these following events."
"I love this derby, said Karazissis. "I always have so much fun; I just have to thank The MacLean family, Phil DeVita, Kelly Straeter, Mary Gatti, and of course my husband who is very supportive of me."
Hope Glynn has consistently supported the Franktown Meadows Hunter Derby for years. This year, she had 6 different horses to ride. Glynn commented, "I am very happy to have that many horses to ride but it's hard to ride that many horses in a class. People think it's glamourous to have that many. It's really hard to ride one and it's really hard to ride six. I think the right number is two or three but I was thankful that I had so many good horses."
Glynn agreed with Karazissis, "The international course was great. I was thrilled I did the national a day prior because I felt more relaxed on the field, I knew how the grass rode, and you seem to get to the jumps easier on the field. I knew I would have to try and take the higher option because that was going to be my best way to beat Jenny. You have to try it, you have to gamble a little to win. Do you take the smaller option but don't get the point, or take the high? I was two points behind so I needed to go for it. I don't sleep well at night if I don't push it."
Hope Glynn is appreciative for the assistance she had during the weekend. Paul Bennett drove her horses to Carson City, while Ned Glynn and her assistant Heather stayed home to train riders in Sonoma. Glynn acknowledged, "I feel lucky to have a great group of owners who will send horses up here for this great event. This is single handedly the nicest derby we have and the nicest derby I do all year, so I am happy to support it. Kudos to the staff and everybody that worked so hard the Franktown Meadows Hunter Derby really is a special event."
Two-time winner Jessie Lang and stallion C. Quito made the journey to Franktown Meadows for her third year. "The course was great," smiled Lang. "I love the course. I think my horse would have been better if I had more time on the show grounds. Quito was great, he just wasn't exceptionally great. With this group you have to be exceptionally great. To go back in the handy and have none of the top horses have errors is rare. Usually there is something but there was such quality this year.  Truly those horses should be there."
Each year Lang comes back to Franktown, "I like the standalone format," explained Lang. "I like the people who put on the Franktown Meadows Hunter Derby and I like the setting of it."
Lang has been on the road over the 2013 year but her focus continues to be her future. With C. Quito's offspring getting older, a continuos crop of babies, and Lang finishing her hunter judging license. The future will bring some changes.
The 4th Annual $25,000 Franktown Meadows International Hunter Derby and $2,500 National Hunter Derby was once again a brilliant example of the hunter industry. As a standalone event, this derby has set itself apart from the horse show schedule.
Franktown Meadows would like to thank everyone involved with the event including Phil DeVita, Rush Weeden, the sponsors, the officials, the volunteers, The Food Bank of Northern Nevada, the riders, owners, and each person that made the derby a success.
For more information please go to www. FMHunterDerby.com. For photographs please go to www.PHOTOLYTE.com. For press information or results please contact LindsayYMcCall@gmail.com.
Final Results:
Placing, #, Horse's Name, Rider's Name, J1,R1, J1, R1 bonus, J1, R1 options, J2,R1, J2, R1 bonus, J2, R1 options, J1, R2, J1, R2 HANDY, J1,R2 options, J2, R2 , J2, R2 HANDY, J2,R2 options, Total score
1, 68, Undeniable, Jenny Karazissis, 88, 0, 1, 87, 0, 1, 88, 7, 1, 88, 8, 1, 370
2, 65, C.R. Haribo, Hope Glynn, 83, 0, 3, 83, 0, 3, 84, 8, 3, 86, 8, 3, 364
3, 61, Woodstock, Hope Glynn, 85, 0, 3, 85, 0, 3, 81, 6, 3, 82, 6, 3, 357
4, 63, King's Peak, Hope Glynn, 86, 0, 1, 84, 0, 1, 82.5, 7, 3, 84, 4, 3, 355.5
5, 75, C. Quito, Jessie Lang, 79, 0, 4, 75, 0, 4, 83, 7, 4, 84, 6, 4, 350
6, 64, Crusader, Hope Glynn, 78, 0, 1, 82, 0, 1, 82, 8, 2, 82, 8, 2, 346
7, 57, SVS Caremunde Z, Hope Glynn, 71, 0, 3, 76, 0, 3, 86, 8, 3, 85, 8, 3, 346
8, 66, Maillisko, Marisa Metzger, 73, 0, 3, 78, 0, 3, 82, 8, 2, 82, 8, 2, 341
9, 81, Seamless, Conner Hinckley, 74, 0, 1, 71, 0, 1, 74, 1, 2, 77, 2, 2, 305
10, 59, Nigel, Eleanor Hellman, 69, 0, 1, 68, 0, 1, 78, 6, 0, 76, 6, 0, 305
11, 56, Leon, Taylor Dawson, 65, 0, 2, 69, 0, 2, 68, 4, 1, 64, 2, 1, 278
12, 58, Weatherly, Erin Bland, 60, 0, 2, 64, 2, 0, 0, 0, 0, 0, 0, 0, 128
  ______________________________________________________________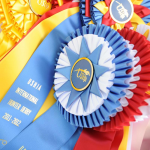 ___________________________________________________________
FAST FACTS
Where:
Franktown Meadows Equestrian Facility, Carson City, NV
When:
National Hunter Derby is Friday, August 2nd
International Hunter Derby is Saturday, August 3rd
Website:
Questions:
The Charitable Cause – FOOD BANK OF NORTHERN NEVADA:
Hunger is a big problem, and we need everyone's help to solve the issue. In our area, one in five people do not have access to adequate nutrition and one in four children are food insecure. The Food Bank provides assistance to more than 97,000 people each month, half of those are children and seniors.
Did you know?
Half of the people served by the Food Bank are working
More than 80% of people served are not homeless
Food Bank of Northern Nevada serves 20 counties in northern Nevada and the eastern slope of the Sierra in California
The Food Bank uses less than 8% of our budget on administrative costs
For press information or for photographs please contact Lindsay McCall at Lindsay@photolyte.com or call 330-720-0246.

Photo Credit: Photo by Lindsay Yosay McCall (PhotoLyte.com) for the Franktown Meadows Hunter Derby 2013.