Riders from around the globe all have their eyes on the big cash prizes and the numerous prestigious titles. This year's show will be offering an impressive $755,000 in prize money. The National Horse Show offers an International Open Jumper division with $460,000 in prize money, while the top rated hunter sections have a total purse of $195,000. Meanwhile, $100,000 in total is offered to the Amateur-Owner and Under 25 Jumper sections.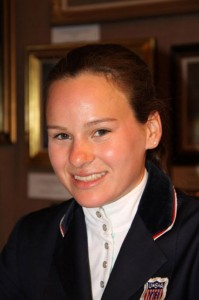 The National Horse Show, for the fourth year in a row, received a top ranking from NARG, the North American Riders Group and was again named the Show Hunter Hall of Fame Horse Show of the Year in back to back years.
Katie Dinan, who soared to victory in last year's main event on Saturday night, is scheduled to return to defend her title in Lexington. She'll be faced with a roster of riders, all trying to make sure that Dinan does not double up this year in the new CP National Horse Show Grand Prix.
Topping the list are three of the four riders on the 2014 Bronze medal winning team at the World Equestrian Games in Normandy, France.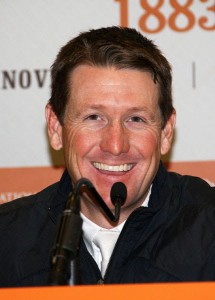 Beezie Madden, who also captured the Individual Bronze medal, will be joined by teammates McLain Ward and Kent Farrington. Madden, the 2013 World Cup champion, also added the Keystone Classic at the Pennsylvania National Horse Show to her list of big time wins in 2014. In addition to his other top finishes, Ward led the round of honor in this year's Global Champions Tour Grand Prix at Antwerp, Belgium and won the National Horse Show Grand Prix in 2011. Farrington meanwhile, rode to victory in the Grand Prix of Barcelona and added numerous Spruce Meadows wins to his already impressive list of victories.
Other Olympians making the trip to Lexington this year include Peter Wylde, Leslie Howard, Laura Kraut, Charlie Jayne, Todd Minikus and Margie Engle. They will be joined by Pan American Games Gold medalist, Christine McCrea.
The above list of some of the all-time best show jumpers in the United States are credited with an amazing total of over one thousand grand prix wins among the group.
Part of the next generation of show jumping stars, Georgina Bloomberg, fresh off her win in the Central Park Grand Prix in New York City will be joined by Jessica Springsteen, winner of the celebrated American Gold Cup this year. Last year's American Gold Cup champion, Brianne Goutal, is joined by the last two Individual Gold Medal winners from the North American Junior and Young Rider Championship Wilton Porter, the Gold medal winner this summer at the Horse Park in Lexington and Lillie Keenan, who claimed the top of the podium in 2013.
Rounding out the list of American riders competing at the National are Quentin Judge, Meagan Nusz, Candice King, Schuyler Riley, Ali Wolff, Kirsten Coe, Charlie Jacobs, Denise Wilson, David Beisel, Molly Ashe-Cawley, Paige Johnson, Kama G odek, Alex Granato and Audrey Coulter.
A star-studded international field of riders is also making the journey to the heart of the Bluegrass this year. They include a strong Irish contingent led by the red-hot Darragh Kenny, along with Shane Sweetnam, Richie Maloney and Conor Swail.
South America is well represented with Paulo Santana of Brazil and Daniel Bluman and Roberto Teran of Colombia.
Top riders from Europe include Belgium riders Francois Mathy and brothers Nicola and Olivier Philippaerts and Switzerland's Beat Mandli who comes to Lexington fresh off a victory in the FEI World Cup Grand Prix De Penn National at Harrisburg.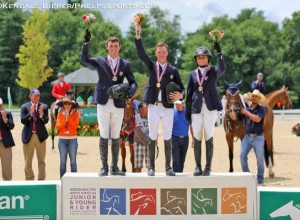 Tickets for each prime-time show on Thursday evening,Friday evening, Saturday evening and Sunday daytime can be purchased now at Ticketleap.com at: http://nationalhorseshow.ticketleap.com/nhs2014/ 
The highlights for this year's show include on Thursdaynight, the Copernicus Stables, LLC $75,000 International Open Jumpers – Time First Jump Off.Friday night's feature is the Chansonette Farm $45,000 Gambler's Choice Top Score Costume Class in honor of Halloween night. On Saturday, it's the main event, the $250,000 CP National Horse Show Grand Prix. On Sunday afternoon the National Horse Show plays host to the Maclay National Championship for the ASPCA Maclay Horsemanship Class Presented by Dover's Saddlery beginning early in the morning and continuing with the final round at approximately 3:00 PM.
All evening sessions begin promptly at 7:00 p.m.
For tickets to this year's show visit TicketLeap.com at: http://nationalhorseshow.ticketleap.com/nhs2014/ 
The prize list for the National Horse Show can be downloaded at:  https://www.nhs.org/prize-list-and-entry-forms/ 
2014 National Horse Show Fast Facts
The Kentucky Horse Park has waived the normal parking fee during the National Horse Show. Parking is free. While dogs are permitted at the Kentucky Horse Park on a leash, no dogs are allowed in the Alltech Arena during the NHS.
The Kentucky Horse Park is located at 4089 Iron Works Parkway, Lexington, KY 40511. The KHP is 8 miles northeast of Lexington at Exit 120 on Interstate 75.
2245 Stone Garden Lane Lexington, KY 40513
Cindy Bozan
Phone: (859) 608-3709
Fax: (866) 285-9496
Vendors offering equestrian equipment, apparel, jewelry and home furnishings are located in the Alltech Arena.
or
HILTON – DOWNTOWN – 859-231-9000 – Approximately 6 miles
CLARION HOTEL (formerly Holiday Inn North) – 859 – 233-0512 – Approximately 4 miles
FAIRFIELD INN & SUITES BY MARRIOTT – 859 -977-5870 – Approximately 4 miles
FOUR POINTS SHERATON – 859-259-1311 – Approximately 4 miles
LA QUINTA – 859-231-7551 – Approximately 4 miles
KNIGHTS INN – 859-231-0232 – Approximately 4 miles
EMBASSY SUITES – 859-455-5000 – Approximately 4 miles
MARRIOT GRIFFIN GATE – 859-231-5100 – Approximately 4 miles
RESIDENCE INN – 859-231-6191 – Approximately 5 miles
COURTYARD BY MARRIOT – 859-253-4646 – Approximately 5 miles
HOLIDAY INN GEORGETOWN – 502-570-0220 – Approximately 6 miles
RAMADA INN – 859-299-1261 – Approximately 6 miles
RED ROOF INN – 859-293-2626 – Approximately 6 miles
HAMPTON INN – 502-867-4888 – Approximately 6 miles
SUPER EIGHT – 502-863-4888 – Approximately 6 miles
MICROTEL INN & SUITES – 502-868-8000 – Approximately 6 miles
For further information on housing in the Lexington area, we invite you to visit:
Kentucky Horse Shows, LLC
P. O. Box 11428
Lexington, KY 40575-1428
859-233-0492 (phone)
859-233-0495 (fax)
Cindy Bozan
859-233-0492
Re: News and Information:
Phelps Media Group, Inc.
12012 South Shore Blvd
Suite 105
Wellington, FL 33414
561-753-3389 (phone)
561-753-3386 (fax)