Calgary, Alberta – After 30 years and a explosion in popularity, Show Jumping is set to return to the heart of Calgary with the launch of The Royal West at the Calgary Stampede.
The brainchild of John Anderson of Rocky Mountain Show Jumping, the event, the Royal West, will be a 10-day multi-breed show. It will feature a division for international show jumpers, national hunter/jumper classes, hackney and heavy horse classes, and a multitude of other events including indoor eventing, terrier racing, barrel racing and even mutton-busting – "evenings full of entertainment built around the horse," according to Anderson. He explains the inspiration behind this project. "I grew up here and made my open jumper debut in 1984 at the Calgary International Spring Horse Show in the Stampede Corral. It was part of an Alberta circuit, and they were really fun events right in downtown Calgary. "I've always wanted to do something like this," he continued, explaining that riders in the West cannot always travel east to the Royal Winter Fair because of the expense involved. "I would guess that in the last 10 years the competitors from BC and Alberta would number not more than 30 per year."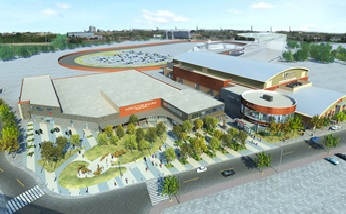 Anderson travelled to numerous venues in Western Canada in recent years searching for the perfect venue. After it was all said and done ended up back in his home town of Calgary. "I became aware a few years ago of a potential project that may take shape after the 100th anniversary of the Calgary Stampede in 2012, and the rest is history" said Anderson.
The Agrium Western Event Centre complex, which is currently under construction with a projected completion date of June, 2014, encompasses 150,000 sq. ft. of agriculture showcase and competition venue. The 250' x 125' arena floor is the "largest of its kind in Canada," said Anderson, and with seating for 2,500, "we can pack the house every night." Housing for horses includes 400 box stalls immediately adjacent to the arena, plus an additional 1,200 stalls on site, wash bays, a large outdoor covered area, and a 20,000 sq. ft. multipurpose space for warm up, a trade show or exhibition hall.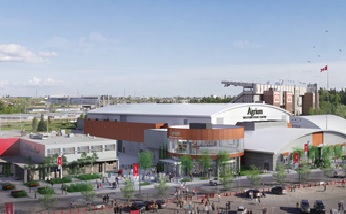 Max Fritz, director of Agriculture for the Calgary Stampede, told Horse Sport, in a recent interview, "The new Agrium Western Event Centre will solidify Stampede Park as one of the most unique agricultural showcases in the world. It will be a centerpiece for agricultural education, exhibition, and industry in southern Alberta…truly a lasting connection between urban and rural." "The design of the new Agrium Western Event Centre is attracting the interest of a variety of equine disciplines " added Fritz.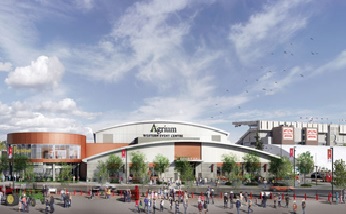 Anderson said there is a lot of buzz among potential sponsors already, and he expects to be able to offer a minimum of $200,000 in prize money the first year. "Participants will have to qualify, and the show will be "a show jumping tournament with the true standards of the sport – hunters starting at 3' and jumpers at one-metre-ten – no lower," insisted Anderson. He concluded, "We're building the sport from the ground up, encouraging participation from across the country, and we will host it in true Western fashion!"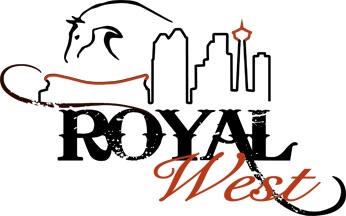 The inaugural Royal West is scheduled to take place in October, 2014; more details will be released as they become available.
Rocky Mountain Show Jumping is one of Canada's premiere show jumping destinations. Its tournaments are held at Anderson Ranch in Calgary's south end, a world-class facility featuring permanent stabling for 300 horses and a grass grand prix field complete with natural obstacles. For more information on Rocky Mountain Show Jumping, please visit www.rmshowjumping.com.