Lexington, KY – July 25, 2013 – In English the phrase "c'est si bon" translates to "it's so good." It's a fitting name for a horse who's Performance 3'6″ Hunter rounds today at the Kentucky Summer Horse Show were 'so good.' Jill Knowles and C'est Si Bon claimed the blue ribbon in the Performance 3'6″ Handy Hunter class and the division championship today, the second day of the 'AA' rated show running now through July 28, 2013 at the Kentucky Horse Park. In the Green Conformation Hunters it was Molly Sewell and Satisfaction who took the top honors, while Shawn Casady and Ascot swept all five classes of the High Performance Hunters to claim the division title.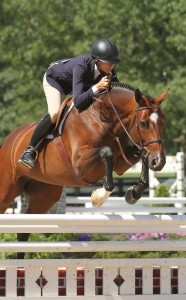 Jill Knowles and C'est Si Bon
Knowles and C'est Si Bon, or "Bon Bon", owned by Molly Zisook of Lake Forest, IL, came into the day with a first and second over fences yesterday and added a first and third over the Joseph Carnicom designed courses today.
This week marked the 8-year-old mares first time competing at the 3'6″ height with Knowles, and she clearly took it all in stride.
"She's a good girl and a really sweet, really nice horse. I'm very pleased with her. You just have to get her in front of your leg and then she's very fun to ride," Knowles shared. She handled the courses very well this week."
Owner Molly Zisook has been competing C'est Si Bon successfully in the Children's Hunters for a little over a year, making the move up to the Small Junior Hunters just recently, and she and the mare will return to the Stonelea Ring this weekend to compete in the division.
Finishing close behind Knowles and C'est Si Bon to take home the reserve championship award were Kelly Mullen and Donato, owned by Katie Ramsey of Mt. Juliet, TN.
In the Green Conformation Hunters, Molly Sewell and Satisfaction, owned by Peakewood Pharm Inc. of Sanford, FL, were more than satisfactory, earning three blue ribbons yesterday and claiming the division tricolor today.
"Satisfaction is a lovely horse. He's the whole package. He jumps beautifully; he moves beautifully; he's beautiful, and he's really, really sweet," Sewell said of the seven-year-old Hanoverian.
"We started him in the Green Conformation back in December. We showed him through Florida, and then he had a little bit of a vacation after that. We've started him back up, and he's grown up so much," explained Sewell. "The nice part about him is that he has his own motor, and he's got a big stride. You just have to pick up the canter and go around. You don't have to kick; you don't have to pull. He's really, really fun to ride, and he's very scopey."
Sewell always enjoy the Kentucky Horse Shows, and twill remain in Kentucky through mid-August for the Kentucky Summer Classic and the Bluegrass Festival Horse Show.
"We love coming here, and there are so many great class options. There's a little bit of everything for everyone. It's a really nice horse show, and they do a beautiful job," complimented Sewell.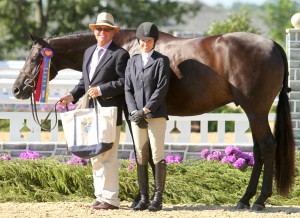 Molly Sewell and Satisfaction earned the Green Conformation Hunter division championship.
Another Kentucky Horse Shows regular, Shawn Casady earned the division championship in the High Performance Hunters with a clean sweep of all five classes aboard Ascot, owned by the HJ Group LLC of Sewickley, PA.
Hunter competition continues tomorrow in the Stonelea ring starting with the Amateur-Owner 3'6″ Hunters, followed by the Amateur-Owner 3'3″ Hunters and the Adult Amateur 50+ Hunters.
To learn more about the Kentucky Summer Horse Show visit www.kentuckyhorseshows.com.