North Salem, NY – May 19, 2013 – Three teenagers and a veteran rounded out the jump-off in the $100,000 Empire State Grand Prix presented by The Kincade Group, and the first to go in was the one to return to the winner's circle. Nineteen-year-old Katie Dinan of New York, NY, and her energetic partner Nougat du Vallet were double clear to win the biggest class of the Old Salem Farm Spring Horse Shows, which ran May 7-12 and 14-19. Today's competition concluded two great weeks of equestrian sport in North Salem with incredible entries and top horses and riders.
The $100,000 Empire State Grand Prix had 37 competitors, and they rode over a course designed by Anthony D'Ambrosio of Red Hook, NY. Riding second in the order, Dinan and "Nougat," a 12-year-old Selle Francais gelding by Scherif D'elle, made it look easy as they bounded through the course for the first clear round. They returned first for the jump-off and set a quick pace and the only clear round in 39.898 seconds.
Watch Katie Dinan and Nougat du Vallet in their first round clear – all rounds at the Old Salem Spring Horse Show are available at www.shownet.biz
Dinan felt that going early in the class was an advantage in today's rainy conditions. "Going early in situations like this helps a little bit because the footing is only going to get worse, not better. I tried to get a really good idea of what I was doing when I walked the course," she explained. "We had a lot of time to do that, so I had a really good plan coming in. I think the main thing is that when the footing gets a little bit deep in the field, the jumps ride a little bit bigger than you expect. I tried to take that into account and think of a few oxers early on and get my horse feeling confident. But he couldn't have jumped any better."
Watch an interview with Katie Dinan about Nougat and her win
http://www.youtube.com/watch?v=FjvTcTAVGb8&feature=player_embedded
Nineteen-year-old Meg O'Mara of Rumson, NJ, was next in on Aragon Rouet, a 2000 BWP gelding by Baloubet du Rouet x Remondo, owned by Walstib Stables LLC. They pulled a rail at the first jump and had another jump down for eight faults in 45.182 seconds for fourth place.
O'Mara partnered with Aragon Rouet at the beginning of 2012, but this year the big chestnut was coming back from an injury. "Last week was our first big class back together," she related. "It's just really getting experience and going around the big classes. I did not think I'd go clear at all! But he was so good today and it was a good course for him. It was hard, but with the hard courses he always does better, and he's really good on grass."
Regarding her jump-off ride, she commented, "I've done very few jump-offs with him, so I'm not used to doing these big jump-offs. I didn't have enough impulsion to the first jump and then I tried to be a little too neat. But he was so good and I'm really happy."
Eighteen-year-old Mattias Tromp of North Salem, NY, contested the jump-off next on Casey (left), a KWPN gelding by Ircolando x Ferro, owned by Beyaert Farm Inc. They had one fence down and stopped the timers in 46.092 seconds for third place. "I saw Katie go very fast," Tromp recalled. "My plan was to have a nice, efficient clear round, but not to catch Katie's time. After I had my rail at 13b, I immediately hit the brakes and just tried to have the rest of the jumps up."
Tromp started riding Casey two years ago and started at Level 2 and 3 Jumpers. "We've stepped up consistently since then and now we're doing this less than a year and a half later," he said. "I just finished high school and just turned professional this week. This was a good start!"
Last to go in the jump-off were last week's grand prix winners, Todd Minikus of Loxahatchee, FL, and Legacy Stables' Uraguay. Minikus looked to be on pace for another win, but after a rail, they continued through the course to finish in 41.930 seconds and second place.
Minikus recounted his plan for the jump-off, "I was in the driver's seat getting to go last, and watching Katie go on Nougat, she was quick enough. She was a little slow on the turn back, I thought, from the combination to the oxer, and then going across the ring to the ditch. I thought she had a nice round, but it was definitely catchable. My horse jumped a great jump at number one and then I thought I was going to be cute and just turn back on the vertical and he rolled it off. And that was it, she wins."
Minikus and Uraguay, a 12-year-old KWPN gelding by Nairobi x Colino, were one of the most competitive pairs at the Old Salem Farm Spring Horse Shows, having won the Sunday grand prix during week one, placing third in Friday's grand prix in week two, and their second place finish today. "The only thing that could have been better was if we won all three of them," he smiled, "but overall, that was some really nice show jumping for Uraguay."
For Dinan, this was a turning point for her year. Having just finished her freshman year at Harvard University on Saturday, she returned to Old Salem Farm ready to prepare for a big summer of competition. "He had last week off. I showed him in a 1.40m class on Thursday and he jumped really well, (and then) I had to go finish up at school. I officially finished my freshman year yesterday, so I told everyone I was going to be in a really good mood on Sunday, no matter what! Now I'm extra happy," she beamed.
Dinan puts her win here among the top on her list of accolades. "For prize money-wise, this is the biggest grand prix I've ever won, and it's really exciting. My other horse Glory Days was really good. We were one of the faster four-faulters and finished seventh. I thought it was one of our better grand prix rounds we've done. It was really nice to end on that note with both of them because we go to Spruce Meadows in two weeks," she said.
Like many other top riders at Old Salem Farm Spring Horse Shows, Dinan was happy to have the grass field here to compete on before heading out for the summer circuit in Calgary. "This is a great way to prepare for that," she acknowledged. "There are not many fields like this that we get to compete on. I always love this horse show for that reason because it's just so much fun."
Final Results: $100,000 Empire State Grand Prix presented by The Kincade Group
1 NOUGAT DU VALLET: 2001 Selle Francais gelding by Scherif D'elle
KATHERINE DINAN (USA), Grant Road Partners: 0/0/39.898
2 URAGUAY: 2001 KWPN gelding by Nairobi x Colino
TODD MINIKUS (USA), Legacy Stables, LLC: 0/4/41.930
3 CASEY: 2001 KWPN gelding by Ircolando x Ferro
MATTIAS TROMP (USA), Beyaert Farm LLC: 0/4/46.092
4 ARAGON ROUET: 2000 BWP gelding by Baloubet du Rouet x Remondo
MEG O'MARA (USA), Walstib Stables LLC: 0/8/45.182
5 ANY GIVEN SUNDAY: 2003 Oldenburg stallion Indoctro x Condor
DARRAGH KENNY (IRL), Hays Investment Corp: 1/85.097
6 ZERLY: 2004 KPWN mare by Querlybet Hero x Carthago
CHRISTINE MCCREA (USA), Candy Tribble: 4/80.268
7 GLORY DAYS: 2001 Swedish Warmblood gelding by Cardento 933 x Diamond Serpent
KATIE DINAN (USA), Grant Road Partners, LLC: 4/81.282
8 WANNAHAVE: 2003 KWPN gelding by Manhattan x G. Ramiro Z
MCLAIN WARD (USA), The Wannahave Group: 4/82.325
9 UTAH: 2001 KWPN gelding by Andiamo x Jus De Pomme
LESLIE HOWARD (USA), The Utah Group: 4/83.038
10 PUMPED UP KICKS: 2003 Brandenburg gelding by Levisto x San Juan
LILLIE KEENAN (USA), Chansonette Farm LLC: 4/83.496
 11 PRIMO DE REVEL: 2001 BWP gelding by Quinault x Lys de Darmen
PAUL O'SHEA (IRL), Michael Hayden: 4/84.645
12 KISMET 50: 2001 BWP mare by Kannan x Furioso II
CANDICE KING (USA), Bellissimo, LLC: 4/84.861
Junior and Amateur Jumpers Take to the Field
The $15,000 High Junior/Amateur-Owner Jumper Classic had 34 entries. Two were able to go clear in the first round, but after Michael Hughes and Luxina withdrew for the jump-off, it was an automatic win for Lillie Keenan and Londinium. The fastest four-faulter in the first round for third place was Philip Richter on Ray Ray. Keenan won a gift certificate from Der Dau.
While Keenan said she "doesn't like winning by default," she was happy to gain another victory and wished the best for Hughes and his horse. She has ridden her recent High Junior Jumper partner Londinium, an 11-year-old Oldenburg gelding by Lord Pezi x Cascadeur, since January of this year. Keenan noted that Londinium had plenty of experience on grass having shown in Europe with his previous owner, who had him since he was four years old. In her own riding, she planned to "ride a little defensively" with today's inclement weather.
She explained, "I can trust my horse, but you never know what can happen if they slip or have bad luck. No matter the conditions, he's careful. He's able to be careful without scaring himself. I went last (in the first round), and watching most of the class and only seeing Michael have a clear round – and he rode great – I knew I really had to step it up. I worried about jumping clear and wasn't worried about the time. The field held up better than I thought it would."
Keenan credited her horse as well as her trainer, Andre Dignelli. "Having Andre at the in-gate gives me a lot of confidence," she said.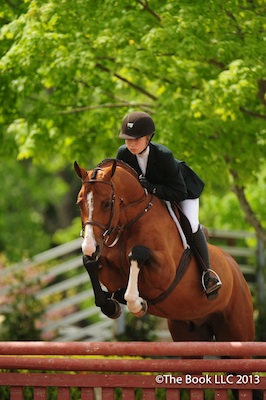 Keenan said that Londinium fits in well with her other jumpers, being a light-boned type of horse, and that they "bonded pretty quickly." She pointed out, "He's a really special horse. It's not often you can find a horse like this. There is something that makes him like no other that we have. He's really part of the family for us now. My mom loves him."
Keenan continued, "I like having a light-boned horse. My mom grew up riding Thoroughbreds, so she obviously likes that. I think I match better with them. I'm not a big guy; I'm a girl and I'm small. I'm not the strongest ride here physically. Vanhattan, a horse I've had for longer (the pair was second in yesterday's Speed Derby), he can really run. I never have to muscle him."
While they use loose ring bits at home to school, Keenan feels that her light, forward horses are a great fit for her, and that's due in large part to the program at Heritage Farm. "We have nice horses, but they're maintained so well."
In addition to her success in the jumper ring, Keenan swept top honors in the hunter ring. Riding Brodeur (right), she was champion in the Small Junior Hunter division. Their four blue ribbons also gave them the Grand Junior Hunter Championship. Brodeur, a six-year-old Warmblood gelding, is owned by Madeline Placey.
Keenan had another win in the equitation as well in the Governor's Perpetual Hunt Seat Trophy class with Clearway. Kelli Cruciotti and Monterrey were second, while Sydney Shulman and Eli finished third.
For all of her top finishes, Keenan was named the Best Junior Rider on a Horse.
The $5,000 Low Junior Jumper Classic was the opening class on the Grand Prix Field this morning and was sponsored by Kaplow Insurance Agency and Catlin Insurance Company. Twenty-six entries contested, and six of those went through to the jump-off. Michael Hughes and Splash were the fastest of two double clears in the jump-off for the win in 31.700 seconds. Jacqueline Shilen and Wenda AK were second in 41.982 seconds. Finishing with four faults in the jump-off in 33.518 seconds, Anna Cardelfe and Firenze van de Cadzondhoeve were third.
Kenzie Snyder and Waterloo were also the fastest of two double clears in a six-horse jump-off, this time out of 27 original entries in the $5,000 Low Amateur-Owner Jumper Classic. They finished in 34.533 seconds for victory. Just off the pace in 35.258 seconds, Michelle Kamine and Loreana were second. With four faults and a time of 34.447 seconds, Christina Fried and Winchester were third.
Grand Champion Awards for Hunters
Grand Pony Hunter Champion and winner of the "JetSetter Challenge Trophy" donated by Grand Central Show Stables: Blueberry Hill, ridden by Coco Fath and owned by Jordyn Rose Freedman, champion in the Small Pony Hunters sponsored by Gotham North
Best Junior Rider on a Pony and winner of a pitcher award: Daisy Farish, who won the Medium Pony Hunter championship with Redfield Farm's Sassafras Creek, and winner of $1,000 Pony Hunter Classic sponsored by Gotham North on Beau Rivage
Best Child Rider on a Pony: Claudia Robinson, who competed in the Children's Pony Hunters Small/Medium with Jay Sargent's Happy Feet
Grand Children's Hunter Champion and winner of the "Shades of Gray" trophy donated by MeadowView Farm: Samantha Cohen, for the second week in a row, who won the Children's Hunter 14 & Under division championship with Sirius Black, owned by Christina Gellos
Best Children's Rider on a Horse: Samantha Cohen
Grand Children's Pony Hunter Champion: Katie George on Everwood, owned by Celeste Hylton
Leading Hunter Rider Award sponsored by The Gochman Family and awarded a Der Dau gift certificate: Louise Serio
The Old Salem Farm Spring Horse Shows celebrate its 31st year in 2013 and offer two weeks of exceptional equestrian sport on May 7-12 and May 14–19 at one of the nation's premier and newly renovated equestrian facilities, Old Salem Farm, in North Salem, New York. Old Salem's beautifully manicured grounds, list of elite horses and riders, and fantastic social gatherings draw spectators from Westchester County and beyond to watch horses and ponies of every size compete for almost $500,000 in prize money. The Old Salem Farm Spring Horse Shows feature over 130 hunter and jumper classes each week, bringing together top competitors, including Olympic show jumpers, from across the country. For more information, please visit www.oldsalemfarm.net/mayhome.
Photo Credit:© The Book LLC. These photos may be used only in relation to this press release and with proper credit.