DEVON, Pa.— Scott Stewart will defend his Leading Hunter Rider title at the 117th annual Devon Horse Show and Country Fair, which runs May 23 to June 2.
Devon benefits Bryn Mawr Hospital, with proceeds to the Hospital approaching $15 million, over $50 million when adjusted for inflation.
Stewart of Flemington, N.J., has won the leading rider title 12 times before, and, to make sure he makes it a baker's dozen for the honor, he is bringing nine or 10 horses to compete in the five open hunter sections.
Not only is that more horses than other hunter riders will have to Devon, but all of them are also proven winners at top shows.
Stewart was recently the Leading Hunter Trainer at the Winter Equestrian Festival, with most of the horses he's competing at Devon in the top five in the circuit standings.
Dedication was WEF circuit champion in High Performance Hunters, and Stewart will show him in that section at Devon.
Stewart has three horses entered in the Regular Conformation section, two in Green Conformation, two in First Year Green and one in Second Year Green.
Devon is one of my favorite shows," said Stewart. "There's only one main ring, so you get to see everybody go."
"It's one of the few times all year that you get to see all the top horses together," Stewart said.
Victoria Colvin, 15, who trains with Stewart, rewrote the record books last year at Devon when, for the first time ever done, she won both the Best Child Rider on a Horse and Leading Junior Jumper Rider titles.
She, too, is taking top horses to Devon again this year.
Dr. Betsee Parker's Ovation, last year's Devon Grand Junior Hunter Championship, will return to defend his title in Small Junior Hunter, 15 and under.
Colvin will also show Canadian Blue in the Small section and has Way Cool and Inclusive in the Large Junior Hunters, 15 and under section.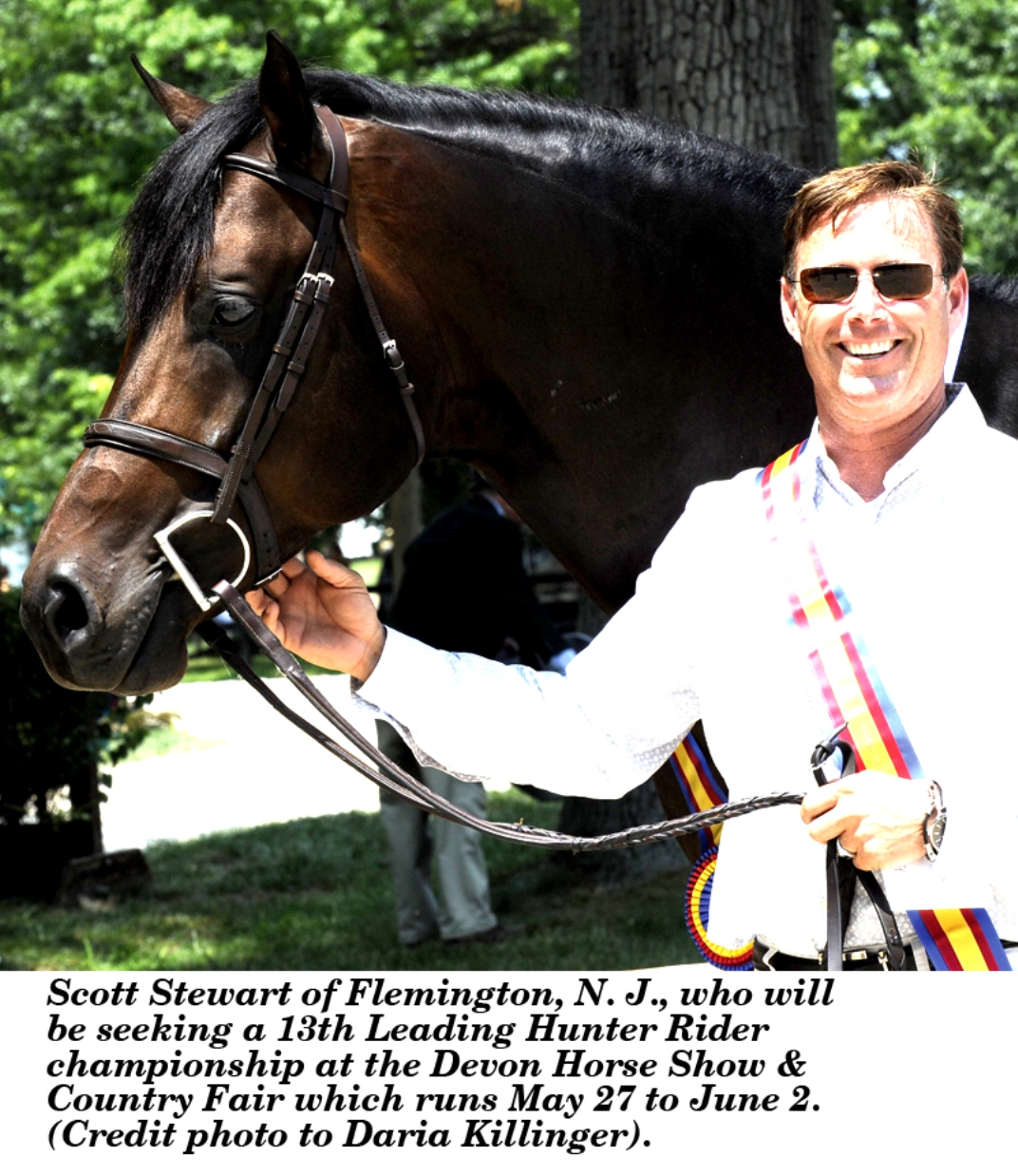 Way Cool and Inclusive were champion and reserve, respectively, in the Large section at Devon last year.
Colvin will show three in Junior Jumpers this year, last year's champion and reserve, Waminka and Monsieur de Reverdy plus Don Juan.
Colvin will also compete in equitation, where the riders are judged on their position and control of their mounts.
She won the Hunter Seat Medal at Devon last year.
Juniors compete Thursday in equitation and Friday and Saturday in pony hunters, hunters and jumpers.
The Carriage Pleasure Drive opens eight days of adult competition, with hunters competing Monday, Tuesday and Wednesday, then returning the final Sunday, June 2, for the $25,000 International Hunter Derby.
Jumpers compete in afternoon and evening classes throughout the week, with the featured $100,000 Wells Fargo Grand Prix of Devon at 8 p.m. on Thursday, May 30.
The Country Fair offers shopping for many unique items in boutiques scattered throughout the Fair area.
From dressy and sporting clothes to fine gold and silver jewelry, painting and prints, collectibles and souvenirs to every type of riding equipment, there's shops that will appeal to every taste.
There's something for every palate in the Fair, too, from dainty tea sandwiches to hot dogs, hamburgers, gourmet dining in the Garden Café and the famous Devon fudge.
Rides and games for tots to teens, including the Ferris wheel, complete the experience that is the Country Fair.
The ticket office opens Monday, April 8 and will be open Monday through Friday from 10 a.m.to 5 p.m., and Saturday from 10 a.m. to noon.
General admission is $10, with $5 for children and seniors. Reserved seating tickets range from $10 to $55, depending on the day and session.
Entries close April 22. Visit the website www.devonhorseshow.org for additional information.