SPRUCE MEADOWS, Calgary, AB):
The Spruce Meadows Summer Tournaments open up their world-class competition tomorrow. This year's schedule includes five weeks: 'National' CSI-W 5* June 5-9, 'Continental' CSIO-W 5* June 13-16, 'Canada One' CSI-W 4* June 25-30, 'North American' CSI 5* July 3-7, and 'Pan American' CSI 5* July 11-14. With increased prize money, updated footing in the International Ring, and some of the best riders in the world, fans of equestrian sport can expect amazing spectacles every week. Along with sport, visitors to Spruce Meadows can enjoy the new capital improvements made to the venue.
This week of the 'National' features the following major international-level competition:
Wednesday: Due to increased entries, another $33,000 class has been added to tomorrow's competition.
$33,000 Friends of the Meadows
$33,000 Bantrel Cup
$33,000 Enbridge Cup
$33,000 ATB Financial Cup – tomorrow's feature competition
Thursday
$33,000 ATCO Pipelines Cup
$33,000 Prairie Mines & Royalty LTD Cup
$35,000 Spectra Energy Cup
Friday
$35,000 ATCO Energy Solutions
$35,000 RBC Capital Markets Cup
Saturday
$60,000 TransCanada Parcours de Chasse
$400,000 CN Reliability Grand Prix
Sunday
$40,000 ATCO Structures & Logistics Speed
$175,000 Nexen Cup Derby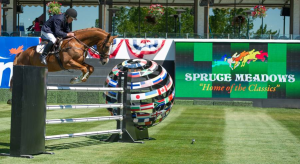 In addition to Olympic champions, Spruce Meadows welcomes junior and amateur riders. Two of their top competitions this week include the $10,000 Mercer Jumper 1.40m on Friday and the $10,000 ConocoPhillips Challenge 1.40m on Saturday.
The christening of the new footing in the International Ring kicked off today with Spruce Meadows Riding Master Albert Kley on one of Spruce Meadows' flagship stallions, Le Primeur. The footing feels fantastic and looks beautiful, and is ready for the start of competition tomorrow morning. As part of their mission for continuous improvements, Spruce Meadows spent $250,000 on new turf in the International Ring. Following the conclusion of the 2013 Spruce Meadows 'Masters' Tournament last September, all of the turf was removed. The new grass footing was laid down immediately on top of sand mixed with fiber for a strong base.
Spruce Meadows Stallion Le Primeur takes Spruce Meadows Riding Master Albert Kley over the inaugural jump on the new grass footing in the International Ring. Photo Credit: Spruce Meadows Media Services
"The team at Spruce Meadows worked with Leopoldo Palacios, our course designers, and our riders made the decision to enhance the footing in the International Ring based on what was best for the sport and our venue" said Spruce Meadows President Linda Southern Heathcott. "This work is part of our methodical, long-term goals of progress at Spruce Meadows."
Along with new footing, Spruce Meadows has invested in even more prize money for riders this year, including more than $1.1 million at the 'National' Tournament alone. There are more FEI world ranking classes and an enhanced schedule. The start of the Summer Tournaments was moved a week later in 2013 to coincide with better weather in Calgary. More than 1,000 horses traveled to Spruce Meadows, and riders from 11 countries will compete.
As the Number One-Rated Show in North America by the North American Riders Group, Spruce Meadows focuses on the horse and high performance sport, while staying as a place that families and local spectators can enjoy.
To that end, some capital improvements have been made to improve the Spruce Meadows experience. This includes a renovated Garden Court with an improved, healthier menu;  an increased upper plaza that will offer family fun like pony rides; and a new "Canada House" seating pavilion due to be ready by September 1.
Visitors can enjoy an exciting exhibition by The Drum Cafe on Wednesday, Thursday, and Friday;  a Lunch & Learn experience with top show jumper Katie Prudent on June 25; and interactive promotions such as "Name the Foal" and "Jump To It" that will reward fans for their creativity and participation.
"Spruce Meadows itself is a philanthropic gift from Mr. and Mrs. Southern," said Heathcott Southern. "Our team is now the guardian and we aim to ensure its success. We are the stewards of the venue and we want to offer the very best to all of our constituents."
For more information on Spruce Meadows, please visit www.sprucemeadows.com.
Based in Calgary, Canada, Spruce Meadows is the brainchild of the Southern family who built a Show Jumping complex at the foothills of the Alberta Rocky Mountains. It was in 1976 that the first Spruce Tournaments were held, with annual spectator attendances reaching over 50,000 by the end of the decade. Today, Spruce Meadows boasts one of the greatest outdoor equestrian venues in the world and offers an incredible experience for riders and fans alike. Spruce Meadows focuses on the organization and hosting of show jumping tournaments of unmatched quality for junior, amateur and professional athletes in a manner that reflects basic family values in a clean, green and welcoming environment that celebrates the horse and encourages the breeding and training of quality sport horses and the teaching and development of athletes. For more information on Spruce Meadows, please visit www.sprucemeadows.com.
Photos © Spruce Meadows Media Services. They may only be used in relation to this press release and with photo credit.