Thursday, November 08 2012
by janwest
Lexington, Kentucky – November 7, 2012 – It was a very emotional night on Saturday at Alltech National Horse Show as McLain Ward piloted his top mount Antares F to victory during the Alltech $250,000 Grand Prix, benefitting the United States Equestrian Team Foundation. The win comes just days after the passing of his father,
Tagged under:
Abigail McArdle
,
Alfred B. Maclay Horsemanship
,
Alltech
,
ASPCA
,
Barney Ward
,
Candice King
,
Chris Payne
,
Christine McCrea
,
George Morris
,
Grand Prix
,
Jacob Pope
,
Jennifer Alfano
,
Kelsey Thatcher
,
Maclay
,
McLain Ward
,
National Horse Show
,
Olivier Philippaerts
,
olympics
,
Richard Jeffrey
,
Scott Stewart
,
Tim GredleyJessica Springsteen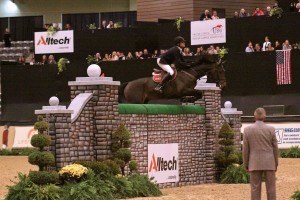 Sunday, November 04 2012
by janwest
Lexington, KY – November 2, 2012 – Great Britain's Tim Gredley proved to be one of the world's bravest riders this evening when he galloped up to a 7'6″ wall aboard his talented mount Unex Valente. The pair was already champions of the $50,000 Puissance at Alltech National Horse Show, 129th edition after being the

Washington, D.C. –October 29, 2012 – The 2012 Washington International Horse Show (WIHS) concluded on Sunday after a great week of competition at Verizon Center in Washington D.C. With exciting competition, amazing exhibitions, fun with Barn Night and Kids' Day, and wrapping up safely before the storms, the show was an fantastic success in 2012.
Tagged under:
Ailish Cunniffe
,
Amy Zettler
,
Anna Cardelfe
,
Anthony D'Ambrosio
,
Barn Night
,
Catherine Rodda
,
Charlie Jayne
,
Costume Class
,
Costume Gambler's Choice
,
CSI 3*-w
,
Cylana
,
Devon Monroe
,
Ericka Caslin
,
FEI World Cup Qualifier
,
Gabriella Bausano
,
Gambler's Choice
,
Grand Prix
,
Haley Schaufeld
,
Hidden Creek
,
International Open Jumper
,
Jessica Springsteen
,
Kathryn Clapp
,
Kent Farrington
,
Kids' Day
,
Laura Kraut
,
Lauren Hough
,
Madison Goetzmann
,
Margie Engle
,
Meagan Nusz
,
Michael Hughes
,
Nick Dello Joio
,
Nina Montross
,
Not Always Challenge Trophy
,
Olivier Philippaerts
,
President's Cup
,
Puissance
,
Reed Kessler
,
Scott Stewart
,
Tomm Brennan
,
United States Perpetual Cup
,
Verizon Center
,
Victoria Colvin
,
Washington DC
,
Washington International Horse Show
,
Wesley Newlands
,
WIHS