September 20th of this year, the Santa Fe community generally, and the Southwest horse world in particular, lost a wonderful citizen. Abel Davis of Tesuque New Mexico passed away after a long illness. His life was long and full and those of us who knew him will miss him terribly. Abel was born in 1925, a true World War II hero, an astute business man and a community activist all before coming to Santa Fe in 1968.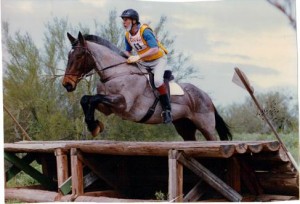 Once in Santa Fe, he put a lot of that energy toward his passion – riding. In the 1970's he joined with friends Jim Alley, Jim Ritchie and Philip Naumberg to found the Santa Fe Polo Club. During the off season for polo, Abel took up his role as whip for the Juan Tomas Hounds and fox-hunted regularly. He played polo hard, fast and often until his cardiologist "insisted "on a less vigorous pursuit – so Abel became an Event rider. He achieved his goal of competing at the Preliminary level in 2000 at the age of 75 with his beloved Sir Francis Drake.
In all of the equestrian pursuits, Abel not only participated but he actively took part in the growth and success of his Polo Club, of the Juan Tomas Hounds and of The Event Organizing Committee's various venues, along with all of his political and community interests. Abel was, to the end, supportive of The Event at Santa Fe where for the last 3 years he and his wife Audrey have sponsored The Team Challenge. His efforts brought together Upper Level Event riders, US Pony Clubbers and Disabled riders in a venue to show case each of these groups enjoying their horses.
Abel's commanding presence, pervasive kindness and wicked humor has left a big hole in our community and our hearts.