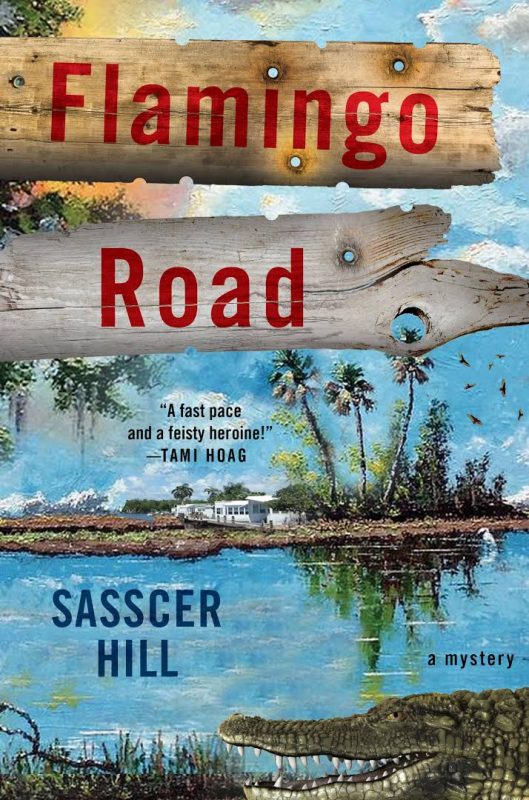 "This sound mystery with thrills and hair-raising action from first to last."—KIRKUS REVIEWS
"[Flamingo Road] will appeal to fans of all things horse racing, strong female protagonists, and Florida noir." —BOOKLIST
"A fast pace and a feisty heroine put Flamingo Road in the winner's circle. Sasscer Hill is off to the races with her new character, Fia McKee, and I'm on board for that ride!" —Tami Hoag
"Hill takes her readers on the ride of their lives as high-stakes crime collides with the adrenaline-fueled world of professional horse racing in Flamingo Road—a surefire winner, rich in authentic detail and heart-stopping suspense." —Andrew Grant
"In her new thriller, Sasscer Hill ups the ante on her horses. Could she be the Dick Francis of her generation? Count me among those who would vote yes." —Margaret Maron
FLAMINGO ROAD
By Sasscer Hill
Sasscer Hill introduces a new series set in the steamy underworld of Florida, FLAMINGO ROAD (Minotaur Books, April 18, 2017, 9781250096913, $25.99. Fia McKee is an all-round kick-ass protagonist, and mystery fans are sure to fall in love with her wonderful voice and clever sleuthing abilities.
Baltimore police officer Fia McKee is put on leave for excessive use of force after interfering in a crime that turns deadly. Given a second chance, she is sent to work undercover for the Thoroughbred Racing Protective Bureau (TRPB) at the Gulfstream Park in Florida, where she works as an exercise rider. Her assignment is to watch and report back on two racetrack workers who have been suspected of illegal activities and whose horses continue to outperform all expectations, winning their owners unseemly amounts of money in the races.
To complete her cover story, Fia moves in with her semi-estranged brother, Patrick, who lives near the racetrack. Her investigations are complicated when her niece, Jilly, disappears after a shadow gang takes Jilly's beloved horse. Now Fia must work two angles—first to find out what's really going on with the men who might or might not be gaming the system, and second to bring the men who prey on horses to justice. Along the way, Fia encounters Cuban gangs living off the grid, a (very handsome) do-gooder who is close on their trail, and a cabal of super wealthy gamblers who will stop at nothing to ensure they always win.
ABOUT THE AUTHOR
SASSCER HILL was an amateur steeplechase jockey, as well as a horse owner who bred, raised, and rode race horses for thirty years in Maryland. Her first published novel, Full Mortality, was nominated for both the Agatha and Macavity Best First Mystery Awards. Born in Washington, D.C., Hill earned a BA in English Literature from Franklin and Marshall College. She now lives with her husband, dog, and cat, in Aiken, SC., where she still enjoys horseback riding.
FLAMINGO ROAD
By Sasscer Hill
Minotaur Books
Hardcover
9781250096913
April 18, 2017
$25.99