Silicon Valley audiences have flocked to Cavalia: A Magical Encounter Between Human and Horse since it galloped into town.  After weeks of sold-out performances and overwhelming demand, this equestrian extravaganza has been extended one final time.  Performed under the White Big Top at the intersection of Hwy 101 and 87 East on the 101 Tech campus site, across Hwy 101 from the San Jose Airport, Cavalia's last San Jose performance will be August 26, 2012. Check future performance near you at www.cavalia.net
Sidelines is pleased to announce that in the October issue of Sidelines we will have a feature called "An Amazing Day at the Equestrian Big Top." It's a first hand look at the Cavalia show, by Sidelines' newly "discovered" writer Cecilia Lang-Ree. Read a portion of her story here – and enjoy the complete story in the October issue.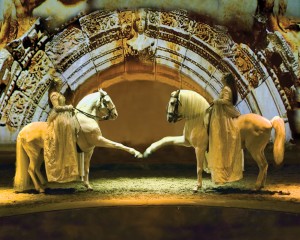 An Amazing Day at the Equestrian Big Top
By Cecilia Lang-Ree
The touring equestrian show Cavalia, has been thrilling horse and non-horse people alike with its amazing equestrianism, so when Cavalia opened a new show in San Jose, California, Sidelines held a contest to "discover" a reporter who could attend the event. Cecilia Lang-Ree might only be a 17-year-old high school student; but horses and writing are in her blood – so we sent her to the Cavalia Media Event. Enjoy Cecilia's great adventure at Cavalia and then look for the show at a venue near you – you won't be disappointed.
It was a stunning day in July as I drove up the long avenue, following the little signs that pointed me closer and closer to a gleaming white complex. The sight of tents silhouetted against the sky is not entirely new for me; I've seen my fair share of circuses. As soon as I opened my car door, however, it became apparent that this would be completely different from any performance I'd been to – I could already smell the horses.
Cavalia, the touring equestrian show conceived by Normand Latourelle, the founder of Cirque du Soleil, was about to open in San Jose, California. In a large lot, a mobile equestrian center had sprung up like magic, complete with enormous trailers, portable paddock fencing, and – yes – manure piles. After checking in at the bustling media tent – ("Cecilia Lang-Ree, with Sidelines Magazine!") – I had just enough time to help myself to some chocolate strawberries before heading to the theater. I took my first row seat in the media section as the lights dimmed and Mr. Latourelle welcomed the crowd, introducing his cast of 31 artists and 49 horses.
Cavalia celebrates the timeless bond between man and horse across all cultures and everything in the show reflected this purpose. From trick riders hurtling across the stage with flashy Paints to classical dressage riders on stunning Baroque breeds, no aspect of equestrianism was left behind. (Read the rest of the story in the October issue.)