New Exhibitors' Lounge Offers Cool Respite
This year, exhibitors' will have even more reason to love coming to Devon; the McDevitt Exhibitors' Lounge located under the East 3 Grandstand. Anyone displaying an exhibitors' wrist band is welcome to grab a light snack, a cool drink and enjoy some down time in the A/C!
The lounge will offer coffee, decaf, OJ, water and hot and iced tea. Herr's has donated literally thousands of single serving snack bags. There will also be tasty tidbits like donuts, fruit, cookies and brownies and chocolate, lots and lots of chocolate! Several local restaurants are also donating some specialty nibbles on several of the eleven days of Devon.
Amenities of the lounge include not only A/C, but WiFi, a message center, charging stations and closed circuit TVs that will allow exhibitors to keep an eye on the ring while unwinding. The exhibitors' lounge we be open any time there is a class in the ring. When there is a break in the class schedule, the lounge will be closed for restocking and refreshing.
"This new exhibitors' lounge is such an important improvement for Devon," notes committee Chairman, Sarah Lange. "Devon prides itself on being a multi-breed show, so it's really wonderful to have a place where exhibitors from the different disciplines can gather, exchange ideas, and really cross-educate each other."
Lange also noted that the lounge is possible through the support of many people and organizations. Devon Horse Show and Country Fair Chairman and President, Wade L. McDevitt has underwritten the construction cost of the exhibitors' lounge. An additional $20,000 was raised through sponsorship and another $10,000 worth of in-kind product and services was donated. Several non-profits are offering their support by staffing the lounge for full day, 7 a.m. to 10 p.m. shifts, including Chester County SPCA, Sebastian Riding Club, West Chester University Riding Team, Thorncroft, Agnes Irwin School Equestrian Club, Easter PA United States Pony Club and Quest Therapeutic Services.
Phillie Phanatic Coming to Devon!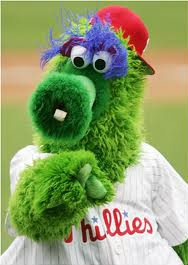 Guess who's joining our Memorial Day barbecue (complete with 17′ smoker, by the way)? The Phillie Phanatic will make his first ever appearance at Devon on Memorial Day from 3 – 4 p.m. That's right, all the madness and mayhem that the greatest mascot ever is known for, right here at Devon. Hold on to your hats folks, you never know what this guy will do!
Live Music to Celebrate Opening Day
By Caroline Goldstein
Opening Day is right around the corner, and what better way to ring in the beginning of Devon than with live music? Doug Hill, a singer-songwriter and guitar player, will be performing from 5 to 7 p.m. and Concrete Charlie Band will be performing from 7 to 10 p.m. on Thursday, May 23 on the "Sycamore Stage" in the Picnic Grove. The Garden Café menu for the evening will feature "Philly Food" with items such as cheesesteaks, snapper soup, Italian market inspired fare and Philly brewed beer.
This is the first year there has been live music on Opening Day. With the Thursday night classes ending early, the music will be a great addition to the day's events. "Devon is a nice venue for music, and the riders enjoy the music too," said Larry Schwartz, a Chairman on multiple committees.
Concrete Charlie Band, which Schwartz describes as a mix of dance, pop, rock and country, performed at last year's Devon Fall Classic. Their performance, along with others during the Fall Classic, was such a success that the idea came to incorporate more live music at Devon. "We are trying to build up the music scene at Devon across the board," Schwartz said. In addition to the music on Opening Day, singer/songwriter Kirsten Sowers and the Bach to Rock band will be performing on Children's Day, Sunday, June 2.
For the 21 and over crowd, Clydesdale Corner, under the East 3 Grandstand will offer live music every night from 7-10 p.m. Featured acts include Doug Hill, John Holt and Hey Fever, Cosmo Iacavazzi, Jeff Byrne, Tim Williams and many other musicians. There will also be an open mic on Memorial Day beginning at noon. The event is open to singers, guitar players or piano players. "We will have all the equipment there, so practice up and show up," Schwartz said.
Getting Ready – Behind the Scenes
With less than a week until opening day, we thought we'd give you a peek at what's happening in the Fair on this gorgeous Devon day…