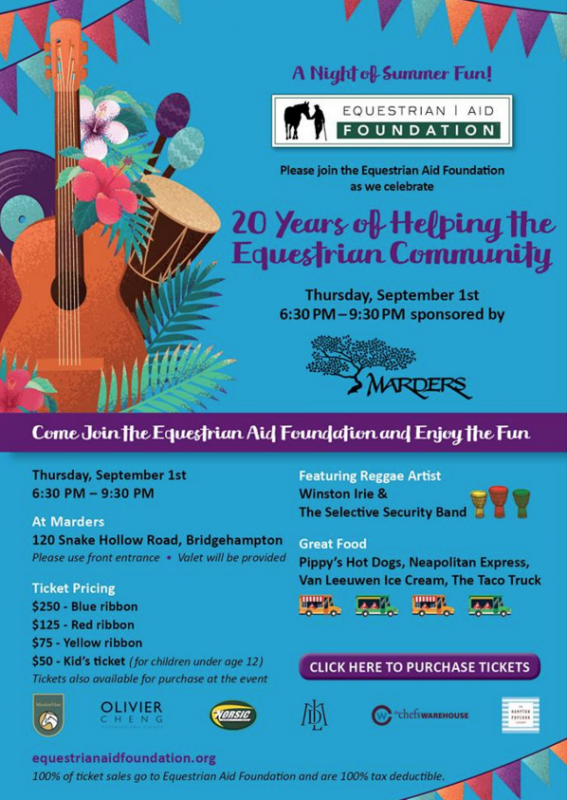 Hamptons, NY. August 4, 2016 – As the horse show community in the Northeast heads out to the 2016 Hampton Classic Horse Show, the Equestrian Aid Foundation is providing a way for exhibitors and spectators to unwind and celebrate.
The Equestrian Aid Foundation 20th Anniversary Celebration will honor Equestrian Aid's past, present and future financial grant recipients, and raise money to support the Foundation's mission to help people from all corners of the horse world who have suffered life-threatening or life-changing injury or illness.
The evening event will be held on Thursday, September 1st at Marder's Nursery on 120 Snake Hollow Road in Bridgehampton, New York. Guests will enjoy a variety of popular local food trucks and cocktails while reconnecting with old friends and sharing in a perfect Hamptons evening.
"We want to give a little something back to the community that has given us so much," says Stephanie Bulger, Equestrian Aid Foundation Board President. "The Hampton Classic is the perfect place for us to celebrate this milestone with the entire East Coast equestrian community."
For additional information and to purchase tickets, please visit: https://www.eventbrite.com/e/20th-anniversary-reggae-party-benefit-tickets-26587224103
###
The Equestrian Aid Foundation is a 501(c)(3) organization that has raised over $2.5 million in its twenty-year history to assist individuals from all riding disciplines, equine professions, backgrounds and ages who are coping with serious injury or illness.
For more information about the Equestrian Aid Foundation, please visit: http://equestrianaidfoundation.org/ or follow us on Facebook. You can make a difference in the lives of horse people in need.