(AP) – 23 hours ago
RENO, Nev. — Federal land managers have captured more than 100 wild horses a day after an appellate court refused to stop the mustang roundup along the California-Nevada border.
The Bureau of Land Management District Manager Nancy Haug says 119 animals gathered Wednesday were reported to be in good health. The roundup of about 2,000 wild horses is expected to last at least a month.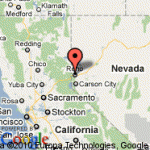 Horse protection advocates had sought an emergency injunction for the roundup. In Defense of Animals argued the horses have more legal right to the public range than the thousands of livestock grazing there.
The BLM says the overpopulated mustang herds about 120 miles north of Reno are damaging public rangeland and threatening their own well being.
The 9th Circuit Court of Appeals denied the advocates' request Tuesday night.
Copyright © 2010 The Associated Press. All rights reserved.