A Fast-Paced Ride through a World of Privilege and Glamour
Inspired by Real Life and Equestrian Experiences of Mayor's Daughter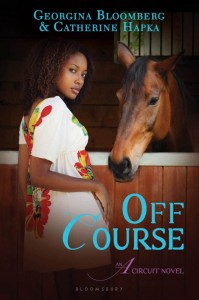 In Georgina Bloomberg's debut novel, The A Circuit (May 2011), readers fell in love with three spunky teenage elite riders competing in the privileged equestrian world: Zara, the wild child of a famous rock star, Kate, a working student serious about riding, and Tommi, a billionaire heiress. The series continued with My Favorite Mistake (February 2012) where we saw the characters bring more drama and controversy to the A Circuit than ever before.
Now, in Off Course (Bloomsbury; November 13, 2012; original paperback; $9.99), the highly anticipated third novel in Bloomberg's teen book series co-written with Catherine Hapka, we watch Zara, Kate and Tommi continue their struggle to strike a balance between grueling competition schedules and barn responsibilities at Pelham Lane Stables with their desire to lead social lives like normal teenagers.
In Off Course, equestrians Tommi, Kate, and Zara are expected to perform at every horse show, large or small. So with the biggest show of the season just weeks away, they should be in prep mode.  Should be.  Tommi's friends convince her to take a road trip to drop off an older friend at school . . . where she can't help but get distracted by college boys. Kate is dealing with the aftermath of her boyfriend Fitz's latest grand gesture: buying a horse for the two of them to train together. And Zara? Well, trouble follows her everywhere! Then there's the issue of a new blog on the circuit-is someone from Pelham Lane feeding gossip to the press? Forget prep mode for the big horse show, these girls are in crisis mode.
With sharp and witty humor, Bloomberg deftly conveys the girls' emotional struggles as they try to get their priorities in line, while making some costly mistakes along the way. A social drama set within an elite world, Off Course will have teens flocking to this series.
Georgina Bloomberg is an accomplished professional equestrian and the youngest daughter of New York City Mayor Michael Bloomberg. She is on the board of the Equestrian AID Foundation, the Hampton Classic Horse Show, the Bloomberg Sisters Foundation, the Bloomberg Family Foundation and the Trustees of the United States Equestrian Team. She is an Equine Welfare Ambassador for the ASPCA, Chair-woman of the Horse Council of the Humane Society of the United States, and a member of the Friends of Finn committee for the Humane Society of the United States, a group dedicated to fighting puppy mills. In 2006 she started The Rider's Closet (now run by Pegasus Therapeutic Riding) which collects and redistributes clothing and equipment to riders who cannot afford them. A portion of her proceeds from this book will be donated to Friends of Finn.
Catherine Hapka has published many books for children and young adults. She keeps three horses at her small farm in Pennsylvania.
BLOOMSBURY: Bloomsbury USA, a division of Bloomsbury Publishing World Wide, was launched in 2002 as a general-interest publisher of children's books for readers of all ages. The imprint publishes such award-winning and bestselling authors as Newbery Honor winner Shannon Hale, Julianne Moore, Alexander McCall Smith, Carrie Jones, Simone Elkeles, and E. D. Baker. In the UK, Bloomsbury is the publisher of J. K. Rowling's Harry Potter series.