Headlined Star-Studded Line-up in Two-Day Event at Pimlico Race Course

            Southern Pines, NC–October 8, 2013—Grand Prix rider Hillary Simpson showed that careers in show jumping can be viable for ex-race horses  during her appearance with her Thoroughbred Arkansas in the Retired Racehorse Training Project's Thoroughbred Makeover and National Symposium at Pimlico Race Course in Baltimore, MD, over the weekend of October 5-6.
Simpson brought her 10-year-old Thoroughbred gelding, on whom she has won several Grand Prix ribbons this year including a win in the Mt. Equinox Grand Prix in Vermont, to the two-day event and participated in several functions.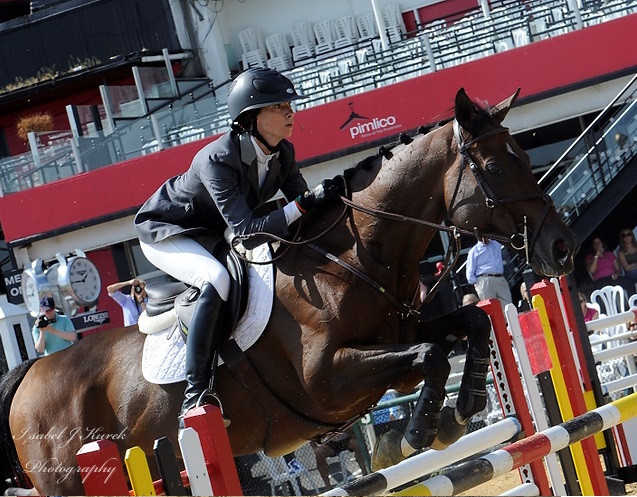 On Saturday morning, Simpson was part of a Trainers Panel with Show Jumping Hall of Famer Rodney Jenkins and Eventing rider/trainer Cathy Wieschoff.  That afternoon, she and Arkansas put on a jumping demonstration on Pimlico's famed race track in a performance that was streamed live on HRTV and was entitled: "America's Best Off the Track Thoroughbred: Arkansas and Hillary Simpson." Culminating her appearance, Simpson was part of Saturday evening's Thoroughbred Storytelling at a gala celebration in the Pimlico Hall of Fame Room.
"Thoroughbreds have a cherished history in show jumping with legendary horses like Idle Dice, Jet Run, Touch of Class, For The Moment, and Gem Twist," Simpson said. "I believe that there is room for them on our circuit today and I was thrilled to be able to discuss and demonstrate that at the event."
The event featured educational seminars, meetings, demonstrations, and a trade fair with 30 organizations and businesses that support second careers for Thoroughbreds. Participants included 26 trainers from 15 states in 10 equestrian disciplines who demonstrated what their Thoroughbred horses do in their post-racing careers. In addition to show jumping, polo, dressage, eventing, barrel racing, cattle work, police work, hunters, natural horsemanship, and tricks were included.
Foaled in 2003, Arkansas raced on the track under the name Blackcuda. He had 17 starts and had three top-three finishes including one win.  Simpson believes he has the potential for more success as a Grand Prix show jumper.  "Arkansas is a good match for me and I think he's going to be a really special horse for me for a very long time," she said. "He has plenty of power and speed, but what really stands out about him is his great mind. He believes he can do anything and I think he is great example of what Thoroughbreds can do in show jumping."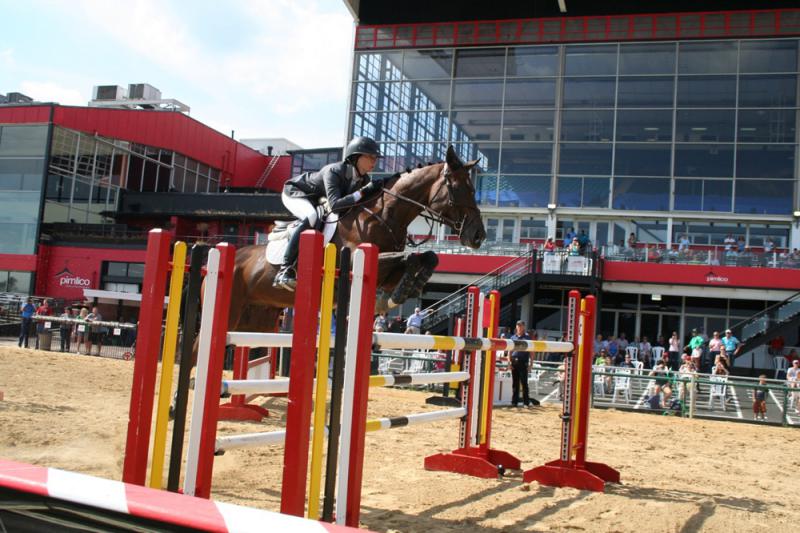 Steuart Pittman, founder of the Retired Racehorse Training Project, was thrilled with the enthusiasm and support the event generated. "Thirty eight vendors and nearly that many sponsors evenly split between the racing and the equestrian worlds came together to show the public what these horses can do. We were overwhelmed by the response."
Further information about the Retired Racehorse Training Project's Thoroughbred Makeover and National Symposium is available at www.retiredracehorsetraining.org.