We are proud to introduce the New Athena Collection from Grand Prix. North Americas leader in riding jackets
The Athena Collection adds innovative trims to our incredibly popular TechLite Classic Sport 3 button, and Euro Sport 4 button jackets. The TechLite series has quickly taken over as our most popular fabric due to its great feel, incredible light weight and ease of care. All Grand Prix Jackets are proudly made in North America.
The pictures attached show the details of what is available. The attached order form indicates all possible combinations.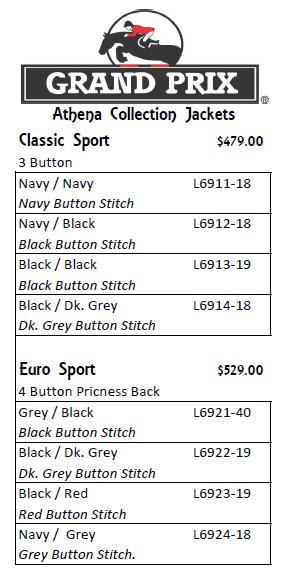 We intend to promote the new jackets via our facebook page, and will also soon have key riders wearing the jackets.
The Athena collection will be available Mid June 2013.
For further information, please contact:
Stuart Bassin
Vice President.
705-721-7277
stuart@frantisi.com / www.frantisi.com / info@frantisi.com