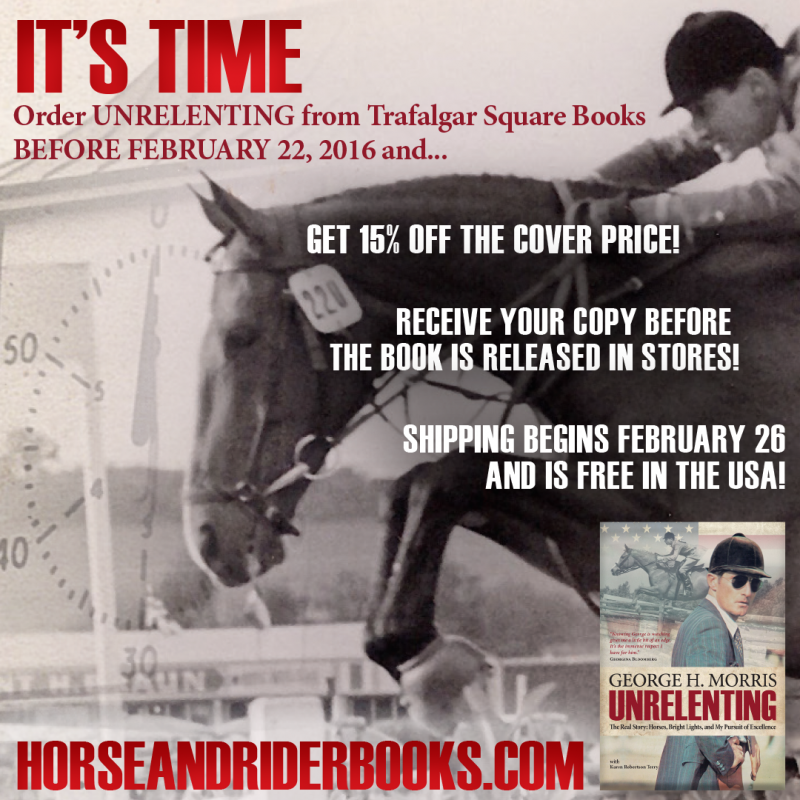 There's a lot to celebrate this weekend: Valentine's Day, an extra day off, and yes, you've read it right, Trafalgar Square Books (www.horseandriderbooks.com) is kicking off the release of the legendary George Morris's autobiography UNRELENTING!
Did you know:
George once sold a horse for a briefcase filled with $100,000—and then had to buy him back when he realized how upset he made the (now famous) student who was riding him?
George once taught a (now famous) student for an entire weekend wearing only a black string bikini?
George quit horses and studied acting for a year at the famous Neighborhood Playhouse School of Theatre in New York City?
You'll read these stories and many, many more—told in George Morris's own words—in UNRELENTING The Real Story: Horses, Bright Lights, and My Pursuit of Excellence. So feel the love, put up your feet, and order your copy of this incredibly anticipated book—an inside look at the heady highs and gutting lows that accompanied the trajectory of Morris's incredible career.
Order UNRELENTING from Trafalgar Square Books (www.horseandriderbooks.com) between now and February 22, 2016, and…
-Get 15% off the cover price
-Receive your copy before the book is released in stores
-Shipping begins February 26 and is FREE in the USA
CLICK HERE to order your copy of UNRELENTING now! And follow UNRELENTING the Book on Facebook, Twitter, and Instagram:
Facebook: CLICK HERE  • Twitter: CLICK HERE • Instagram: CLICK HERE
Trafalgar Square Books, the leading publisher of equestrian books and DVDs, is a small company based on a farm in rural Vermont.