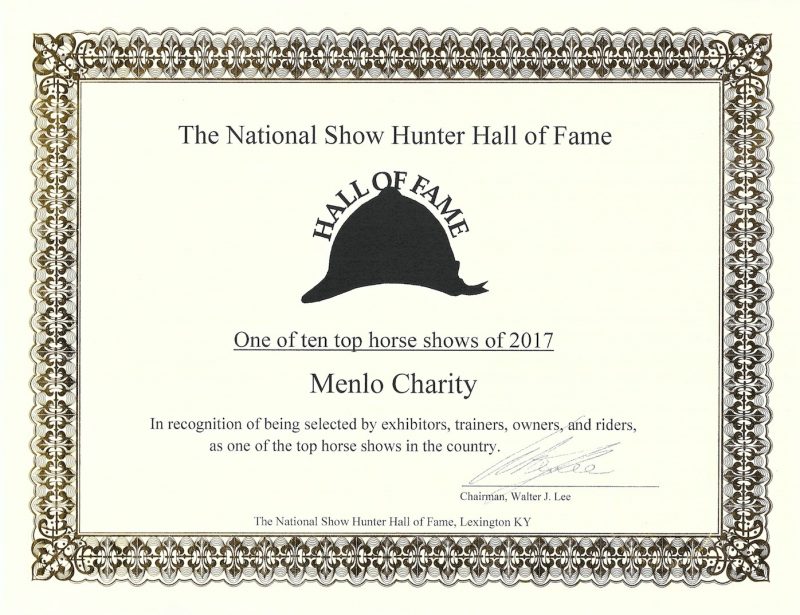 Atherton, CA – June 18, 2018
Menlo Charity Horse Show, a recipient of the US Equestrian Heritage Horse Show distinction, numerous National Show Hunter Hall of Fame Top 10 Horse Shows of the Year as well as a perennial favorite destination of the Equestrian Living Magazine Gold List readers announces that the 2018 horse show is a sell out.  Trainers wishing to  reserve a place on the waiting list for stalls should email Annette Longnecker, MCHS Head Show Secretary at annettel@ryegate.com 
Inaugural Three Ring Live Broadcast by Horse Network

Every class in all of the three show rings at Menlo Charity Horse Show (MCHS) will stream live and for free this year! MCHS events can be viewed at HorseNetwork.com/Live. Each day's feature class will be available via Facebook Live on the pages of Horse Network and Menlo Charity Horse Show, where fans all over the world can watch together and weigh in on the Hunter/Jumper action as it happens at Menlo Circus Club in Atherton, California. As an additional courtesy to competitors, Menlo Charity Horse Show is offering clips from every class in the Arena, Grass Hunter Field and Grass Jumper Ring online after each day's competition, at no additional charge.
"We're beyond thrilled to add Menlo Charity Horse Show to the Horse Network Live roster!" said Horse Network Editor in Chief, Carley Sparks. "MCHS has an esteemed 48 year history in horse sport and is a recognized USEF Heritage Competition. This year marks the first time this incredible event will be live streamed for horse sport fans. We can't wait to show the world all that Menlo has to offer!"
The Menlo Charity Horse Show, a 501(C)(3) organization recognized as a USEF Heritage Competition, supports the Vista Center for the Blind and Visually Impaired by producing a premiere equestrian event while educating the community on the issues of the visually impaired.
facebook.com/MenloCharityHorseShow
instagram.com/menlocharityhorseshow
#MENLO2018