The 10th annual New Vocations Charity Horse Show was a huge success with over 1100 entries and raising $50,000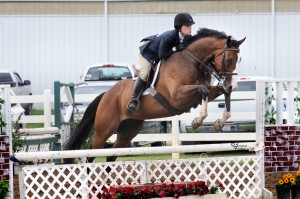 to support racehorse aftercare. The Indiana HBPA was the title sponsor of the event which drew a record attendance. Many of the exhibitors came simply to show off their former racehorses in both the Thoroughbred specialty classes as well as open classes. Non-Thoroughbreds also competed showing their support of New Vocations' efforts.
"It was truly great to see so many retired racehorses competing," said New Vocations Program Director Anna Ford. "We are ever grateful to the terrific individuals and industry groups that supported the show through the various sponsorship opportunities. These sponsors and all the hard working volunteers make this event possible each year. "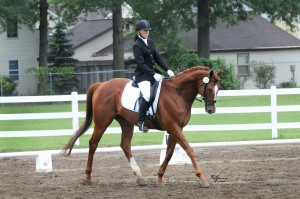 Thoroughbreds with backgrounds ranging from one start to over 90, no earnings to over $500,000, competed side by side proving that they can excel in new careers beyond the track. Over $6,500 in cash was awarded through sponsors and the Jockey Club TIP, along with beautiful ribbons and a vast selection of quality prizes.
Among the large number of Thoroughbreds competing, the High Point Champions should be noted. Stakes winner
Old Snively, who raced 68 times and earned over $120,000, was the War Horse Champion. Bayou Brass, a Dixieland Band gelding with 28 starts and $96,000 that was traded for a load of hay when he retired, won the Thoroughbred Hunter Champion. The Florida bred Moonlight Bay, with only 2 starts and no earnings, was a star in the jumper ring winning the Thoroughbred Jumper Championship. Lastly, the lightly raced mare, Trouble and Strife, blooming in her second career, was crowned the Thoroughbred Dressage Champion.
A number of industry partners, owners, trainers, and breeders joined together to sponsor the event. This year's key sponsors include the Indiana HBPA, Ohio HBPA, James and Anita Cauley, Homewrecker Racing, Eisaman Equine Services, and 100% Racing.
For twenty one years New Vocations has provided a safety net for horses leaving the track through rehabilitation, retraining, and placement in carefully screened and monitored homes. Starting with a single farm in Dayton, Ohio the program has grown to six facilities in Kentucky, Michigan, Ohio, and Pennsylvania and welcomes in excess of 400 horses a year. Serving over 40 racetracks, New Vocations works directly with owners and trainers in need of an aftercare program for their horses. New Vocations has a sound adoption system in place that is proven to move a large number of horses in a rather short period of time. The focus is on adoption verses retirement, believing that each horse deserves to have a home and a purpose.
For more information on the new Vocations Charity Show or horses available for adoption visit New Vocations website.