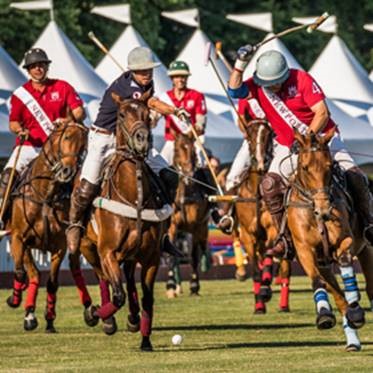 FOR IMMEDIATE RELEASE:
Newport, RI (June 23, 2017) …. On Saturday, June 24 at 5pm, the two oldest polo clubs in America will come face to face for one of the season's fiercest contests in the NBC10 Newport International Polo Series XXVI, Presented by BMW.
Boston, the original City Series challenger, is sending its top guns to challenge Newport's best to reclaim the Liberty Bowl to its Commonwealth roots. Playing for Boston will be captain Nick Snow, CB Scherer, Amanda Roberts, Franz Colloredo-Mansfield and Simon Colloredo-Mansfield.
Playing for Newport will be Rory Torrey, Carlos Maldonado, Dan Keating and Dave Bullis.
The polo match will have a duration of approximately 2 hours, during which a weekly door prize drawing and the Best Tailgate prize from Stella Artois will be awarded. After 6 periods, called chukkers, the match will conclude with the Veuve Clicquot Champagne Toast & Trophy Presentation, with special guest Zack Green, WJAR NBC10 Sunrise Meteorologist, as well as an autograph signing and cocktail hour to meet with the players.
Tickets to the match ($12 for General Admission and $20 for Pavilion seating) are available at www.nptpolo.com. Valet Parking service, boutique vendors and food & beverage concessionaires will be present in the Hospitality village at the polo grounds, including the Twisted Pony Bar and the Newport Polo Pro Shop.
2017 Schedule
June 3 Opening Day: USA vs. Peru 5pm
10 Newport Cup 5pm
17 USA vs. France 5pm
24 Newport vs. Boston 5pm VIP Lounge
________________________________________
July 1 Independence Cup 5pm
8 USA vs. Italy 5pm
15 Newport vs. Pittsburgh 5pm VIP Lounge
22 USA vs. Ireland 5pm Lamb Roast
29 Newport vs. Palm Beach 5pm VIP Lounge
________________________________________
Aug 4 Gala la Bamba 7pm Rosecliff
5 USA vs. Mexico 5pm Lobsterbake
12 Newport vs. Philadelphia 5pm VIP Lounge
19 USA vs. Jamaica 5pm Jerk Grill
26 Newport vs. New York 5pm VIP Lounge
________________________________________
Sept 2 USA vs. England 4pm
9 Newport vs. Baltimore 4pm VIP Lounge
16 USA vs. Dominican Republic 4pm
23 New England Challenge 4pm
30 Finals 4pm
Schedule subject to change
Newport International Polo Series:
Dating back more than 130 years in Newport, the polo matches are one of Newport's grandest & most popular traditions, a living legacy from the Gilded Age, and open to the public. Audiences of several thousand spectators enjoy the contests against international teams, as well as teams representing major US cities, playing against the home team every Sat, June thru Sept. at 5 PM / 4 PM in Sept.
Stay current with the 2017 team lineup, latest news, events and more through our e-Magazine, by subscription to our Gameday Scorecard (sign up) and our weekly Emagazine (sign up). Both subscriptions are private and spam free.
The Polo Series will feature 8 international teams this season including France, Italy, Ireland, Mexico, Jamaica, England, Dominican Republic and the debut of Peru, as well as 5 City Teams from major US cities and a few top regional rivals for an action-packed season through the end of September. This is the 26th season of Newport International Polo Series, which has hosted teams from over 30 nations including, Germany, Spain, England, Argentina, France, Egypt, India, Australia, Costa Rica, Ghana, Canada, Chile, Jamaica, Nigeria, Portugal, New Zealand, Barbados, Scotland, South Africa, Hungary, Dominican Republic, Netherlands, Kenya, Brazil, China, Italy, Mexico, Sweden, Singapore, Monaco, and Morocco.
Minutes from downtown Newport, the International Polo Grounds are located at historic Glen Farm, 250 Linden Lane (off of Rte. 138) in Portsmouth, RI. This bucolic setting is the last 100 acres of what was once a 700-acre manorial farm whose settlement dates back to the 1600's. Its classical stone barns from the Gilded Age and its park-like grounds were rehabilitated by polo series founder, Dan Keating, and thrive today as an equestrian & community recreational property, and home of the Polo Series.
The Newport International Polo Series is proud to present its 2017 sponsors including NBC – 10, BMW, ALEX AND ANI, Blue Cross Blue Shield of RI, Veuve Clicquot, The Chanler, Hotel Viking, Gurney's Newport Resort & Marina, Vanderbilt International Properties, Clarke Cooke House, Stella Artois, Rockstar Limo, Newport Daily News, Atria Senior Living, McGrath Clambakes, and promotional partners including The Preservation Society of Newport, Bird's Eye View Helicopter Tours, America's Cup Charters, International Tennis Hall of Fame, Island Surf and Sport, The Cocktail Guru, Mansion Rentals and Discover Newport. "Our sponsors have been with us since the beginning. Without their support, the Series would not be as extensive as it is," explains Dan Keating, Polo Series founder.
There's no sport like polo. Be a part of it! Newport Polo hosts the Newport International Polo Series XXVI, and is the home of America's first polo club, est. in 1876, and a founding member of the United States Polo Association, offering public exhibition matches, polo club member services for grass & arena polo, and polo instruction year-round.
About Newport, Rhode Island:
For more than 375 years, Newport has been welcoming visitors from near and far to its charming New England coastal harbor, earning its reputation as America's First Resort. A renowned international destination, Newport is ripe with art, culture, history and scenic beauty, with miles of unspoiled beaches, distinctive shops, renowned restaurants, diverse accommodations and world-class sporting and cultural events