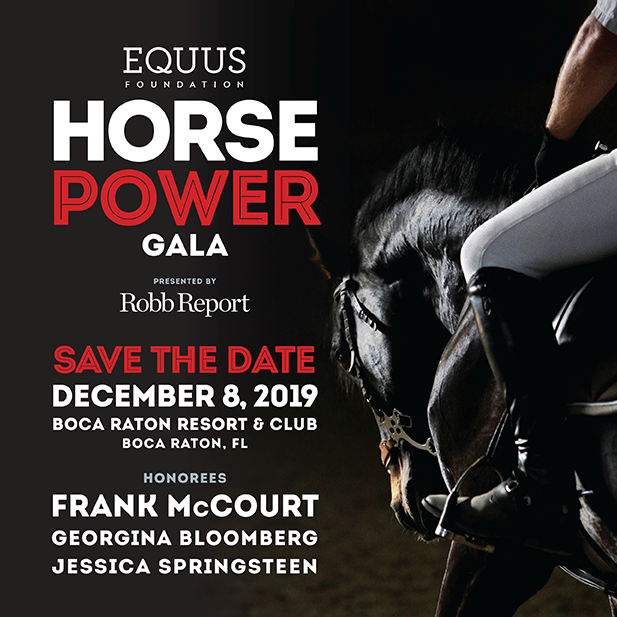 Honoring Equine Advocates – Frank McCourt, Georgina Bloomberg and Jessica Springsteen
NEW YORK, August 12, 2019 — Robb Report, the world's leading authority on luxury lifestyle, and the EQUUS Foundation, America's foremost equine welfare organization, are joining together to host the first-ever Horsepower Gala: a special fundraising dinner benefitting the EQUUS Foundation. Created to increase awareness surrounding the very real issues of horse abuse, neglect and slaughter, the invitation-only event will honor champions of equine protection Frank McCourt, Georgina Bloomberg and Jessica Springsteen.
The Horsepower Gala will take place on December 8, 2019 at the iconic Boca Raton Resort & Club, co-chaired by prominent equine advocates Mary-Kate Olsen, Monica McCourt, Kristy Hinze-Clarke, Kelly Klein, Katherine Bellissimo, Gerry Byrne and Sophie Stenbeck.
Noted philanthropist and horse enthusiast Frank McCourt will be the guest of honor at the Horsepower Gala, which celebrates those committed to safeguarding the comfort and dignity of America's horses.
"With his Global Champions League, Frank McCourt has amplified awareness of show jumping to an international audience. His selfless love, care and admiration for horses – both in sport and in retirement – is inspiring. We are thrilled to honor Frank at the inaugural Horsepower Gala," said Lynn Coakley, EQUUS Foundation President.
The evening will also recognize decorated equestrians Georgina Bloomberg and Jessica Springsteen for their tireless work on behalf of the EQUUS Foundation and the protection of America's horses throughout their lives. Bloomberg and Springsteen, both world-class show jumping riders, have supported the EQUUS Foundation since its earliest days, motivating fellow equestrians and horse advocates to become active horse protectors.
"Georgina and Jessica are iconic and inspirational equestrians with a deep commitment to saving and defending horses. Their work is beyond measure and so very worthy of celebrating," said Gala co-chair Sophie Stenbeck.
Nodding to the connection between equestrian horse power and automotive horsepower, the Horsepower Gala evening is being held in conjunction with Robb Report's Car of the Year, an eagerly awaited event where automotive aficionados can test drive and evaluate 10 of the top luxury and performance vehicles during an adrenaline-filled, simulated track experience. Guests of the Horsepower Gala will have the opportunity to purchase tickets for this exclusive Robb Report event.
Partnership packages and table rates for the Horsepower Gala begin at $25,000. For information about partnership opportunities supporting Robb Report's Horsepower Gala benefitting the EQUUS Foundation, please contact Dan Borchert at 212-201-1124 or dborchert@robbreport.com. For information regarding individual event tickets, please contact Monica Lengkong at 310.589.7675 or monical@robbreport.com.