DEVON, Pa.—The Devon Horse Show and Country Fair has added prize money and local pleasure classes to an all star line up of Saddlebred and Hackney/Harness divisions.
The 117th edition of Devon runs from May 23 through June 2 and benefits Bryn Mawr Hospital, with proceeds to the Hospital approaching $15 million, over $50 million when adjusted for inflation.
Saddlebreds, Friesians, Hackney/Harness Ponies and Road Horses compete Wednesday, May 29 through Saturday evening, June 1, with their Stake/Championship classes Friday evening and Saturday afternoon and evening, culminating in the grand finale of this year's Devon show, the Five Gaited Stake – Amateur to Ride.
Judging at Devon this year is Gene Vander Walt from Shelbyville, Ky., and Bob Moseder will be capturing the winning photos.
Prize money was increased in five classes, and the addition of a local English Country Pleasure class and a local Show Pleasure class compliment the initial schedule.
The Devon Horse Show and Country Fair now offers $35,100 in Stake/Championship classes with no entry fee. Total prize money exceeds $40,000.
Also, new this year will be a Five Gaited Special/Challenge on Wednesday night with five or six top hunter/jumper riders showing a Gaited horse. This new format will hopefully be enjoyed by all who love a good horse, no matter what breed or discipline they come from.
The Carriage Pleasure Drive begins at noon, Sunday May 26, at St. David's Church on South Valley Forge Road and proceeds through the neighboring streets, eventually arriving at the Devon Show Grounds for the final judging and Championship Drive-off.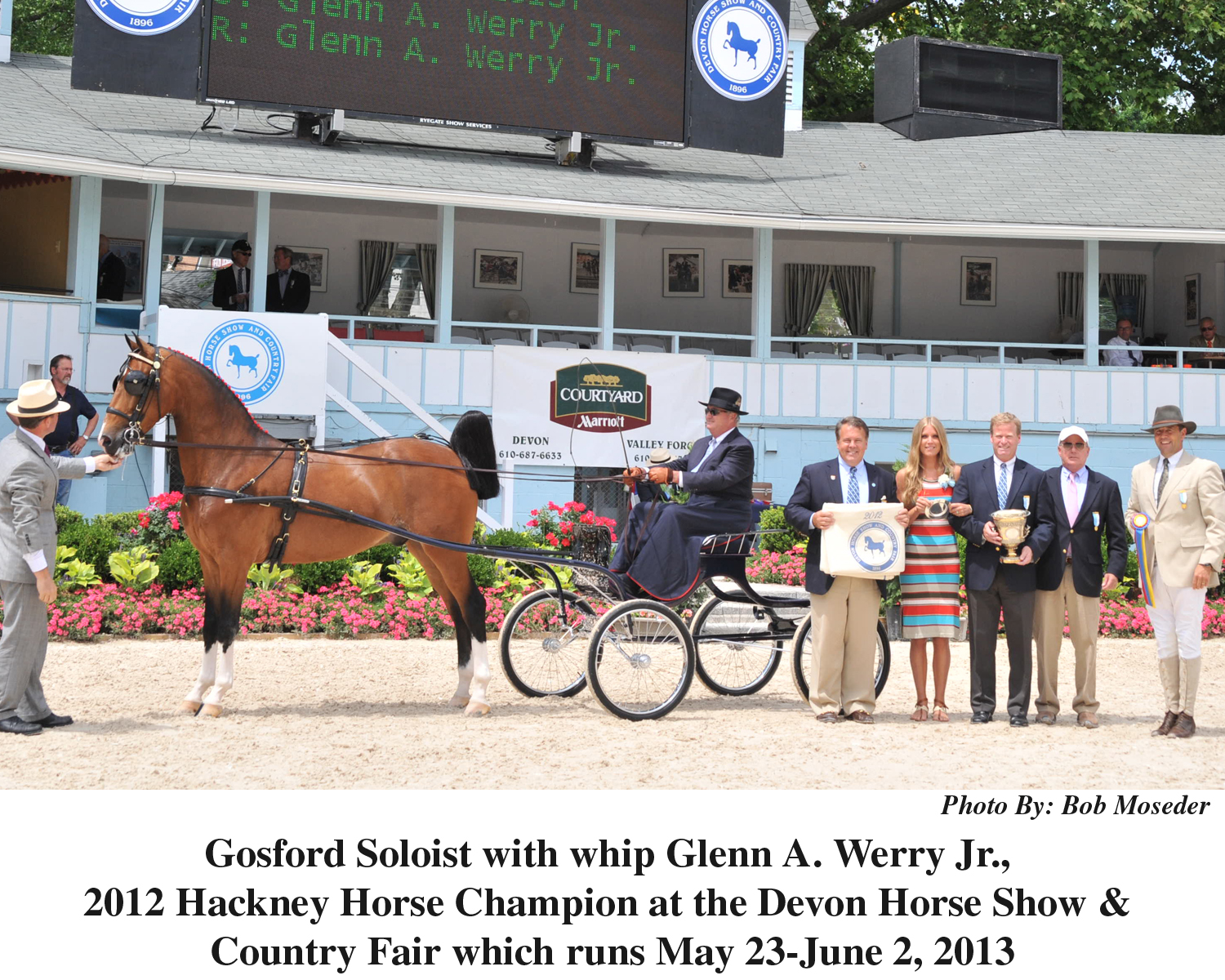 Four-in-Hand Coaching is competed Monday through Friday and will be judged by Bill Ginns of Leicester, England.
Come and enjoy the spectacular audiences who enjoy seeing a top show horse or pony.
Along with the increased prize money and additional pleasure classes, Devon continues to make the show better for Saddlebred exhibitors and trainers each year.
A large, brand new air-conditioned exhibitor's lounge, complete with comfortable leather couches and chairs, is located under the grandstand between the schooling ring and the Dixon Oval.
The lounge offers light food and drink, live streaming of classes on two TVs plus wi-fi and cell phone and computer chargers.
Sarah Lange, a Saddlebred exhibitor, is hosting "Brunch in the Country" at her Willisbrook Farm on Sugartown Road in Malvern on Tuesday, May 28 from 10 a.m. to noon.
"We want the Saddlebred exhibitors to feel welcome and at home at Devon," said Lange.
Lange's trainer, Smith Lily of Mercer Springs Farm, author of the book "Saddleseat
Horsemanship" will speak at a luncheon in the Devon Club on June 1 from 11 a.m. to 12:30, discussing the art and athleticism of the Saddleseat discipline.
The traditional carriage and Saddlebred party will be held Friday evening, May 31.
The ticket office opens Monday, April 8 and will be open Monday through Friday from 10 a.m. to 5 p.m., and Saturday from 10 a.m. to noon.
General admission is $10, with $5 for children and seniors. Reserved seating tickets range from $10 to $55, depending on the day and session.
Entries close April 22. Visit the website www.devonhorseshow.org for additional information.