If you live in the San Jose area you can become an equestrian journalist for Sidelines Magazine and attend a Special Sneak Peek of Cavalia in San Jose! If you've been dreaming of attending Cavalia: A Magical Encounter Between Human and Horse and you have always wanted to be a journalist – or you just like to write – then enter our contest!
Who: Any horse enthusiast who lives near San Jose, California and would like to act as "reporter" and cover the event for Sidelines Magazine. You will get to attend the media event for reporters, photographers and camera crews and enjoy a special 45-minute preview that includes live performances and interviews with artists and founder and artistic director Normand Latrouelle.
What: We want you to write an article about the Media Event and take photos too! Your story will be published in the next issue of Sidelines Magazine. No compensation is involved – but you will get two tickets to attend the Media Event for free.
Where: White Big Top, 301 Atmel Way, San Jose, CA 95131. The White Big Top is located at the intersection of Hwy 101 and 87 East on the 101 Tech campus site, across Hwy 101 from the San Jose Airport.
When: The Media Events is Tuesday, July 17 at 1 pm. The Media Event will present visual highlights of some of the unique moments of the production, featuring a cast of 47 horses and 37 world-class acrobats, aerialists, riders, musicians and dancers
Why: It's a great way to get the event covered and maybe even discover a new equestrian journalist. Either way, we think you will have fun!
How: Email Jan at editor@sidelinesnews.com and tell us why we should pick you to be a "reporter" for Sidelines! For more information on Cavalia, visit their website at www.cavalia.net.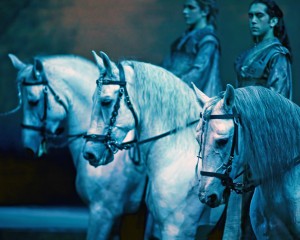 About Cavalia – Enjoyed by some 3.5 million people, Cavalia is a lavish production involving 47 magnificent horses and featuring 37 riders, aerialists, acrobats, dancers and musicians from all over the world. A show unlike any other, Cavalia celebrates the relationship between humans and horses, virtually reinventing the equestrian arts.
In Cavalia, horses cavort with the many artists in front of a constantly changing digital background projected onto a 200-foot-wide screen, drawing spectators into dream-like virtual environments. Unlike traditional horse shows in the round, Cavalia's audience faces a single 160-foot-wide stage which allows the horses space to gallop at full speed, at times running completely free, unfettered by bridles or halters. Cavalia takes place under a white, 26,264-square-foot big top rising some 110 feet high that gives the horses an ample playground to perform with their trainers and artists.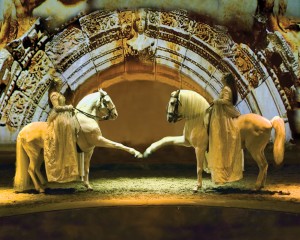 Delightful, thrilling and poignant, Cavalia explores humankind's longstanding relationship with the horse. Juxtaposed with the vibrancy of the production is a subtle thematic line that takes audiences through the evolution of horses and human's interaction with them. Audiences discover an unbridled life in the wilderness, then early domestication, and ultimately a relationship with human beings based on freedom and mutual respect. Cavalia's horse training is based upon a philosophy of understanding horses, rather than making horses understand the humans around them. The tone of the show, embraced by the entire company, is one of mutual respect, kindness, patience, and trust. Audiences have found Cavalia exhilarating in scope yet touching in the compassion shown by both horse and human.
Cavalia has received critical acclaim from around the world, including The New York Times, which noted that the theme of Cavalia is "Celebrating horses, humans and their bond," while O Magazine called the show "breathtaking!" Jay Leno of The Tonight Show raved, "The greatest show I have ever seen!" The Washington Post exclaims, "Impressive, highly refined, indeed a wonder," and the San Francisco Chronicle affirms "Cavalia takes horse play to a new level, even for non-horsey folk."