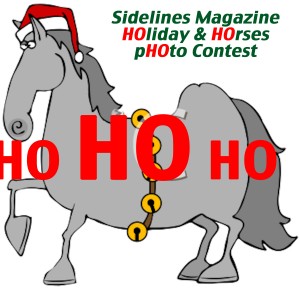 Sidelines Magazine
HO HO HO–HOLIDAY & HORSES PHOTO Contest
October 1-14
Featuring great prizes.
Grand Prize Winner's photo will appear on the December cover of Sidelines Magazine.
 The Search is on for Award Winning Holiday Photos
 The search is on for award winning holiday photos for the Ho Ho Ho Holiday & Horses Photo contest. Send us one photo of your horses, dogs, kids, family in a holiday setting – for a chance to win great prizes. Winning photo will appear on the December cover of Sidelines Magazine! Professional photographers may take part in the contest – but individuals may not send in professional photos. Only the professional may enter their photo.
 It's easy to enter – upload your photo at the link on the Sidelines Magazine website:
http://sidelinesnews.com/sidelines-contest-form
In the drop down menu, chose Holiday & Horses Contest.
In the essay portion, describe your photo! It's that easy! Start entering now! http://sidelinesnews.com/sidelines-contest-form
Check out the Holiday & Horses Contest Prizes:
Grand Prize – Have your photo featured on the cover of the December issue of Sidelines Magazine
Two Runner-Up Prizes: 
One Runner-Up will take home a $100 gift certificate to Van Dell Jewelers – you can use the gift certificate online to buy great equestrian jewelry!
From Van Dell:
At Van Dell Jewelers we specialize in fine hand-made custom gold and platinum jewelry and especially Equestrian Jewelry. With two stores in South  Florida, we are able to create any jewelry that you dream of in one of our workshops. We purchase Estate, used, vintage and antique jewelry, from one piece to an entire collection. Because we have collectors and buyers throughout the world, we will pay a premium for your old jewelry. Contact us to arrange for an estimate.
AND
A second Runner-Up will win a mattress topper – perfect for home or the trailer. The Invigo Fresh 3″ Twin-XL toppers, which has a retail value of $200-225 is perfect for making your living quarters mattress more comfortable, which means better rest for you at competitions.  Made from natural latex and eco-friendly foam and with a soft cover enhanced with the Invigo Fresh technology which neutralizes odors, resists stains, and provides anti-microbial protection without the use of harsh chemicals.  Recover from today, INVIGOrate for tomorrow.  See InvigoFresh.com for more information. Available online at Amazon.com, Overstock.com, Sportsmanguide.com, Olejo.com and many more.
A special thanks to our great sponsors!