Sidelines Magazine is excited to announce a contest that is great for your horse's hooves! Send in a photo of your horse in extreme conditions (dust, dirt, rain, sand, daily bubble baths) and the winner will ride away with a 90-day supply of Regen-x EQ from Perfect Products EQ! Talk about tickling your equine partner's tootsies!
Whether he is sliding to a stop or galloping out of the start box, no horse wants a cracked hoof or a loose shoe slowing him down. Regen-x EQ can help! Perfect Products presents its newest formula for equine hoof care, with a unique hoof cream that works to protect against the extreme conditions equine hooves must endure on a daily basis.
Collagen and keratin strengthen hoof density, while the proprietary Regen-x EQ formula allows just the right level of moisture penetration to create a natural sealing effect that fights cracks and improves overall hoof structure.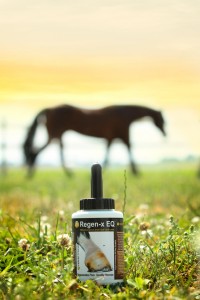 Contest Rules: Send in a photo of your horse (one photo entry per person, no professional photos allowed) facing the daily conditions that are hard on their hooves. Post the photo to the link on the Sidelines Magazine website at: http://sidelinesnews.com/sidelines-contest-form
In the essay section give a brief description of what your horse is doing in the photo. The winning entry will receive a 90-day supply of Regen-x EQ from Perfect Products EQ! Five runner- ups will receive Perfect Products ball caps and a tube of Lactalex muscle recovery paste. And don't forget to "like" the Perfect Products facebook page!
The Sidelines Magazine Perfect Products contest will run September 8th to 22nd and all photos may be posted on the Sidelines Magazine Facebook page. A panel of judges will select the winner and runner-ups. The winning photo will be featured in an upcoming issue of Sidelines Magazine.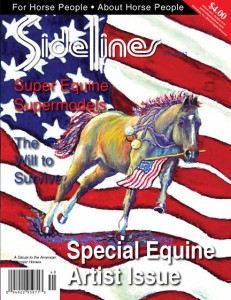 About Sidelines Magazine –
Sidelines Magazine – Sidelines Magazine is a monthly equestrian magazine. Known as the "People Magazine" of the horse world, Sidelines has been covering the horse industry – including hunters, jumpers, eventing, dressage, polo, foxhunting and more – for 25 years. Visit www.sidelinesnews.com to learn more about Sidelines.

About Perfect Products –
Perfect Equine Products is dedicated to providing innovative solutions to problems confronting the high level equine athlete. With a broad background in the equine and horse show industry, coupled with the business and scientific acumen developed through 35 years of marketing high tech products in the medical field, Perfect Products has a rare combination of skills and vision that make them "perfect" source for cutting edge products for managing the equine athlete within the boundaries of ever tightening competition criteria.
It's easy to enter the Sidelines Magazine Perfect Products Contest –upload your photo at the link on the Sidelines Magazine website: