St. Charles, MO – The Arenus family of products for horses and pets is giving a whole new meaning to "green."  Beyond the individual eco-conscious horse-and-rider, Arenus is encouraging equestrians to dig deeper and plant a vision of a sustainable planet through green barns, green horse shows and green events, through its new Ride for a Green World initiative.
People who share the vision of a sustainable planet can join the Ride for a Green World initiative by displaying the "Our Barn is Eco-Friendly" card with simple guidelines on going greener, such as: composting your manure and keep it from contaminating water, use eco-friendly products, recycle and reuse, conserve water.  Find more Eco-friendly Barn tips at Arenus booths during the Winter Equestrian Festival (WEF) and Horse Shows in the Sun (HITS) series.
"Stop by and talk with us about a vision of caring for horses, people and the planet," says Brady Karren, Arenus Sales Manager & Equine Nutritionist.  "We have lots of fun events planned to help you and your horses go greener.  Check our Facebook page often to get dates, times, and locations."  Arenus-sponsored events through its Ride for a Green World initiative will include a Green World Day and Spa Days for wellness education where you can learn more about caring for your horse, yourself, and the earth while feeling good, too.
"We are driven by a vision of a sustainable world," adds Jeremy Moore, Executive Director of Novus Nutrition Brands.  Arenus is the companion animal health and nutrition division of Novus Nutrition Brands LLC, which is a growing business within Novus International Inc. "Our values – providing products with demonstrable value, long-term customer satisfaction, acting with integrity, and protecting our employees, public, and environment – guide our business objectives and shape our organization's culture."
The Novus International, Inc. global headquarters for Arenus and the Novus International Research Center has been awarded Platinum LEED (Leadership in Energy and Environment Design) certification in energy efficiency from the U.S. Green Building Council. Thad Simons, Jr., Novus president and CEO, says, "Sustainability begins on an individual level, offering the opportunity for people, the environment, and businesses to benefit."
Ride for a Green World offers the same message of sustainability to facilities and venues reflected in its recyclable Arenus packaging.  "We don't want to stop there," says Brady Karren.  "We want to Ride for a Green World with other partners who share a vision for protecting and caring for the earth through education and awareness about water use, protection of streams and waterways, innovative energy use, and clean-composting technology." To learn more about Arenus products, visit www.arenus.com.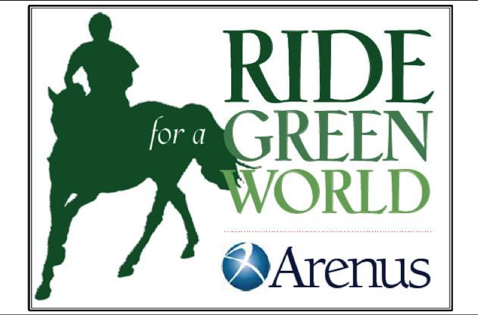 About Arenus
Arenus is a premier provider of innovative health and nutrition products for pets and horses. Arenus is a growing division within Novus Nutrition Brands, a global company dedicated to Health and Nutrition Through Science™. To learn more about Arenus products, or find an Arenus event near you call (866) 791-3344 or visit www.arenus.com.