Public Art Display to benefit the Carolina Horse Park Foundation
Raeford, NC (January 5, 2022) – Soon, the Painted Ponies will roam the streets of downtown Southern Pines! The third annual Painted Ponies Art Walk runs from January 29 through the end of March as 15 fiberglass Ponies line Broad Street for visitors to enjoy as they stroll through downtown. The ponies include 9 large horse sculptures along with 6 smaller colts. After the Art Walk is over, the ponies will be auctioned off on Saturday, April 9, with the proceeds benefitting the Carolina Horse Park Foundation.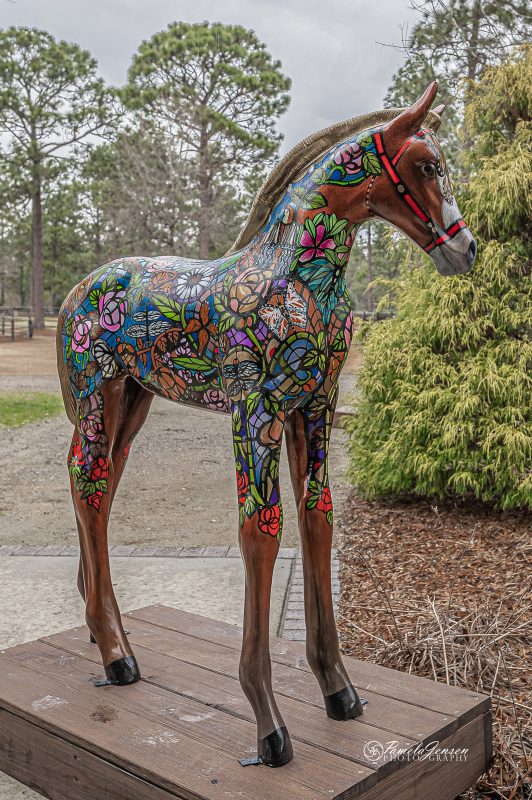 "The Carolina Horse Park is proud to once again bring the Painted Ponies Art Walk to downtown Southern Pines. It demonstrates our commitment to our local businesses and artists while also highlighting our equestrian heritage and community," said Bryan Rosenberg, chairman of the board for the Carolina Horse Park. "The Art Walk has been a phenomenal community effort. We look forward to visitors and residents enjoying the Painted Ponies while they line Broad Street and generously supporting the online auction on April 9."
Local businesses coordinated to sponsor the Painted Ponies that will be placed at 15 locations in downtown Southern Pines. Artists from the region donated their time and talent to transform the ponies into exquisite works of art. Once the display ends, the Painted Ponies will be removed and auctioned off through an online auction on Saturday, April 9.
The 2022 Painted Ponies Sponsors are:
Aberdeen Supply Company
Ashten's Restaurant and Bar
Assertive Professionals
Audrey Wiggins
Cabin Branch Tack Shop
Casino Guitars
DAHR
Dreher Financial Partners
Duncraig Manor & Gardens
English Riding Supply
First Health of the Carolinas
BHGRE Lifestyle
Property Partners
Front Runner Realty Group
The Neon Rooster Truist
Twin Gates Farm Valkyrie Sporthorses Windy Hill Creative
Southern Pines
The Amazing Grace Farm
Phreestyle Equestrian Artwork
NC State College of Veterinary Medicine
NorthState Insurance & Advisors
Southern Pines Equine Associates
Visitors viewing the Painted Ponies Art Walk are invited to use the hashtag #PaintedPoniesCHP when taking pictures and posting them to social media.
The Carolina Horse Park (CHP) Foundation was established to support a 315-acre, nationally recognized premier equine competition venue and land preserve located in Hoke County, NC. Founded in 1998 as a 501 (c)(3) not-for-profit organization by equestrian enthusiasts, CHP is dedicated to the preservation of open space for equestrian events, as well as educational and recreational purposes.
For more information about the Painted Ponies Art Walk and Auction, visit
www.CarolinaHorsePark.com.